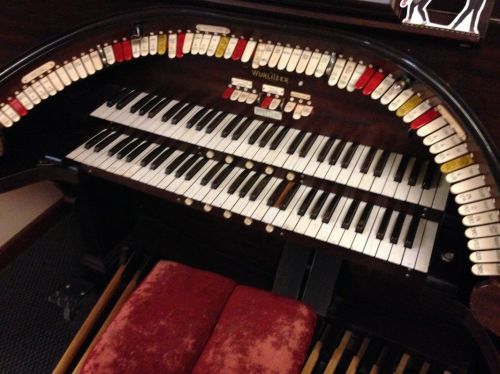 By Kris Gruber
perriex1@gmail.com
High Plains Reader spoke to Ryan Hardy, president of the Red River Theatre Organ Society, about the 40th annual "Holiday Pipes" free concert series at the Fargo Theatre.
HPR: How long have you been involved with the Red River Theatre Organ Society? Can you tell me a bit about your partnership with the Fargo Theatre, and the organ concert series?
Ryan Hardy: I have been involved with the Red River Theatre Organ Society for about nine years. In 2015, I was elected President of the organization and have been working to make the non-profit and the Mighty Wurlitzer more well-known in the community through a strong online presence and by producing events featuring the Wurlitzer throughout the year. The Society's (and the organ's) ties with the Fargo Theatre goes back as far as 1926. When the Fargo Theatre first opened in 1926, a small Wurlitzer organ with seven sets of pipes was played to provide music for silent films. After gradually falling into disrepair, Lance Johnson approached the Theatre's management in 1973 to restore the instrument at no cost to the Theatre. This initial restoration formed the foundation for many of our community traditions such as weekend movie prologues and Silent Movie Night. The noon-hour Holiday concerts, now called "Holiday Pipes" began in 1979, making the 2019 series the 40th year of free lunch-time Holiday music at the Fargo Theatre. Admission to each concert is free, but attendees are encouraged to donate a canned food item for the Emergency Food Pantry at the Theatre for admission.
HPR: What is the process like, to plan an event like this? Can you tell me about some of the players you have lined up for this year?
RH: All of our events are planned by members of the Red River Theatre Organ Society, which is made up of organists, technicians, and people who enjoy the sound and music of the theatre organ. We work together with the Fargo Theatre to choose concert dates, and our members volunteer their time to learn and play music for concerts, hang posters, design advertisements, send press releases, and get people excited about our concerts. This year's series will feature five local organists: Dillon Swanson (Dec. 10), Lance Johnson (Dec. 11, 18), Michael Olson (Dec. 12), Alex Swanson (Dec. 19), and Ryan Hardy (Dec. 20). Dillon Swanson is currently an organ performance student at Concordia College. This will be his first public performance on the Wurlitzer. Lance Johnson owns Johnson Organ Company, a pipe organ building and repair company in koopMoorhead. Johnson has nearly single-handedly restored and expanded the Mighty Wurlitzer to its current size of four manuals (four keyboards) and 32 ranks (32 sets of pipes). Alex Swanson is a recent graduate of MSUM and currently serves as Treasurer of the RRTOS. I (Ryan Hardy) am an undergraduate Music Education major at North Dakota State University and serve as President of the RRTOS. I am a four-time finalist in the international Young Theatre Organist Competition, a competition of the American Theatre Organ Society, and have competed in Indianapolis, Philadelphia, Tampa, and Los Angeles.
HPR: Is there anything you would like the public to know about this event?
RH: Many people may assume that the Wurlitzer is a dusty, droning pipe organ that only plays slow hymns. The truth is anything but - the Mighty Wurlitzer is capable of replicating the thrilling sounds of an entire symphony pops orchestra. It is a fully acoustic instrument, meaning that all of the sounds it makes are produced by real organ pipes and percussion instruments. The experience of hearing the instrument live can move listeners in ways that recordings can only strive for. I encourage each reader to come "Experience the Sound" for themselves at the 2019 Holiday Pipes Series!
The Red River Theatre Organ Society produces events featuring the Wurlitzer throughout the year. Readers can connect with us and find out about upcoming events on our website (rratos.org), Facebook (facebook.com/RedRiverATOS), and Instagram (@RedRiverATOS).
IF YOU GO:
Holiday Pipes
Fargo Theatre
December 10-12, and 18-20
12:00 p.m.
FREE (canned food items encouraged)