Housing Authority of Cass County moves forward with new affordable housing project
by HPR Contributor | .(JavaScript must be enabled to view this email address) | Culture | November 28th, 2018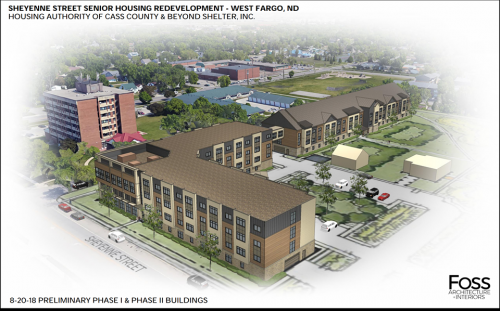 by Ryan Janke
ryan.janke78@gmail.com
What started as a dream for the Housing Authority of Cass County four years ago will become a reality by 2020 says Executive Director Blake Strehlow. 60 current public housing units between 8th and 9th Avenue West on Sheyenne Street in West Fargo, which are some of the oldest in the state, will be demolished and replaced with two new apartment buildings housing 85 total units. The project will not affect the high-rise building north of 8th Avenue.
Out with the old…
The current housing units were built in 1966. They consist of 38 efficiency, 20 one-bedroom, and two two-bedroom units. Strehlow says they have become physically obsolete. The Housing Authority had an estimate done to find out what it would cost to fix and update the units. They were told it would cost $4.8 million to rehabilitate them. The Housing Authority has an annual allowance of $185,000 for capital improvements. "It became pretty obvious that we have got to do something," Strehlow says.
That was when they began talking and meeting with people to figure out what to do and how they could do it. Eventually, they met with the right people. Beyond Shelter is the developer of this project. Strehlow says they are who put together the tax-credit application and other paperwork and submitted it for them. Once that ball was rolling, things were able to happen quickly.
Funding for the project came from the North Dakota Housing Finance Agency (NDHFA). Strehlow says they were the key to getting this project done. "We could never get it done without them," he says. There were four projects awarded by NDHFA this year and the Housing Authority was able to get two because there are two buildings involved in the project. This is the first time one organization has been awarded two projects in the same city in the same year, a testimony to how important this project is.
In with the new
The new units will be split between two apartment buildings, the Monterey Apartments and The Bridges. The Monterey Apartments will consist of 42 one-bedroom and three two-bedroom units as well as the Housing Authority of Cass County offices. The Bridges will house 36 one-bedroom and three two-bedroom units. There will not be any efficiency units. Strehlow says efficiency units used to be popular but are no longer viable options nor will they be in the future. People are moving away from them.
The apartment buildings will feature many amenities, such as tuck under parking with wide spaces for vehicles needing to accommodate wheelchairs, a community room, community entertainment rooms, a beauty salon, elevators, secure entrances, and a skywalk between the buildings.
Individual apartments will have many of the appliances that other units have, such as stove and refrigerator, microwave, garbage disposal, dishwasher, and air conditioning units. They will also have washer and dryer units. Between the two buildings, there will be nine handicapped accessible units – six one-bedroom and three two-bedroom.
Strehlow says eligibility for residence in the apartments depends on age and is income-based. For example, the new units will only be open to those 62 years-of-age and up. He says the Housing Authority is not currently accepting applications for potential residents, but that will be coming in about eight months. He stressed that he would like to see those displaced by the project get the first chance to move back in if they choose, and then the units will be filled after that.
How will current residents be affected?
Demolition will begin in July of 2019, but before that can take place, Strehlow says the Housing Authority needs to find homes for the current residents who will be displaced. He says reception from those who will be affected has been great. "We met with almost every single resident," says Strehlow. In the meetings with residents, they were informed of the details of the project and reassured they will be taken care of.
As part of the planning and relocation, the Housing Authority has met with landlords who have approached them since news of the project plan originally broke. While Strehlow knows finding 60 one-bedroom apartments will not necessarily be easy, things seem to be falling into place. He says, "we're expecting the process to start March 1st, so we are going to be inventorying the market," and added that the market right now is working to their favor.
To help those people with the move and adjustment, Strehlow says the Housing Authority will be providing them with Tenant Protection Vouchers. The vouchers will be between $900-1100 and are good for deposits, moving costs, utility transfers, and other expenses tied to the relocation process. The Housing Authority will also continue to provide rental assistance in their new homes.
Community support
Strehlow says support from the community has been overwhelming. The City of West Fargo, West Fargo Public Schools, the Cass County Commission, and West Fargo Economic Development Advisory Committee have all expressed their support. The Housing Authority met with West Fargo leaders, including the mayor, during the planning stages and were highly encouraged to pursue the project. Strehlow says the neighboring community has been supportive as well. He says they held several meetings with neighbors and the community and found no opposition to the project. The only concern the residents had was for those who would be affected by the project, but they were satisfied when they learned of the plans for them.
A place to call homeStrehlow says there has been a lot that has gone into this project getting to where it is – early mornings, late nights, and bumps along the way – but he says what makes it all worth it is that when the project is completed, many people who have never had a nice place to live will be able to call it, "home." "This whole thing started as a dream," he says, "and dreams really do come true."