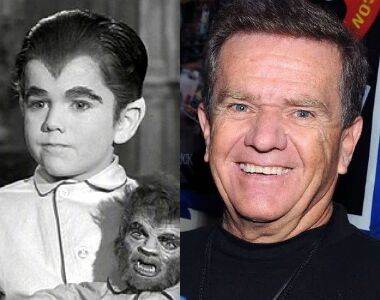 By the time Butch Patrick was cast with the iconic role of Eddie Munster the wolfboy son on the classic television program "The Munsters," he was a seasoned child actor. Starring in television roles on such programs as "General Hospital," "Rawhide," "Bonanza," "My Favorite Martian" and countless others. By the time he became part of the Munster family in 1964 he was 11 years old.
According to Patrick, "The Munsters" was the early 60s zany equivalent to "Leave it to Beaver," and interestingly enough it was produced by the same people.
"They knew 'The Addams family' was coming out and had a very successful run with a family friendly series dealing with the perfect family unit itself. It was a 'Leave It to Beaver' with makeup." Patrick went on to say, "With Fred (Gwynn aka Herman Munster) and Al (Lewis aka Grampa Munster) having been comedians, it added another dimension to the show. Even though Ward Cleaver was funny, it wasn't a comedy in the way that 'The Munsters' was. It was sort of an overview of what will Wally and the Beaver get into--it was sort of a life in the suburbs type of thing."
Over 50 years later The Munsters are still popular and even holds a part in Hot Rod/Shock Rod culture thanks to "The Munster's coach" and "Dragula" the iconic coffin dragster. In fact Patrick makes a number of appearances at car shows and tattoo conventions each year as well as comic cons.
During the early 60s pop culture turned to the fantastic as "The Addams Family" and "The Munsters" gained popularity. Martians, genies and witches walked and rocked everyday life on network television. Hot rod and custom culture was in full force and Ed "Big Daddy" Roth and his monster drawings and model kits were all the rage.
Young Butch Patrick was a fan of the Universal monster movies at the time he was cast as Eddie Munster, "'Creature from the Black Lagoon' was one of my favorite movies and when I got out there I was building those monsters in model kit form."
"One of my favorite things to do, go around and explore the studio and see what everybody else was doing around the lot, 'Mchale's Navy' was shooting in the back, the lagoon was a favorite destination for me. 'The Phantom of the Opera,' sound stage next door was the largest soundstage in Hollywood--it was six stories tall" he said.
While on set he said he connected most with Al Lewis who played Grampa Muster. "We spent a lot of time outside, throwing a baseball or throwing the Frisbee. He taught me a lot about life. I got a lot of reality-based and talent lessons, I suppose."
"The Munsters" went off the air in 1966 after a two year run and Patrick continued his television and movie work. As he approached his teen years in the 70s he appeared on "American Bandstand" with Dick Clark.
"I was never really a musician, they were just trying to ride the popularity of David Cassidy and other people that were teeny-bop stars. And they just let Bobby Sherman go, so the guys that managed Sugarloaf got ahold of me and they were trying to fabricate up a music career for me. though I wasn't really a musician." Patrick said.
In 1982 he and a partner decided to take a stab at music once again with a new group called, "Eddie and the Monsters."
"I wrote lyrics for the 'Munsters Theme' and he played bass. The guitar player sang, but we called the band Eddie and the Monsters. And we were the first unsigned act on MTV, back in the days when it was very difficult. Everybody had to have a record deal before you could get any exposure. We cracked that ceiling." he said.
He's currently working on a livestream project called "Way out there."
"It's going to be a talk show situation where people who saw Bigfoot or were affected by aliens or have some interesting story about what they believe something to be. What mainstream people think of as an abstract idea, and give them a forum to explain their views and convince people otherwise." said Patrick.
He's also been very vocal about working with people struggling with addiction and has been sober nine years as of November 21 and has been cancer free for eight. "I've helped a lot of people whenever I can with speaking engagements, or Meetings for AA or Salvation Army, things of that nature and I do try to help people overcome addiction issues." he said.
He chuckled when we asked if lycanthropy or werewolfism is a recessive trait considering Lily and Grampa Munster were vampires and Herman was Frankenstein's monster. We also couldn't help but ask if he ever came to resent Eddie Munster after all of these years. He replied, "I was happy to be remembered for something that people enjoyed. For me, it wasn't a problem at all."
IF YOU GO:
Valleycon 45
October 18-20
Ramada Fargo, 3333 13 Ave. S, Fargo