​Let's go: transportation options for college students (and everyone)
by Brittney Goodman | .(JavaScript must be enabled to view this email address) | Culture | August 31st, 2016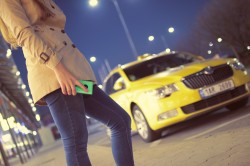 You're in college now -- but how do you get around? Buses, bikes, taxis, and bicycles are all ways to move around in town without having to drive a car. Whether it be getting to work, school, shopping, entertainment, or getting home safely after downtown fun, it's important to know your options.
MATBUS
There is a no-cost transportation option for most area college students for the city bus service MATBUS. NDSU, MSUM, MState, Concordia, and NDSCS pay a fee to MATBUS that allows unlimited rides for enrolled students with their current college IDs.
MATBUS has stops on all the campuses. Students swipe their current college IDs through the fare box for free rides anywhere the bus travels.
MATBUS operates from 6:15am to 11pm Monday through Saturday. Currently, MATBUS does not run on Sundays. NDSU also has several circulator routes on and near campus that require no ID.
Julie Bommelman, Transit Director for the City of Fargo and Lori Van Beek is the Transit Manager for Moorhead. Lori emphasizes, "Using transit can reduce your college debt. If you combine MATBUS with on-demand ride-sharing services, such as Uber or taxis, you can eliminate the need to have a car altogether. This helps you save money on parking fees, fuel, and car maintenance."
Lori and Julie have the following advice for students:
Try the new feature in Google Maps to select "bus" for directions to the nearest stop, routes, and bus arrival time.
MATBUSmobile.com provides live tracking of the buses.
Sign up for matbus.com "email rider alerts" for detours, route changes, and more. Also, get MATBUS tweets by texting "Follow MATBUS" to 40404.
Winter storms can cause delays. Plan to leave a little earlier than you would normally. If routes will end early, be delayed or cancelled, MATBUS will post on matbus.com and send out an Email Rider Alert. Listen to 790 AM radio for official cancellations as well.
Take a few trips on MATBUS with your friends to try it out before you really need it. You'll find that once you take that first trip on MATBUS, you'll be able to take that trip again so much more easily.
Jefferson Lines
Jefferson Lines bus service gives a 15 percent discount for students. You can travel all over the United States and also make connections to get to Canada and Mexico. Both NDSU and MSUM are also stops on Jefferson Lines "College Connection" so you can leave directly from campus. The Jefferson Lines main bus station is located in the Stamart Travel Center at 3500 12th Avenue N, Fargo.
Amtrak
Amtrak also offers students a 15 percent discount, which puts a one-way coach trip from Fargo to Minneapolis around $38, to Chicago at $108, and to Seattle at $142. Advance purchase discounts can also save you money. The Amtrak station is located in Downtown Fargo at 420 4th St. N. The main drawback is that Amtrak's stops in Fargo, both east- and west-bound, are between 2 and 3 am.
Uber
Download the free Uber app, find a driver, pay by credit card, and you are on your way. Stephanie Hinrichs has driven part-time for Uber for almost a year and says that college students like Uber's convenience: "They know that as soon as they request a ride, someone is directly on their way to pick them up." She has also been told by her passengers that the cleanliness of Uber cars is a plus. Also, she says "it is not necessary and not expected for passengers to tip. Everything is paid for through the app." This makes it an economical choice for college students.
Daniel Haglund was driving for Uber the first day it became available in Fargo. He sees many advantages to using Uber: "You should know what the driver looks like (a mugshot shows up when you order a ride), the vehicle make/model is shown, as well as the license plate. Secondly, all Uber drivers have gone through an extensive background screening process. Criminal backgrounds (local, state, national), clean driving records, and a well-running vehicle which must be less than ten years old and have four doors."
Heather Schimke, new to Uber driving, thinks people like its simplicity: "You don't have to actually call and talk to anyone, but a few clicks on the Uber app and your request is sent and a driver is on their way. SIMPLE."
How much does Uber cost? Daniel says that the fare rate now is $4.50 minimum. "The rate is figured within the app in an algorithm based on 75 cents per mile and 25 cents per minute, atop the original charge. Generally, I just say it is about $1 per mile on regular fare."
Caution, though. While Uber rates are normally reasonable, the rates can quadruple during "surge periods." Daniel explains, "The highest I've seen in Fargo is an 8.1 surge on a very busy Saturday night around 1:50 a.m. That means a normal $5 fare surged up to $40.50. Don't worry though - the app will tell you if the surge is on, and you may decline the ride before getting charged." Heather says "Your best bet is to 'get ahead of the crowd,' Which may mean leaving your location a little early to avoid surge pricing. Also, keep checking the app as things can change VERY dramatically for driver availability."
Uber also uses driver ratings. Stephanie says, "A driver needs to have good customer service skills or they might get too many bad ratings. If they go below a 4.3 out of 5 stars they can no longer drive. Also if passengers get too many poor ratings then they can no longer use the service."
Taxis
Taxis are a 24-hour a day option for getting around town. Many taxis can also be scheduled in advance, so you can schedule a ride to the airport at an early hour or be on time for an important appointment. Fargo-Moorhead offers many taxi companies. Doyle Yellow Checker Cab has been in business the longest and has the most vehicles in use.
Douglas Lee (cab driver moniker "Earl") has been a Doyle driver for eleven years. He advises college students to take a cab "to be better safe than sorry." Doyle accepts cash or credit cards. Douglas says that choosing a taxi rather than Uber is often a more economical choice, as "during peak times, Uber can quadruple their rates, and Doyle always has the same rate per mile."
He also emphasizes, "All of our drivers have gone through background checks and have a Department of Transportation health permit," and that they are discussing having all drivers be CPR-certified in the near future. Many drivers will give you their business card and you can text for a taxi directly from your favorite driver.
Great Rides Fargo
Sara Watson Curry is Director of Operations for Great Rides Fargo, a non-profit organization dedicated to building healthy individuals and communities by encouraging the use of bicycles. Sara says the bike share program is a great option for college students.
For NDSU students specifically, their school ID card is integral. First, they need to enroll their card at ndsu.edu/sg/bikeshare. Other users can purchase a day pass for $4. Even better, get a membership card at Greatridesbikeshare.com for $15 a month (promo codes are often available to reduce that to $10). The bikes are available Spring – Fall (end of October).
Currently all the bike stations are clustered near NDSU and downtown Fargo. But they are planning for the future with an "expansion committee" in the initial stages of talking about expanding the bike share into Moorhead.
Great Rides also manages a pedicab service. Two pedicabs operate largely in the downtown area. The fare model is tip-based (no flat rate). The bicycle-powered cabs are driven by individual contractors. The cabs are not like a taxi that you can call on your phone--you do have to hail them. They are available from Spring through the end of October.