​Letting Off Some Steam with Lewis Black
by John Showalter | .(JavaScript must be enabled to view this email address) | Culture | August 28th, 2019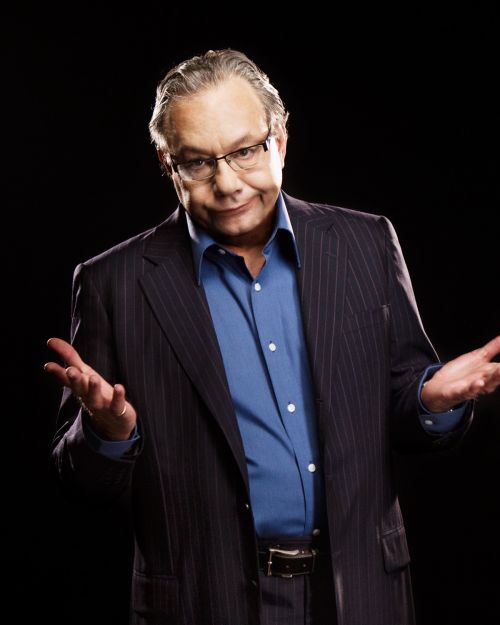 When on stage, long-time comedian Lewis Black has a well-earned reputation as a curmudgeon liable to set off in a furious rant at a moment's notice. However, in the context of an interview he is actually quite the friendly and engaging conversationalist (albeit peppering the chat with the occasional expletive). I had the opportunity to converse with Black about his upcoming show at the Fargo Theatre, his life and times as a comedian, and how his craft has evolved over time without ever losing the irascible anger and iconoclastic nature that made him famous.
Lewis Black has built up quite an impressive resume over nearly three decades as a comedian. Except for the occasional short break from the road at his home in Manhattan, Black is constantly traveling and performing in what he has basically dubbed a "continuous tour." On top of his stand-up comedy oeuvre, Black has also forayed into television and film, not limited to his extensive work with Comedy Central ranging from the show "Lewis Black's Root of All Evil" to his long-lived "Back in Black" segment that has been a part of The Daily Show since its Carson Daly days, as well as lending his distinctive voice to characters like Anger in Pixar's "Inside Out."
Given the man's obvious chops in the world of comedy, it might come as a surprise to some that Black's original ambitions were as a playwright. His stand-up began as a side gig, with writing and collaborating on plays being his main focus. "I was looking for a way to get my words out there," Black said. Eventually his comedic stylings took on a life of their own and he gravitated more and more toward those. Black quipped that it's easier to impress drunken comedy club owners than theatre managers, chalking it up to a level of "intellectual arrogance" in theater. "People talk about how hard it is to make it in comedy. Try making it in theater."
Black's trademark style of comedic delivery generally involves him beginning proceedings with a relatively level head before devolving into belligerent rants reminiscent of a temper tantrum and/or a mental break down, riffing on any number of subjects from pop culture to politics to religion. By his admission, it actually took awhile for him to settle on his stand-up calling card. "In comedy you have to find what you're funniest doing and do that. I'm funniest when I'm angry." At first he wasn't sure the anger angle would sell, but he quipped that it seemed to work for Sam Kinison and it ended up working for him.
Over the course of his last year and a half of touring, Black has been developing a new format during his shows where the audience helps him create his material. When he finishes a show, he will go on a live rant/feed that gets broadcast throughout the world. Fans send in all sorts of material beforehand through his website, talking about any range of concerns they have, and he will commence to riff in his inimitable fashion about them. He has found this new method very rewarding in more than just a comedic manner. It gives him a forum to hear what average people are going through, and an outlet to talk about their problems, something which he feels they often sorely lacking. "Politicians don't listen," he grumbled. "Admittedly, I'm a bubble, but politicians are in a lot bigger goddamn bubble than I am." He said his is consistently impressed with how intelligent and articulate the material sent to him by his fans is.
Besides currently touring, Black is also reaching the final stages of compiling a new, as yet unnamed, comedy special. "I'm just trying to find a place for the special to land." He is also working on putting together a sort of "mini-pilot" for a travel show about interesting places off the beaten path he has visited during his tours, but said that he isn't sure how hopeful he is it will be picked up. "Most of my career has been people coming up to me saying, 'Hey, would you like to do this?' 'No.'"
People in Fargo-Moorhead looking for a good laugh will certainly want to keep Lewis Black's show at the Fargo Theatre on their radar, and those who want the chance to potentially provide fodder for his unique comic stylings can submit material on his website www.lewisblack.com. Who knows, you may be the subject of one of his trademark rants.
IF YOU GO:
Lewis Black: The Joke's On US Tour 2019 with Jeff Stilson
Sunday, September 15, 7 p.m.
The Fargo Theatre, 314 N Broadway, Fargo