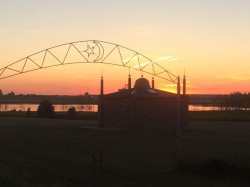 By Tessa Torgeson
There is a piece of history smack dab amidst the seas of wheat and corn, cattle, and derricks in northwestern North Dakota. A crescent moon and star fence along with a tiny cinder block structure with an aluminum dome and minarets pierce the vast blue sky. This structure was the first mosque built in America, right on the outskirts of the 90-person town of Ross, North Dakota, in the oil patch.
Although it is not active, President Obama mentioned this beautiful hidden gem when he was reflecting upon the history of American Muslims in February during his first visit to a mosque.
Syrian-Lebanese immigrants built the original mosque in 1929, settling in North Dakota because of The Homestead Act. While North Dakota is known as a Christian state with predominantly German, Russian, and Scandinavian immigrants, Islam is actually the second-most practiced religion in North Dakota. This was a surprising statistic found in The Association of Statisticians of American Religious Bodies census that was recently published in The Washington Post.
According to the Islamic Society of Fargo-Moorhead, there are about 6000 Muslims in the Red River Valley alone. Even though the number of Muslims on the oil patch is unknown and the mosque fell into disrepair, it was replaced in 2005 thanks to a collaboration between the founder's' descendants and neighboring Christians. The mosque and grounds are still maintained by retired electrician Richard Omar, the son of the founders.
Just like nearby rural Christian churches, there is also a cemetery surrounding the mosque. Traditional Islamic names like Omar are etched into tombstones along with Norwegian ones like Benson. While it is true that death is the great equalizer, this also illustrates that differing religions and cultures have been quietly coexisting for over a century even in prairies of the Midwest. This is tangible proof that unity is possible even in a divisive, turbulent political landscape where Muslims are victims of discrimination, hate crimes, and even an immigration ban proposed by presidential candidate Donald Trump.
Unfortunately, Trump and his followers use the terroristic actions of fringe Islamic extremists to define the entire Islamic religion, thus discriminating and stereotyping the Muslim community. Prejudice against Muslims also called Islamophobia is "the last sanctioned racism," writes Edward Said, author of "Covering Islam." Even though violence is a violation of the central tenets of Islam, the mainstream media do not portray it as a peaceful religion, though they are quick to dismiss Christian terrorism as the work of extremists.
As the golden light dances upon the dome of the mosque while the sun sinks into the horizon and cicadas hum in nearby fields, it is sad to believe that people vilify Islam as a violent religion.
This little mosque on the prairie is a lesson that the ties that bind us together are greater than the ones that threaten to break us apart.