Living a dream
by Ryan Janke | .(JavaScript must be enabled to view this email address) | Culture | September 11th, 2019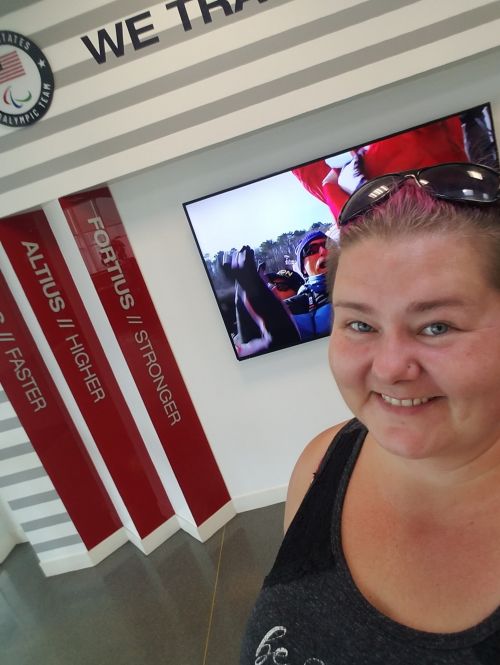 This past week, Shari Lindsley had the chance to live out the dream of a lifetime when she participated in the USA Powerlifting Athlete Camp which was held at the Olympic Training Center in Colorado Springs, Colorado. Shari was one of 35 powerlifters who had the opportunity to train under world-class coaches like Zac Cooper, Arian Khamesi, and Priscilla Ribic during the 4-day event.
Shari said she has always had a passion for powerlifting and, when she was young, had success at the world powerlifting level.
"I used to be a powerlifter when I was a teenager and I was very competitive," Shari said. "I went to nationals twice, and I went to worlds once and won. I was 17 years old and I retired, thinking I was going to take a year off and I would eventually go back to it."
Unfortunately, as is often the case, life threw Shari some curve balls and a one-year hiatus turned into over a decade.
"You know, life happens," Shari said. "My dad, Jack, ended up getting quite ill a couple years later and he passed away in 2007. He was my full-time coach. Powerlifting was just what my family did. It wasn't just me. My dad was the one who kind of pulled us into it because he was a competitive powerlifter and he had four kids who were just enthralled about all these fun things he was doing with all these bars. So, we were fortunate to start out very young and it was a lot of fun for a long time. My sister, Jessica Lindsley Casavant, is also a national champion. The second time we went to nationals she got 2nd."
Shari said she and Jessica got back into the powerlifting scene several years ago, but more life changes, including moving back to Bismarck-Mandan care for her mother who suffered an injury in a fall and needs assistance at home, have made training difficult.
"[We] started back after a long retirement in 2015," Shari said. "We went to whatever meets we could find locally, and we were doing amazingly well. I was really working too much to train properly. We've pretty much only been doing a meet a year. I just ended up having to work so much that training was darn-near impossible."
Despite the hardships she faced, Shari never gave up on her dream to be a competitive powerlifter again. She has continued to enter competitions around the state when she can, although they are few and far between. In March, after what she described as the worst meet of her life, she realized that despite the, "terrible," performance, powerlifting is something she still wants to do.
"I met a lot of really great people," Shari said. "It was just such a welcoming atmosphere and realized how much I missed it. You go to a meet and you're in a strange place where you have all these people. You get to know different kinds of people and you become kind of an extended family because of shared interests. Even though it was a terrible meet, I realized how much I absolutely missed competing."
Shortly after that meet, Shari went back to the Bismarck-Mandan area to help transition her mother back home and soon found out about the USA Powerlifting Athlete Camp. She knew she had to go.
"I saw it and got really excited because when I was a teenager, going through the process of going to nationals and going to world, around that time they were expecting that powerlifting was going to be added to the Olympics," Shari said. "The federation that I was lifting under was the American Drug-Free Powerlifting Association and they were in the process of changing their name to USA Powerlifting that year to help align themselves with all the other Olympic sports. Around that time, the hope was that you would be picked to go live at the Olympic center and that was your job. You train. Unfortunately, that didn't happen."
Powerlifting was not added to the Olympics and Shari moved on with life. She finished high school and moved on to college. Powerlifting is still not an Olympic sport and the likelihood of it becoming one in the near future is slim, but, for Shari, the Olympic experience became a reality to a certain degree.
"You know, powerlifting may not be in the Olympics in my lifetime, but this experience was like the fulfillment of a lifelong dream," Shari said. "I cannot tell you how, I want to say, 'pampered,' we were. I know we spent many hours in the gym every day and we had classroom sessions and different seminars with the coaches, but being away from our homes where we don't have to worry about cooking meals or taking care of our houses or childcare or any of those things – you're on campus and your job is to train, learn as much as you can, and go train again – it was amazing. I feel like I learned so much."
Shari was also excited to see women at the camp. She said she feels strongly that powerlifting is something that can help women in every phase of life.
"It really warms my heart to see women empowering each other to get stronger because being stronger with weights, it spills over into other parts of your life," Shari said. "If you learn to be resilient in the gym where every lift you make you have the potential for success or failure – learning how to deal with that failure and overcome failure – makes a person, I think, more emotionally stable and more resilient overall. I think that one of the things that really attracts a lot of lifters to powerlifting is knowing that if we can do this crazy lifestyle, we can deal with any kind of work problem that comes up. We can deal with any kind of personal problem that comes up because we have more tools in our toolbox."
Shari said she hopes to take what she learned at the camp and apply it in the gym. and she hopes others will continue after their dreams the way she did.
"I'm really kind of hoping, within the next year or two, to learn from the mistakes I've made in the past and hopefully get myself to nationals again," Shari said. "That is my goal."
Hopefully, Shari's story of perseverance will inspire others to continue to pursue their goals despite the mountains that stand in their way.
"I just want to remind people to go do the big things," Shari said. "Life can be dreary. Don't stop yourself from doing the things that you are absolutely passionate about because you need to get from day to day. Figure out a way to fit it into your life."