​Living La Vida Local: Downtown Fargo Street Fair's Local Block of Artist Vendors
by Brittney Goodman | .(JavaScript must be enabled to view this email address) | Culture | July 18th, 2018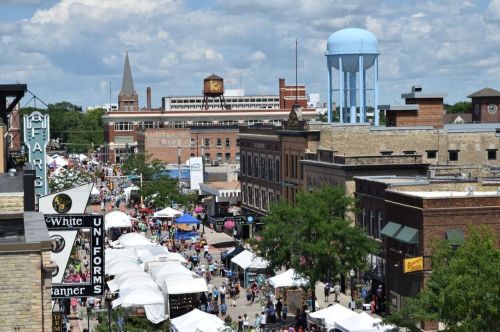 The 45th Annual Downtown Fargo Street Fair has been making efforts to increase the number of local vendors. The Local Block will be located at the north end of the 300 block on Broadway, near the Fargo Theatre.
The High Plains Reader caught up with four of those artistic vendors to learn what to expect in the Local Block, July 19-21 in downtown Fargo.
Brittany Sinclair – Honey B Soap Company
First-time Downtown Fargo Street Fair vendor, Brittany Sinclair started The Honey B Soap Company in 2012, "sort of accidentally." She says, "I was pregnant with baby number three … and I was reading the back of the 'soap' I was using in the shower and a thought struck me like lightning – 'This stuff is garbage! What are you putting on your children?' Then I heard a little voice to tell me to 'make your own soap.'"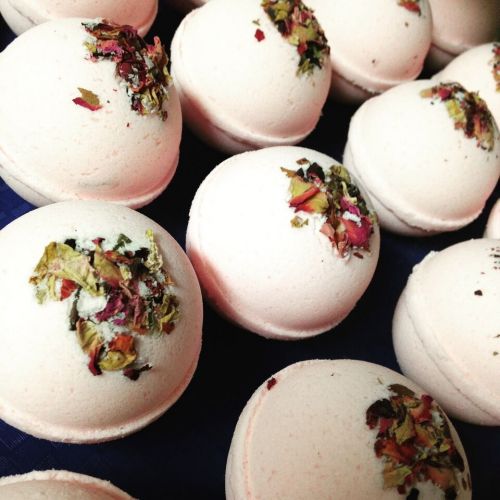 Sinclair explains, "I quickly learned that many other families were looking for more natural alternatives to the commercial products out there. I have been making soap and body care ever since and loving every minute of it!"
Sourcing ingredients "as locally as possible," Sinclair says that even the plastic wrap they use on their bath bombs and shower streamers are even biodegradable. She asserts, "I create natural body care to give people an alternative to commercial products. Our bodies are bombarded with chemicals and if I can eliminate just a few by providing better soap or better bath bombs, then I've done my job."
She likes the "symbolism of the bee in the hive and what the bee represents in the ecosystem. They are a team working towards a common goal, always busily engaged in a good cause. We are like that bee in the hive working hard to do our part to bring about a great result. We believe strongly in giving back to the hive, our community."
She cuts personal soaps from every batch of soap and donates them to the local YWCA Emergency Shelter. They also "donate to many local causes with goods and money. In addition, we are a proud contributor to Heifer International."
The Honey B Soap Company also sells at the Red River Market in downtown Fargo most Saturdays and other shows around the F-M area, while also offering a large selection of items at Unglued and at Tochi and Eco Chic Boutique. Her web site is www.TheHoneyBSoapCompany.com
Sinclair is excited about participating in the street fair for the first time: "We decided to try it out this year because we really jive with the local-maker ideology. Fargo-Moorhead is supportive of local makers and the atmosphere of downtown is exciting and vibrant."
She grew up north of Minneapolis in Zimmerman, MN and her husband is a Fargo native. Meeting him at NDSU, She says, "We went on one date and were married 50 days later. It is 20 years later and I can't see myself living anywhere else."
Nerissa Hendrickson – Twisted Walnut
Nerissa Hendrickson, first-time vendor, began Twisted Walnut in the spring of 2015: "When I would shop for things for my own home, I was never able to find exactly what I wanted, so I started experimenting with making things for myself. A few weeks later I painted a sign for a friend for her birthday and had so much fun seeing her reaction I immediately wanted to make more and so I did just that!"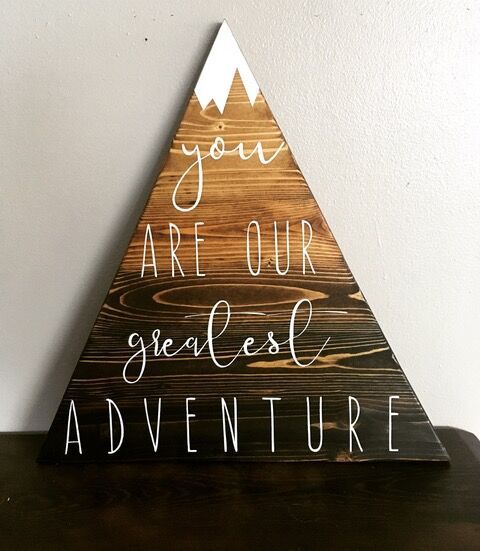 Hendrickson describes her signs as "completely handmade, from start to finish. I personally select the materials, (which I get from a variety of sources), create the blank wood canvases, create the designs digitally first, and then paint them. I use a variety of wood types and try to find unique wood that is naturally beautiful without a lot of stain. I also love using reclaimed and scrap pieces and making them into something beautiful instead of throwing them away. I create all my own designs and also do custom designs per client request."
She loves the process: "Especially the woodworking part. It is amazing seeing a product take shape, and since every piece of wood is different, no two pieces are ever the same. I always joke that I am addicted to wood, but I seriously love it, the graining, the colors, even the smell… I love creating pieces that motivate, inspire or even comfort people, and knowing something I created is a part of someone's home, is truly an honor."
She creates out of her Detroit Lakes home in a wood shop attached to her house: "It's really nice to be able to be at home with my kids and be able to do work."
Hendrickson has an Etsy shop @TheTwistedWalnut and on Amazon Handmade and is currently working on a web site. Twisted Walnut also has products in local retail locations, including Beautiful Junque in downtown Detroit Lakes and The Foundry in Minot ND. She also encourages direct contact via phone, email, Facebook or Instagram.
A Grand Forks native, Nerissa and her husband lived in Fargo for 12 years, went to Castle Rock, CO for a few years and now are in Detroit Lakes. Of Fargo, she says, "I still love it and feel like its home whenever I am there."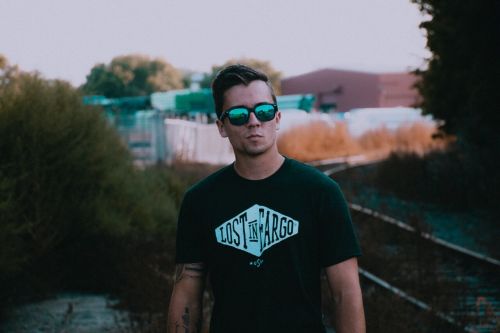 Nels Hunstad – Lost in Fargo
First-time vendor, Nels Hunstad started Lost in Fargo in 2016, selling original t-shirts and photography. He was visiting New York in 2015 and "I bought some great vintage looking shirts from a beach stand. It made me realize how Fargo didn't have any great 'Fargo' T-shirts and how much I wanted one. I was working in management and marketing for a local screen printer so I had shirts on the brain. I started thinking about how to bring something new to life and one day thought about how I was feeling 'Lost in Fargo.' The name really stuck with me as an extension of a lifestyle that focuses on celebrating the hidden parts of Fargo and enjoying life even if we feel a little lost sometimes."
Hunstad says the Lost in Fargo style is inspired by "hand lettered signs, traditional tattoos, vintage logos, etc. We have tried to build on that by producing designs that also capture some of the regional culture as well as a spirit of adventure."
Lost in Fargo sells locally at stores such as Scheels, Unglued, Fargo Coffee, Red River Coffee and Goin' Postal Downtown. They also have items available online at www.lostinfargo.com
He explains: "Growing up in Fargo I went to the street fair every year (mostly for the food!) I love what it brings to downtown and how it really brings in people from all over. It is a great opportunity for us to meet our clients face to face and get feedback and form relationships." As part of the Local Block, he thinks "it will add a really great dynamic to the street fair getting a chance to connect with other makers in Fargo who are doing different things and to learn from them!"
Hunstad grew up in Moorhead, went to college in Minneapolis, and has traveled overseas: "Being back in Fargo gave me the ability to appreciate what we have here and also the confidence to say there are a few things missing that would be great. Thankfully, I've been able to follow my passions and become part of the community that I love."
April Iverson – Crafty Ninja
First year vendor, April Iverson started Crafty Ninja in 2016. She says that although she grew up with her mother being an "excellent seamstress," she had no interest in sewing until ten years ago and asked her mom to "teach her the basics." She and her mom did "a few fun projects together, and then I was hooked."
Crafty Ninja started out with handmade baby gifts -- burp cloths, baby quilts, pacifier clips, zipper pouches and more: "I love giving something I made and put love into." After making flannel blanket scarves and having left over flannel, she created her own pattern for a flannel poncho because she did not like any of the patterns she found: "That is how you have my Crafty Ninja Kimono wraps today. I started making these with heavier weight fabric only, but I have really increased my variety. I still use flannel, but I also use chiffon which is very light weight and airy for summer, also rayon and even sometimes I will add lace or fringe."
Iverson explains, "I find so much joy seeing my customers try on a kimono wrap and just fall in love with it. There is usually a moment you can see in their face when they know it was meant to be, it needs to be a part of their wardrobe. And the pride I feel in having created that, it's priceless."
Iverson works out of her home in South Fargo. Her products are available at her Etsy shop - @CraftyNinjaND and her Instagram at NDCraftyNinja.
She is excited about the event: "I have attended many years, and I absolutely love the atmosphere. Downtown Fargo is one of my favorite places to be. It is so fun to have the streets wide open and be able to walk and see not only the vendors, but also our local businesses...and the food is amazing."
Iverson grew up in Minot then attended NDSU then MSUM where she earned a degree in Physical Education. She is a Physical Education teacher at South Elementary in West Fargo and she and her husband will be celebrating their eleventh wedding anniversary during the Downtown Fargo Street Fair on July 20.
Other local artists and makers participating in the Local Block at the Downtown Fargo Street Fair include:
Britt Dalice – Dalice Art Studio
Danny Bruckbauer – Danny Bruckbauer Pottery
Kayla Coté van Rensburg – Dak & Co.
Erica Kale – Finders Keepers
Julia Knutson – J.Rose.Designs
Elizabeth Moore – E.Moore Art Studio
IF YOU GO:
WHAT: 45th Annual Downtown Fargo Street Fair
WHERE: Downtown Fargo
WHEN: July 19-21