​Local Love: Creative Businesses Partner for 'Shirts & Shots' Event
by Brittney Goodman | .(JavaScript must be enabled to view this email address) | Culture | August 8th, 2018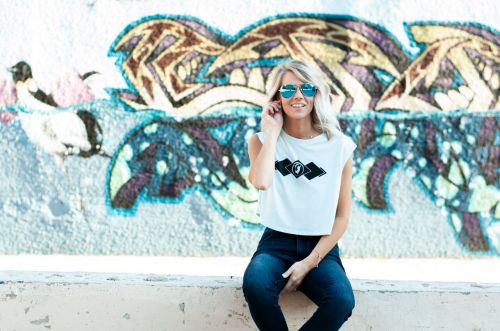 Local collaborators are excited, maybe even caffeinated, in anticipation of the Shirts & Shots event. It is described as "an evening event featuring local creators" and is happening on August 18th at Fargo Coffee in north Fargo. A collaboration of several entities: Fargo Coffee, Proof Artisan Distillers, XPLOR Music, and Dak & Collaboratives, it is aimed to celebrate and show love "for all things local."
Kayla Coté van Rensburg, from Dak & Collaboratives, says that guests attending the event should expect a "fun-filled and cultural experience with great coffee, mixology must-haves, local apparel and local music." The event kicks off with a social hour from 4-5, music from 5-6, a mixology class with Andrea Anderson from Proof Artisan Distillers from 6-7, and a closing social hour from 7-8.
Andrea Anderson from Proof Artisan Distillers is excited about the event where she will be teaching mixology: "I get the amazing job of crafting up some cocktail fun with the help of the Fargo Coffee crew," Anderson said. "We will be demonstrating all the best ways to have two of everybody's favorite things (coffee and spirits), come together in ways most people would never think of...from fancy craft cocktails to easy brunch ideas. There will be unique recipes and an abundance of samples for every taste."
Anderson added that she loves it "Any time that I get a chance to collaborate with other members of our badass local posse!"
Kayla and her husband Piet own Dak & Collaboratives, a boutique-style apparel brand and pop up shop with Fargo-made items: "We bring the party wherever we pop up and we always show love for all things local." At the event, they will be set up as Pop Up Boutique and will feature new fall apparel, a limited edition tee shirt-in-a-mug and a free "Dakuccino" by Fargo Coffee with purchase on the night of the event.
Coté van Rensburg and Piet formed the idea of Dak & Collaboratives after Coté van Rensburg, graphic designer at the time, created the mark later named "Dak the Bison." Dak the Bison is a bison with the name Fargo in the body, and has been very popular.
"From there we decided to create a brand with the animal-letter shaped logo as the featured design," Coté van Rensburg. "We soon came up with more designs and more products to put them on. We now carry Dak the Bison, along with other icons, such as North the Moose, and our popular, Dakota Girl design on a variety of merchandise, including wall hangings and apparel."
They collaborate with local businesses to create unique, Pop-Up shop events and celebrations and are busy – currently booking into fall. They are interested in further collaborations, and can be contacted at info@daklife.co, and want people to check out their upcoming events and pop up shops on their website: shop.daklife.co.
IF YOU GO:
WHAT: Shirts & Shots: An Evening Event Featuring Local Creators
WHERE: Fargo Coffee – 1020 19th Avenue North, Fargo
SPONSORS: Dak & Collaboratives, Fargo Coffee, Proof Artisan Distillers, XPLOR Music
WHEN: August 18, 4-8 p.m.
COST: $30 – Tickets available through Eventbrite