​My (fake) Facebook friends
Culture | May 9th, 2013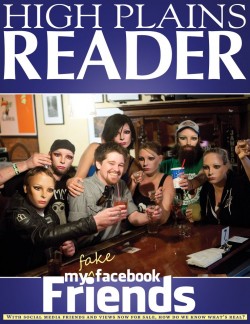 By Diane Miller
Last September, the world's most popular social media website removed millions of fake "likes" and accounts from its network.
According to a Facebook Security statement: "When a Page and fan connect on Facebook, we want to ensure that connection involves a real person interested in hearing from a specific Page and engaging with that brand's content. As such, we have recently increased our automated efforts to remove Likes on Pages that may have been gained by means that violate our Terms."
Last December, YouTube, the world's most popular video website, removed 2 billion fake/unintentional views.
According to a statement made by the YouTube's Official Partners and Creators Blog: "A view should be a metric that reflects genuine user interest. In other words, a viewer has a choice, and that choice determines whether or not we count something as a view. It shouldn't be a gauge of how many people accidentally or unintentionally ended up watching your video."
PC Magazine says there are an estimated 83 million Facebook accounts that violate Facebook's terms of service, including accounts used for spamming and duplicate accounts.
And yes, it's possible to be tricked into "liking" pages and viewing videos. It's also possible for pages to gain "likes" and views through malware.
Not to mention, there are hundreds, maybe thousands, of websites that sell "likes" and views. For example, bestyoutubepromotion.com will add 5,000 views to your YouTube video for $10. Most of these sites are considered "dangerous" by Internet security software.
Why would some companies, musicians or individuals go to such lengths to gain virtual popularity?
Well, Justin Bieber, one of the biggest pop stars on the planet, was discovered because of YouTube. And there is no way his videos only had a few thousand hits.
And doesn't having tons of Facebook "likes" usually mean an organization, band or individual is well known or respected – or least, shouldn't it?
For example, if a popular company like Scheels only had around 1,000 "likes" on its Facebook page, many of us would think it was unofficial site or fan site.
Or say we were searching for the official YouTube video for Taylor Swift's "Teardrops on My Guitar." If it only had 10,000 views, we'd think it was karaoke track or something – because its offical video has nearly 50 million views.
If any smaller organization miraculously got 100 likes on its page in one day, it would probably celebrate. If any band's YouTube video went viral, they would probably go bonkers.
So if a company really believes in its product and has the chance to spread the word about it at a faster-than-normal pace, why not discover a few easy tricks to gain more online popularity?
Take "Smug Pop," a "record label," for example. The company thinks it has an absolutely, fabulously, without a doubt stellar roster of bands. The company knows people would go nuts for Sailor Harry's alt-country jam "Bump Into Me" or The Valley Bat's killer psych-pop tune "Wonder Mall."
Smug Pop's artists have a limited, though highly dedicated, fan base. So what better way to gain a little momentum then by significantly increasing the bands' social media presence?
Smug Pop argues that adding fake "likes" and views is the same as buying advertising. Besides, the record label would not change its product one bit. And its intentions are great: gaining more recognition for its talented roster.
Social media sites, on the other hand, would argue that this is precisely how people program themselves to cheat. People think: "I deserve it" or "I've earned this."
Smug Pop would essentially be cheating music fans into believing it earned something that usually takes other record labels years of real work, dedication and competence to achieve.
Social media says it's manipulative and unethical.
Facebook's Help Center alerts: "If Facebook's spam systems detect that your Page is connected to this type of activity, we'll place limits on your Page to prevent further violations of our Statement of Rights and Responsibilities."
YouTube's Creator Blog warns: "Ignorance of bad traffic or other actions taken on your behalf may lead to your account being removed from YouTube."
Because of these reasons, most organizations don't even bother buying online popularity. Though there are other ways to arguably cheat to gain online popularity:
1.If someone denies your request, keep sending him or her more and more requests until they finally give in.
2.Start with just a regular Facebook profile and add as many "friends" as possible, then convert to a page. Facebook will turn all your "friends" into "fans." People are way more likely to add "friends" than "like" pages.
3.Adding an outrageous and/or misleading title for your video.
4.Log in under a fake account and post negative reviews or comments on a competitor's site.
Then there are standard ways:
1. "Invite" friends.
2. Buy real ads.
3. Post links.
4. Use incentives.
5. Always be improving your business or band.