Nature of the North: Bringing People Inside to Get Them Outside
by John Showalter | .(JavaScript must be enabled to view this email address) | Culture | February 5th, 2020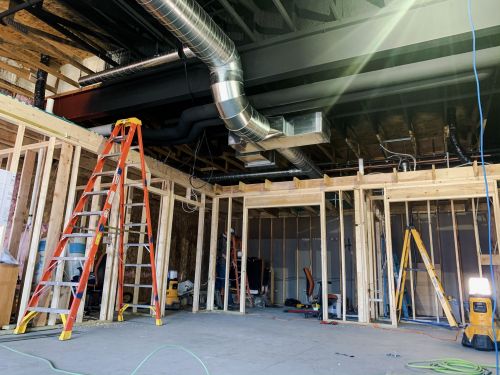 A lot of us may sigh and roll our eyes when our parents or grandparents chastise us for spending too much time attached to our electronic devices. There may be a grain of truth in their complaints, however. According to the Outdoor Foundation's 2019 Outdoor Participation Report, almost half of Americans did not go outdoors for recreation. We went on one billion fewer outdoor outings in 2018 than in 2008. How should this loss of passion for the great outdoors be addressed? According to Jon Walters, founder of Nature of the North in Moorhead, the answer may be a bit paradoxical.
"Nature of the North's goal is to get people outside," said Walters. "In this area we all know the winter months can take up half of a year, and we realized, in order to get people outside, we should consider bringing the inside, in." Since 2016, Nature of the North has hosted workshops at various places in the local community, like Wild Terra Cider and Front Street Taproom, to improve people's knowledge of the outdoors and outdoor activities. Other events that have been hosted by Nature of the North include Tent Fest put on by the non-profit Longspur Prairie Fund and the Aronia Berry Harvest Festival last summer.
Walters' love for the outdoors extends all the way back to his childhood. He grew up on the outskirts of town, away from the relative hustle and bustle of downtown Fargo. Even as an infant, his parents would take him out camping. That passion for the outdoor life continued when he became a member of the Boy Scouts. It was on a Boy Scout camping trip in the back country of Canada that he knew being an outdoorsman was his calling. "It changed something," he said.
Before founding Nature of the North, Walters spent approximately five years working in human resources recruiting talent. "I needed to showcase the good things around here and sell people on the city," said Walters. When he founded Nature of the North and started offering local workshops he found an outlet to apply those skills to something he had been passionate about his entire life. "There are a lot of outdoor groups around here, but not a lot of overlap," said Walters. "We want to build our entire outdoor community. We want to be a little bit of everything." With a social media presence on Facebook approaching 2,500 followers, he is certainly making progress in that regard.
The giant step forward for Nature of the North, however, will be moving beyond just workshops. In spring of this year, the company will be opening its first brick and mortar location in Moorhead. One of the main attractions? The first ever retail rock climbing wall in the Fargo-Moorhead area. "This is the first rock wall that is completely open to the public," said Walters. "You don't need a membership, or an appointment, or even pre-qualification or training."
That will hardly be the only draw to their physical location, however. Naturally, there will be workshops teaching valuable outdoor skills, as well as film screenings. They will also host other planned events such as hikes. Additionally, there will be a small selection of gear available for rental, with plans to increase the stock and variety available as Nature of the North continues to grow.
It all relates to the paradoxical statement about the best way to get people outdoors is bringing them indoors. According to Walters, the biggest barriers to people engaging in more outdoor activities are not having access to the proper tools, lack of skills, and planning concerns. With its selection of services, Nature of the North hopes to not only bring people with similar interests together to break down those barriers, but to teach them the skills necessary and overcome the financial and logistical challenges to being properly prepared for serious outdoor excursions.
Don't own the proper equipment? Rent it. Don't know how to properly use that equipment or otherwise hack it in the vast expanse of nature? Get informed. Not sure how to plan a trip so it doesn't end in disaster? Get some guidance. Those are the kind of services that Nature of the North wants to offer the community, and by breaking ground on a new location, they are certainly setting themselves up to do so.