NDSU Sorority Holding Event to Honor Sister
by HPR Contributor | .(JavaScript must be enabled to view this email address) | Culture | September 26th, 2018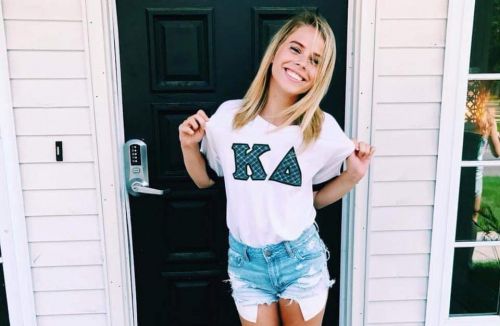 by Ryan Janke
ryan.janke@hpr1.com
North Dakota State University's Kappa Delta sorority is holding a flag football tournament in north Fargo this Sunday to honor a sorority sister and raise money for a charity set up in her memory.
Sydney Yingling and Julia Duncan describe Ellie Helm as a confident, outgoing young person who embodied what the Sigma Psi chapter of Kappa Delta at North Dakota State University is all about. Ellie, a former cheerleader, loved NDSU and seemed to know everyone, and everyone seemed to know her – especially by her big smile. "Everyone knew that smile," says Duncan.
Ellie passed away in a tragic ATV accident last September 29 in her home state of Wisconsin. After her death, her sorority sisters knew they wanted to honor her memory. They just needed to find a way. They brainstormed ideas, trying to think of a way that would also get the entire community involved.
Initially, they thought about doing a bean bag tournament, but after researching other campus events they soon realized there will be several of those tournaments through the year. They did not want people to get burned out on bean bags, so they went back to the drawing board.
After more thought and research, they found that NDSU's Interfraternity Council, a governing body for Greek men, has been playing flag football. There seemed to be a lot of people interested and participating on campus. They talked about the idea and decided it would be a good fit for their event because of the interest and because it will still be nice enough to play outdoors.
The Ellie Helm Flag Football Tournament will off at 11 o'clock this Sunday. This weekend marks the one-year anniversary of Ellie's accident. The games will be played at Churchill Field which is situated between 12th and 13th Avenue North on North University Drive on the NDSU campus. The money raised from the event will go to the Ellie Helm Foundation.
The Ellie Helm Foundation raises money for causes Ellie was passionate about – youth education, engagement with the elderly, and mental health awareness. The foundation chooses different charities and activities that support those causes. Some examples of places the money will go are – a local nursing home for a music program, or a scholarship at the high school. Yingling, Ellie's sorority "little" – little sister – says the foundation is committed to finding, "different ways to support these different things she was passionate about."
Teams will consist of a minimum of six players including a minimum of two girls playing on each team. Yingling said the games will 20 minutes long, split into 10-minute halves, on a running clock. She expects to have three games going at a time to start. Teams and games will rotate in and out as the tournament bracket moves along. Prizes will be awarded to the first and second place winners.
As of Friday afternoon, there were seven teams signed up for the tournament, but Kappa Delta will take registrations for teams until kickoff of the first game. Registration is $5 per person and teams should be formed prior to registration.
The Ellie Helm Flag Football Tournament is open to everyone. Even if you are not participating in the games, you can still come and watch the event. Organizers are asking everyone to wear pink in honor of Ellie, the Helm family, and the foundation.
IF YOU GO:
Ellie Helm Flag Football Tournament
Sunday, September 30, 11 am
Churchill Field, 1300 Centennial Blvd, Fargo