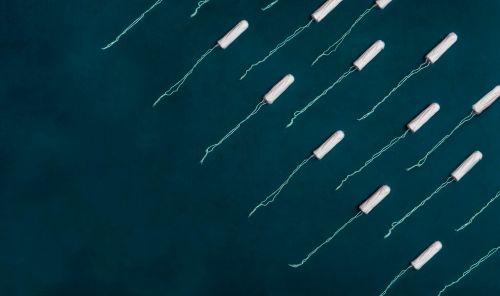 By Jill Finkelson
jsfinkelson99@gmail.com
There are many things people miss when they are homeless or living in poverty but one thing not often talked about is menstruation and how it is handled. Stories of people young and old having to resort to desperate measures when unable to afford tampons, pads or pain relief are heartbreaking and uncomfortable.
Most of us don't think twice about picking up these things while running errands, but they can be cost-prohibitive for many. Some young women in our community are stepping up and asking for donations for struggling menstruators in the form of supplies or cash. The Period. movement is nationwide and focuses not just on getting supplies out but cutting through the stigma and discomfort of talking about a normal healthy process. It can be uncomfortable to talk about this but until it comes out into the open, the issue can't be faced. Fortunately, Alison Schwark talked to us about opening a chapter of this organization at NDSU. She has teamed up with local businesses and organizations to bring this cause and conversation into our community.
High Plains Reader: What motivated you to start a chapter here at NDSU and what can you say about the process?
Alison Schwark: Reproductive rights are an issue I am very passionate about, so when I heard about PERIOD I wanted to get involved immediately. I thought that bringing it to NDSU would be so unlike anything else on campus. That being said, we have really had to build this from the ground up. We have had a lot of support and help from other organizations at NDSU, but we have just been figuring everything out on our own. A lot of people seem really interested in it because they haven't heard of anything like it and a lot of people really don't think about menstrual health and hygiene being an issue. I think this could continue to be very successful at NDSU and could help a lot of menstruators!
HPR: Can you tell me about the local organizations and people involved? And how can people get involved and/or donate to the cause?
AS: LadyBoss FM reached out to us and set up our first product bin for donations at the Prairie Den in downtown Fargo and they have posted about us on their social media which has helped catch a lot of attention from people. Catalyst and Flint Group also reached out to us and set up a product bin. Social media has been our main source of communication with the community so it is huge that these businesses have posted about us. The easiest way to get involved is to check out our Instagram (period.ndsu) or FaceBook page and simply educate yourself on the importance of this issue. A lot of people don't understand that it isn't only having access to pads and tampons, but having access to clean bathrooms and openly being able to have a conversation with someone else about it.
Businesses can house product bins, you can donate at any of our bin locations (Prairie Den, Catalyst, Flint Group, NDSU), or you can make a monetary donation which will go toward purchasing products and distributed throughout the FM area by Churches United.
HPR: I think this is a fantastic cause and am happy to see the community support for this cause. This is a delicate issue that often gets overlooked. What do you think are your biggest challenges?
AS: The taboo that surrounds menstruation is a huge barrier. People don't like to talk about it and that's why this issue isn't often addressed and menstruators feel embarrassed by a very natural process. That being said, if we can't talk about it openly then it becomes an even bigger issue. Breaking down the stigma around periods and making people feel comfortable to talk about it has been a huge challenge.
HPR: Can you say a little bit about how this is an issue for women in our community and everywhere? What are the goals of the campaign to make a change?
AS: We have a monetary goal of $200, but we don't have a specific goal for products. Honestly, our first day of the drive we had two students at NDSU bring a box of tampons each and even that felt like a feat. Knowing what it is like to have to decide between spending a paycheck on food or tampons, it is so nice knowing that someone won't have to worry about it even if it is for one cycle. Overall, we just want to give back to our community and support menstruators.