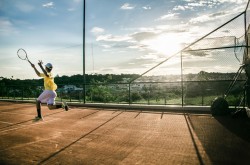 One Love Tennis Inc. was founded in 2011 as a non-profit organization and designed to reach underprivileged and low-income youth through affordable tennis, education, and fitness.
Founder Michael-Ray Pallares is a professional tennis player. "Tennis has been such a gift to me. It has allowed me to travel the world, meet some amazing people, and glow as a person. I wanted to give back and share this gift to children who needed it most, and this is how I came up with One Love Tennis."
Pallares has been able to provide the affordable tennis, education, and fitness through the foundation working with community outreach programs; fundraise, and promote tennis for children who would otherwise never be exposed to the sport.
He has traveled all over the world organizing "Play-Day" events that introduce children to tennis, providing them with the opportunity to continue to develop and enhance their skills.
Play-Days are designed for children to experience the social and competitive aspects of tennis, promoting a sense of achievement through a fun and spirited atmosphere. Pallares has organized the events in Colombia (twice), Myanmar, Malta, Zambia, Kansas City, and Fargo.
The Play-Day event was held at the YWCA Cass Clay Emergency Children's Shelter in Fargo on August 6. Pallares commented, "What impressed me the most was the incredible support from the Fargo community. Rhombus Guys Pizza, Juice It Smoothie & Juice Bar, and Party City all gladly made wonderful donations."
"Thanks to everyone involved, the children now have a memory that will last a lifetime." Pallares is planning to raise enough funds to donate nets, racquets, and balls to the YWCA Shelter so that tennis can be incorporated into the children's daily sporting activities.
"I encourage everybody to get involved. It will not only change a child's life, it will also change your own!"
One Love Tennis, Inc. is coming again to Fargo-Moorhead on Monday, September 4, at the Cass Clay YWCA Emergency Children's Shelter. Michael-Ray Pallares is optimistic about the possibility of raising funds to purchase balls, racquets, nets, and other equipment for the shelter.
The Children's Shelter is also in need of in-kind donations such as juice, cereal, baked beans, dixie cups, and disinfectant wipes; kitchen items like plastic reusable bowls and cups, gallon-size ziplock bags, silverware, glasses, casserole dishes, sets of knives, measuring cups and spoons, sippy cups; household furnishings: small TV stands, flat screen TVs, twin bed-size sheets, strollers; clothing for teens and sizes 6 and up, hair oil, hair grease, edge control, bras sizes 30A 30B 32A 32B 36A, deodorant, denture-cleaning tabs, and women's sizes 5 and 6 underwear, new only please.
Organizations and individuals who wish to donate or learn more about One Love Tennis are able to get more information by contacting onelovetennisinc@gmail.com. All kinds of supports are appreciated: supplies, monetary, sponsors, time with the children, etcetera.
Official Website: https://www.crownelitetennis.com/; Facebook webpage: https://www.facebook.com/OneLoveTennisInc/
YOU SHOULD KNOW
One Love Tennis Play Day
Monday, September 4
YWCA Cass Clay Emergency Children's Shelter 3000 University Dr S, 701-232-3449