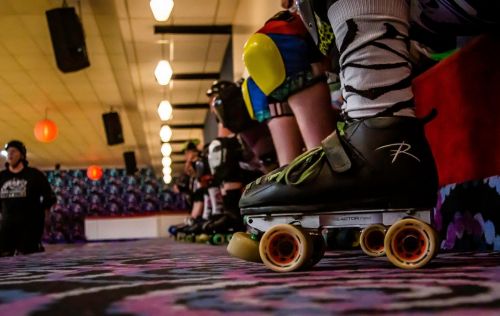 High Plains Reader spoke with Beth Ambrosio, "Maulflower," board member and skater with the FM Derby Girls about the first bout of their 11th season, and the charity events taking place for Pi Day.
HIGH PLAINS READER: What is your role with the FM Derby Girls? How long have you been a member?
BETH AMBROSIO: I am a skater, and I'm also on the Board of Directors - all of us take part in running our league and making it a success. I have been skating since the first season of FMDG, although I had about an 18-month hiatus in the middle - so, about nine and a half years. My skating position is as a blocker. I'm one of the skaters in the pack that is trying to help our team's jammer score points, while making life difficult for the other team's jammer!
HPR: The bout takes place on Pi Day, and there will be pies for sale. Can you tell us more about the types of pies, etc?
BA: We'll be selling a variety of fruit pies (one of our derby alums has reportedly been hoarding rhubarb in preparation for this event) and I'm making a brownie pie. But we're also doing something fun, separate from the pie sale. We'll have a silent auction in which audience members can bid to smash a (different) pie in the face of their favorite FM Derby Girl after the end of the bout. It will be interesting to see how high the bidding goes on some of us. Finally, because it's Pi Day (March 14 is 3.14), you can expect to hear plenty of math puns and jokes from our announcer, Jersey TOMato, throughout the evening!
HPR: What are you looking forward to with this first bout of the 11th season?
BA: The first bout of the season is always special, because it's held downtown in a great venue and it's a fantastic reminder of how awesomely eclectic, friendly, and supportive people are in Fargo-Moorhead. It's also great to be squaring up against the Winnipeg Roller Derby League All-Stars again. WRDL was the first league that the FM Derby Girls ever played, back in 2009, so it's always nostalgic when we meet up. But, with nearly four years since we last played together, it will be fascinating to see the ways our two leagues have changed, both in new members and playing style.
HPR: A portion of the proceeds will go to the pediatric oncology unit of the Roger Maris Cancer Center. How did your organization decide on that particular association?
BA: We decided to mix things up a little this year, and give our sponsors an opportunity to help us choose our featured charities. For our first bout this season, Sidestreet Grille & Pub, who are running the adult beverage stand at our event and also hosting the after-party, felt strongly about donating to support treatment and care of pediatric cancer patients in our area.
HPR: What would you like the public to know about attending this bout?
BA: This will be a great night of fun! It is an all-ages event. In addition to the pi(e)-based fun and the roller derby, there will be an event DJ, we will be holding a 50/50 raffle, there will be an FM Derby Girls merch booth, and the Civic will be selling concessions. We will also have musical entertainment for people waiting in line to buy tickets in the lobby that night, played by a student and teacher from Amped School of Music, downtown! If attendees would like to buy their tickets ahead of the bout date, they can be purchased online from TicketMaster or in-person at the Fargodome box office. Ticket sales the date of the bout will be at the Civic Center box office.
IF YOU GO:
FM Derby Girls Pi Day Bout
Saturday, March 14, 5-8pm
Fargo Civic Center