Prairie Public celebrates 50 years with a community-driven Golden Gala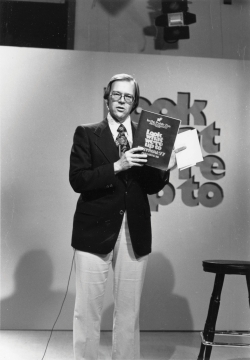 The local broadcasting company that brings us "Prairie Musicians," "Prairie Mosaic," "Prairie Pulse," "Arthur," "Downton Abbey," "Main Street," and hours upon hours of other engaging educational programs through television and radio is celebrating 50 years service.
Now the community can find a way to give back to one of its resident staples. On Saturday, Oct. 25, Prairie Public is putting on a Golden Gala as a way to fundraise for future projects and to connect with the community.
"We're a public news station so we want the public to be there because they are the reason we are on the air and doing what we do and it's really less about us and more about them," said Kayla Casavant, donor relations coordinator and Gala organizer.
Perhaps the biggest draw to the event is the silent auction that features more than 100 desirable items, including local artwork, a signed Joe Bonamassa guitar, F-M restaurant gift certificates, a couples getaway package and much more.
"(For auction items) we solicited people that we have done business with in the past or we featured them in a Prairie Public segment. So whether it was Prairie Musicians, Prairie Mosaic – a lot of the artists that we've featured are people that have been featured on our shows," said Troy Davis, membership manager and Gala organizer.
The evening will also feature a gourmet dinner, gourmet desserts, butler-served appetizers and a wine tasting by Bernie's Wine and Liquors.
Keep in mind, this event is black-tie optional. "We're expecting people to come in tuxes and we're expecting people to come in jeans," Casavant said.
Casavant and Davis said all the organizers want the evening to be full of names that people recognize in the community. So, for example, Fargo's Front Fenders will provide the live dancing music in the evening; the gift certificates are from some of the most recognizable restaurant names, including Mezzaluna and The Boiler Room; and the featured artwork will be by big time North Dakota artists like Walter Piehl.
Not to mention, Prairie Public emphasizes youth education and empowerment, so the gala will feature the Fargo Moorhead Area Youth Symphony during the dinner portion.
Tickets are still available at Prairiepublic.org. About half of the ticket price is tax deductible. All proceeds from the tickets and the silent auction will go toward Prairie Public.
Most importantly, it's a celebration of 50 years of longevity, 50 years of serving a greater cause, 50 years of educating and informing and 50 years of supporting local art. Cheers to Prairie Public!
IF YOU GO:
Prairie Public's Golden Gala
Sat, Oct. 25, 5:30 p.m. to midnight
Ramada Plaza Suites, 1635 42nd St S, Fargo
prairiepublic.org/events/gala