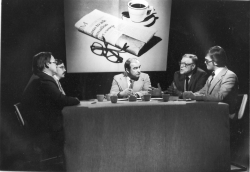 By Russell Ford Dunker
What began with a hand-me-down trailer house headquarters and television transmitter tower on the edge of Fargo is now a region-wide television and radio network, employing about 150 people in Fargo, Bismarck and Minot. At 50, Prairie Public Television is not showing signs of being over-the-hill. Rather, it continues to embrace technological advances in the medium while remaining remarkably close to the same mission it has had from the beginning – to deliver programs that educate, involve, and inspire, without commercial interruption. Public broadcasting was born, and continues to thrive thanks to direct support from the public – individuals, businesses, foundations, and governments.
Looking back … The organization was conceived in August of 1959 when a forward-thinking Dr. Ted Donat presided over the incorporation of the North Central Educational Television Association. Then in July of 1963, after nearly four years of planning and development, the first employee was hired – Clair Tettemer as General Manager – and North Central Educational Television was about to go live. The Association's first station, KFME-TV (Channel 13, Fargo), aired its first broadcast, in January of 1964.
That was a month of significant beginnings. In the same month, President Lyndon Johnson declared the "war on poverty" in his first State of the Union address to Congress, just two months after John F. Kennedy's assassination; the City of New York unveiled plans to build the World Trade Center, "twin towers of 110 stories"; the Federal Trade Commission proposed "compulsory branding of every cigarette pack with a danger warning"; a Presidential commission proposed lowering the voting age to 18; and astronaut John Glenn surprised the nation by running for the U.S. Senate. Just a few weeks later, The Beatles landed in New York and appeared on "The Ed Sullivan Show. "
North Central Educational Television Association was formed at a time when the percent of American homes with a television had skyrocketed in 12 years from 9 to 90 percent. The top-rated television shows were "Gunsmoke," "Wagon Train" and "The Beverly Hillbillies." Daytime fare on the three networks included "Captain Kangaroo," "I Love Lucy," "Truth or Consequences," "As the World Turns," and "Father Knows Best." The existing networks were broadcasting just two programs per day in color for the benefit of the few color set owners.
Federal Communications Commission (FCC) Chairman Newton Minnow remarked in 1961, "I invite you to sit down in front of your television set … and stay there without a magazine, newspaper, or book to distract you, and keep your eyes glued to that set until the station signs off. I can assure you that you will observe a vast wasteland. You will see a procession of game shows, violence, audience participation shows, formula comedies about totally unbelievable families, blood and thunder, mayhem, violence, sadism, murder, western bad men, western good men, private eyes, gangsters … and, endlessly – commercials." Architect Frank Lloyd Wright called television "chewing gum for the eyes."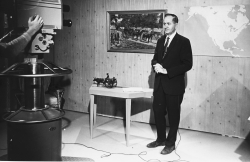 Educational television's time had come. It was known as ETV in those pre-PBS days. Thus KFME-TV was an acronym for Fargo-Moorhead Educational Television. Schools were racing to get televisions into classrooms, not unlike the push to get computers and tablets into classrooms in recent years.
The dream of a few visionaries became a reality through determination, cooperation, and growing support from schools, universities, corporations, government, the public and even from one of the local commercial stations. A fundraising telethon – the first "pledge drive" – was broadcast over WDAY-TV (the NBC affiliate at the time) before ETV went on the air. "A big break came when WDAY announced that it would make its former tower and studio building available to KFME," according to TV Times newspaper supplement editor Diane Schmitz. Fargo Forum staff writer Jerry Ruff reported two years later that WDAY was charging KFME one dollar a year in rent. A $65,000 grant from National Educational Television allowed purchase of the latest technology – a videotape recorder. Minnesota Mining and Manufacturing (3M) provided $10,000 worth of videotape.
TV Times announced the imminent arrival of North Dakota's first ETV station with the lead in, "Do commercials bug you?" Schmitz continued, "If you've longed to – just once – watch your favorite TV program without the necessary interruption of commercials, and if you live within 55 miles of Fargo, a dream could be coming true for you starting Sunday … Now, don't everyone panic at the word 'educational.' True, one of the station's prime functions will be to provide televised material that can be used in classrooms in our area. But an equally large segment of its programming will be devoted to entertainment. Entertainment with a purpose, to be sure: it will encourage the viewer to use his mind as well as his eyes."
KFME Channel 13 sent the first public television signal across these prairies starting at 2:00 on Sunday afternoon, January 19, 1964. It was an abbreviated three-hour schedule that day. The schedule included previews of the kinds of programs the station would offer and a 90-minute drama dealing with mental illness entitled "The 91st Day." In the same hours, Fargo's other three television stations offered sports – bowling, golf, and football – "Science All-Stars," "One of a Kind," "Teen Quiz" and Bing Crosby, according to that week's TV Times. A week later, The Fargo Forum reported that KFME had received calls from as far away as Wahpeton, Valley City and Hillsboro in North Dakota, Fergus Falls and Detroit Lakes in Minnesota and Sisseton in South Dakota, saying "a good picture is being received." Not all viewers were prepared for the kind of programming ETV was offering. According to the January 24 Fargo Forum, the station received some viewer complaints because the drama on mental illness didn't have a happy ending.
According to Jerry Ruff at the Forum, "KFME was built frugally but well, both in equipment and personnel." The first local production, an English literature course for Moorhead Minnesota's Concordia College, was begun in 1965. KFME began broadcasting in color in 1967, the same year President Johnson signed The Public Broadcasting Act, creating the Corporation for Public Broadcasting and setting the stage for major developments in Public Broadcasting. PBS and Sesame Street both came along in 1969, changing the public broadcasting landscape forever.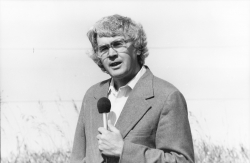 North Central Educational Television had a growth spurt and changed its identity in the '70's. In 1974 the corporate name was changed to Prairie Public Television, KGFE-TV Grand Forks signed on, and Prairie Public Television became available in Winnipeg via cable. State legislatures in St. Paul and Bismarck added support in 1975 and 1977, enabling expansion beyond the Red River Valley, beginning with the addition of KBME-TV Bismarck in 1979. Prairie Public began receiving programming from PBS via satellite in 1978. KSRE-TV Minot signed on in 1980, KDSE-TV Dickinson in 1982, and KWSE-TV Williston in 1983. After two decades, the region-wide network was nearly complete. KJRE-TV Ellendale signed on in 1992 to complete the network.
Ten years ago, Prairie Public switched from analogue to digital broadcasting – the first in the region to do so. The multi-casting capability of digital means there is now even more great programming for schools, more hours of non-violent children's programming for families, and the stunning clarity of high-definition television (HDTV). Just as the public adjusted from black and white color back in the '60's, large high-definition televisions have become the norm in most households as Prairie Public turns 50.
Prairie Public has remained true to its mission to educate, involve and inspire for all these years. It continues to provide great programming for schools, and unparalleled offerings like "Sesame Street," "Arthur," "NOVA," "American Experience," Ken Burns documentaries, "Masterpiece," "Frontline," "Charlie Rose" and "PBS NewsHour." Although the number of television stations has proliferated with the advent of cable and direct satellite reception, public television remains distinctive and is loved and supported by a fiercely loyal audience.
Congratulations to Prairie Public – and thanks to all who have sustained it – for 50 years.
(Russell Ford-Dunker is the business development manager for Prairie Public Broadcasting, and can be reached at rford-dunker@prairiepublc.org)