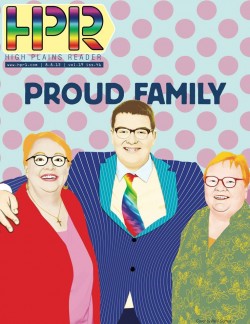 Wahpeton family visits The White House for LGBT pride event
Love is what I saw in Valerie and Diane's letter from North Dakota, who've been together for 37 years. Their son, Madison, is here, 14. They told me that when Madison was little -- he's not little now, by the way. He used to say that someday, he was going to become president and make it legal for his moms to get married. – President Barack Obama, White House's LGBT Pride Month Reception.
In April 2013, Valerie Nelson of Wahpeton, N.D. wrote a letter to President Obama thanking him for supporting marriage equality and LGBT rights.
In the letter she also talked about her family, which includes her partner Diane Gira and their adopted son Madison Nelson-Gira, and how they are from a small town in North Dakota.
"I didn't really think too much of it. I hit the submit button after I read it to them to make sure it was okay with them," Nelson said.
"And there was a question, 'Do you need any response?' And I just said: 'Nope. No response necessary. I just want President Obama to know how much we appreciate what he is doing.'"
Then, on the morning of May 31, Nelson got a call from The White House. It was a lady named Stephanie, first asking Nelson if it was okay that the call was being recorded and then verifying that she was the one who wrote the letter.
Nelson recalled Stephanie's words: "As you know, he and the first lady are huge supporters of the LGBT community, and every June they host a pride reception at The White House – and this year they want you to be their guests."
The event was held on June 13 and included about 500 to 700 people, according to Nelson's estimation. Though only the chosen eight letter writers and their guests got to meet the president and get their picture taken with him.
"The Bears sold it," Madison said, referring to his suggestion to add "Madison says, Go Bears!" to the end of the letter. He knew Obama is a longtime Chicago Bears fan.
"When we got the call from The White House, that was one of the things (Stephanie) mentioned," Nelson recalled. "She said, 'Tell Madison the president was really excited to know that he was a Bears fan.'"
Nelson also said Obama is as warm, cool and down to earth in person as he is hyped up to be.
"It's just incredible how open and affirming – and what an ally we have in The White House. It's just amazing," she said.
The event included a speech from the president, all access to the second floor of The White House's East Wing, a briefing from top government administrators about what they are doing to continue advancing LGBT rights, and plenty of mingling with other gay rights activists, lawmakers and supporters from around the country.
Gira, who was born and raised in Wahpeton, thinks our country has come a long way since she and Nelson became a couple more than 30 years ago.
"I never thought I'd see the day where it was legal to get married and then all of the sudden, boom, boom, boom, 12 states," she said. "I think the rest will have to follow within a few years."
Obama, in his speech, even said, "I don't think we're going to have to wait that long … (America has) become not just more accepting; we've become more loving, as a country, and as a people. Hearts and minds change with time. Laws do, too."
It goes to show how thoughtful little actions, such as writing a letter of thanks, can have amazing rewards.
"We have just been minor little activists," Nelson said. "We have not been people out on the street, waving our flags and demanding justice. We just go about living our life and try to lead by example – to show people that we are just like everyone else."