​Purses help provide the next step
by Ryan Janke | .(JavaScript must be enabled to view this email address) | Culture | January 30th, 2019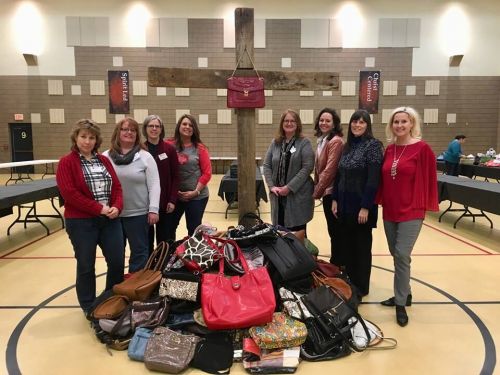 On February 7, The Next Step ND will hold their second annual Purses for a Purpose event at Atonement Lutheran Church in Fargo to raise funds for victims and survivors of human trafficking in North Dakota. The event includes a dessert banquet, speakers, and a 10-package raffle.
As the name suggests, purses are an important part of the event. People attending are encouraged to bring a new purse that will get stuffed with different items for women that they are not typically provided when they arrive at shelters. These include lotions, feminine hygiene products, chapstick, and hairspray. The purses are then given to survivors and victims of human trafficking.
The Next Step ND is a nonprofit organization that advocates for human trafficking victims and survivors by lending them a helping hand as they transition to their new life away from the horrors of human trafficking.
The Next Step ND was born out of a human trafficking awareness and education organization called Voice for the Captives. Lisa Hanson, who started Voice for the Captives, said she first became aware of human trafficking six years ago when she listened to a speaker at a women's ministry event she organized.
Initially, Hanson wasn't open to the idea of listening to stories about human trafficking. "When I heard what she wanted to talk about, I didn't want to hear about it because I just thought, "I can't even watch the starving children on TV. I'm not going there," she said. The woman persisted and, finally, Hanson invited her to speak.
The woman, the niece of member of Hanson's church, gave the presentation. "[She] showed pictures of these little girls behind bars where she was with her pimps…that just shattered me," Hanson said. The speaker left Hanson wondering how she could get involved.
Hanson began researching human trafficking, something she said she knew nothing about. She was stunned to learn that human trafficking wasn't something that happens in other cities or states, but is alive right here in Fargo.
Once she realized that human trafficking was happening so close to home, Hanson knew she needed to get involved. "I started looking around for people that were doing this work," she said. "I found no one in Fargo. I couldn't find an organization that was doing anything."
That is when Hanson felt a call to start doing something about human trafficking. She showed a documentary on the subject and gained support from some people she had shown the documentary to who also asked, "What can we do about this?" What they did was start Voice for the Captives.
"I just started that organization to bring awareness [to human trafficking] in this town because there was none," Hanson said. She said she thought at the time, "I can't fight something people don't know about." It was during that time that she met Danielle John, a survivor of human trafficking. After hearing John's story, Hanson realized that there was also a need for advocating for victims and survivors.
Hanson said that after hearing John's story, she realized there was no support system for trafficking victims and survivors. "They have no financial assistance because the shelters can only do so much," she said. "I was hearing her struggles and I'm going, 'Where is our system?' Like, there's no one to fill this gap and mend this bridge for them. You're setting him up for failure. You're putting them in a place and now you're letting him go. These are girls that have been trafficked – they have depression, anxiety, PTSD."
Hanson said the women coming out of trafficking situations are in survival mode. "So, now they're probably trying to put food on the table, figure out where they're going to get their next paycheck – welfare is not enough, especially when you have three children," she said. "They can't work because she doesn't have money for child care, and so there's all these things against them. I'm like, 'And there's nobody help to her.'"
The need for services for victims and survivors of human trafficking is why Hanson started The Next Step ND. "I thought 'I need to do something about services for victims or survivors to help bridge that gap,'" she said. "So, that is where the Next Step ND came into play and that is why I started that."
Through The Next Step ND, Hanson said she has been able to provide financial assistance and basic necessities for survivors and victims trying to make a new life for themselves. She has helped with rent and utilities as well as furniture and other basic household items that most people take for granted.
Hanson also stresses that supporting the victims and survivors is crucial to keeping them out of the situations they came from. "[Without support], they're going to go back to what they know and you don't want them going back to that. They're in survival mode. We don't want them going back to trafficking themselves, or they're going to fall into another pimp's hands. A lot of them do, because they can't make it on their own. They want an education. They want people to teach them life skills. They have kids and it's like, 'man, you fail the mother, and you fail the kids, and they're in the system.'"
To provide the assistance they do, The Next Step ND needs funding.
"Without funding, my hands are tied," Hanson said.
That is why Purses for a Purpose is so important. The money raised at the event will help survivors and victims stay out of the terrible situations they have come from and support them as they take that next step.
It's been six years since Hanson organized the event that would lead her down this path, and she said her passion for helping survivors and victims of human trafficking is still great. "God brought me to this and gave me this purpose," she said. "I honestly didn't want to do it, and He's given me such a passion for this ministry."
IF YOU GO:
Purses for a Purpose
Thursday, February 7, 6:30-8:30 p.m.
Atonement Lutheran Church, 4601 S University Drive, Fargo