​Put down the phone and drive
by Stephanie Christianson | .(JavaScript must be enabled to view this email address) | Culture | December 17th, 2014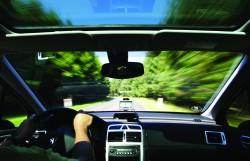 Today's society is obsessed with being connected and having to scroll the most recent Facebook feed. This is not just a problem with the younger generation; even grandparents are guilty of not putting down their cell phones. This becomes a huge problem when people try to juggle the obsession with driving.
"People need to focus on what they are really supposed to be doing, and that is driving," said Lt. Joel Vettel of the Fargo Police Department.
Vettel said the local police department recognizes texting and driving as an ongoing problem. The department is trying to get people to realize how devastating it can be. The department has spent the past three to five years educating the Fargo-Moorhead area about the dangers of texting and driving. The most recent push is Eyes Forward, a safe-driving campaign aimed at eliminating texting while driving.
Although the Fargo Police Department has not done any local studies on texting and driving, it is still an important issue to address so people stay safe on the roads. Vettel said texting and driving can be just as dangerous as driving under the influence. He believes people have a mindset that it will not happen to them, and in order to solve the problem, we have to personalize it.
"It's human nature," Vettel said. "People think 'I'm going to do it for a second' and 'I feel safe,' and that's when tragedy happens."
Distracted driving is the city ordinance, which is reflective of North Dakota state law, for anyone who is caught texting and driving. According to the AAA Foundation for Traffic Safety, distracted driving is any activity that could divert a person's attention away from the primary task of driving.
Distracted driving can lead to devastating outcomes. According to AAA Foundation for Traffic Safety, federal estimates suggest that distracted driving contributes to 16 percent of all fatal crashes, leading to about 5,000 deaths every year.
Calissa Treat, a student, said all of her friends and even her mother text while driving. She believes young people text and drive because they feel as though nothing bad could happen to them.
"It's one of those things where you're driving and your phone goes off, and you almost feel anxiety start to creep up if you don't check it," Treat said. "Maybe it's that we are all addicted to media so terribly and we don't even know it."
Educating the public on the dangers of texting and driving is just the beginning. The next step is actually committing to putting down the phone while driving to prevent any more fatalities.