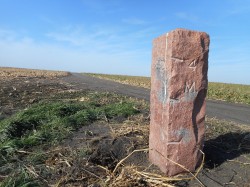 Looking back on the state's 125 years and what makes NoDak stand out
It was a birthday like no other for North Dakota last Sunday, Nov. 2. The state turned 125 with its sister South Dakota, marking a quasquicentennial of statehood.
In a century-and-a-quarter, North Dakota's racked up quite a history, with even more legendary events before it even became a state. Here's a rundown of North Dakota's greatest hits.
Lewis and Clark at Fort Mandan
We all know the Corps of Discovery passed through this part of the country during its 1804-1806 expedition, but the party's time here was a little more notable than in most other states.
By the Missouri River near Washburn, the explorers made their 1804-1805 winter camp near the friendly Mandan-Hidatsa villages. It was here the explorers met the now-famed guide/interpreter Sacagawea and her fur trader husband Toussaint Charbonneau. It was here where Meriwether Lewis helped Sacagawea give birth to her son.
Before embarking westward that spring, Lewis wrote about leaving Fort Mandan for the real unknown that lay beyond their maps of the territory: "We are now about to penetrate a country at least two thousand miles in width, on which the foot of civilized man had never trodden; the good or evil it had in store for us was for experiment yet to determine, and these little vessels contained every article by which we were to expect to subsist or defend ourselves."
Roosevelt in the Badlands
There are two things you can't miss in western North Dakota: the oil boom and the legacy of Theodore Roosevelt. Our nation's 26th president hunted and ranched the lands near Medora in the 1880s and '90s, retreating to the rugged beauty of the badlands following the deaths of his wife and mother.
It was a sojourn the booming Roosevelt would later credit to his becoming president: "I never would have been President if it had not been for my experiences in North Dakota."
His legacy today exists in sites scattered throughout the state, from a statue at the site of his July 4, 1886 speech in Dickinson to Chase Lake National Wildlife Refuge near Jamestown. Perhaps the biggest and brightest of all are the two units of Theodore Roosevelt National Park in western North Dakota, a fine embodiment of the kind of conservation this president pushed for.
The Quartzite Border
In a supreme act of surveying and marking, surveyor Charles Bates and his team of men personally installed 720 quartzite monuments to denote the border of the Dakotas in 1891 and 1892. Every half-mile for 360 miles along the seventh standard parallel, Bates and his workers placed the pink, 800-pound monoliths, many of which still stand today as the only border of its kind in the United States.
It's a boundary that has also sadly fallen victim to vandalism, theft and the elements. Many markers are missing, and others stand as lawn ornaments in yards in Garrison, Havana and even NDSU. More were buried or lost when highways and Interstate 29 were constructed in the 20th century. Others have been broken by snowplows, farm equipment and even one by a running horse.
Fortunately, more than half of the quartzite border remains in place along the Dakotas' boundary, with more of the western half intact than the east. It's a true souvenir of the Dakotas' early years as states, and pieces of the past you can reach out and touch.
Superlatives
In the grand scheme of North America, North Dakota can claim several superlatives on the map. Many people don't realize this, but Highway 46 running west from Hickson is the longest straight road on the continent. For more than 120 miles, this road witnesses barely a curve, save for two or three by the Sheyenne River. It comes as no surprise considering North Dakota is one of the flattest regions on the planet.
Secondly, North Dakota is home to North America's two tallest structures—the KVLY-TV and KXJB-TV masts in Traill County. At 2,063 feet and 2,060 feet tall, respectively, these transmitter towers have stood solidly for decades, with the KVLY-TV tower claiming the world's tallest structure for 30 nonconsecutive years of its 51-year life.
Also notable on the North American map is the geographic center of the continent, widely believed to be in Pierce County, N.D., though no one can agree where. Whether it's in or near Rugby or by Balta, it's a point of debate; but regardless, we're as landlocked and lucky as can be in North Dakota.