​Ready to launch!
by HPR Contributor | .(JavaScript must be enabled to view this email address) | Culture | August 14th, 2019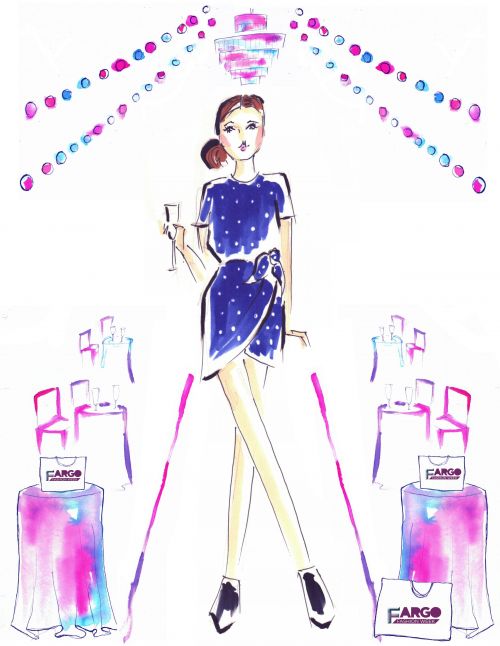 By Jill Finkkelson
jsfinkelson99@gmail.com
Next May, the Avalon Events Center in town will host the largest runway fashion and trade show in North Dakota. This Saturday, they're throwing a launch party and fashion show at Drumconrath Brewing to give us all a little taste of what's to come.
I reached out to the lady that seems to do it all- Jani Skala, founder of the event and CEO of SKADI Enterprises. She wanted to bring a fashion show to Fargo back in 2016 and has been hard at work making it happen again.
"The main component of the event is the producer, sales team, and the tech staff," Skala said. "For everything to come together and to run smoothly, all three components must communicate impeccably well and have the drive to get the job done."
The main inspiration for the show is the annual Victoria's Secret Fashion Show, which she watches every year. This is the first time they are throwing a launch party and they have a lot going on to give us a taste of what's to come at next year's main event.
There will be a fashion show, live sketching, fresh beer tapping and music from j. Melby. SKADI models will be showing FFW 2020 merchandise. On creating the merch, Skala said, "The gorgeous main art is done by Ms. Swan but we collab'd together and I was allowed to add my own little 'splash' to it."
Fashion artist Lacee Swan lives and works in New York City but is from our own Grand Forks, ND. Jani is very excited to have her at the event and said she'll definitely be getting her own sketch! The artist will be at the party live sketching and sharing her pretty, whimsical sketches and watercolors. They connected over Instagram and Jani fell in love with her work right away. The bright, fun artwork will make you think of spring.
The venue was a natural choice. The founder of Drumconrath brewing, Sam Corr is a long-time friend and great to work with. They will be making the Official Beer of FFW 2020- the SKADI Blonde Bombshell Ale, freshly tapped this Saturday. Local DJ/producer J. Melby will be making catwalk bets for the event.
When asked about Fargo Fashion Week, Jani was reluctant to give too much away.
"I can tell you that it will be held on May 1st and 2nd of next year (2020) and the theme inspiration is meshed with Lacee Swan's artwork," Skala said.
You'll definitely have to attend the party if you want to get a taste of what's to come. In the meantime, Jani is busy putting everything together. She has Whitney from Beauty Bar by Whitney working on makeup looks. She is the lead makeup artist for FFW 2020 and you can count on thinking of her whenever you see SKADI models.
This launch party has it all— models, fashion, art and beer. It's exciting to see art and fashion come together right here in Fargo. The event does have limited space and it's $5 to get in. If you want to bring something home, come early— swag bags will go to the first 20 people through the door.
IF YOU GO:
Fargo Fashion Week Launch PARTY + Merch Fashion Show
Saturday, August 17, 7-10 p.m.
Drumconrath Brewing Company, 630 1st Ave N, Suite 6, Fargo