​Rural Arts and Culture Summit gives voice to small communities
Culture | May 31st, 2017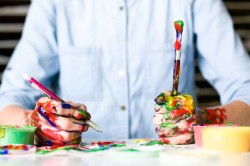 From June 6 to June 8, Springboard for the Arts, in partnership with the Center for Small Towns, is hosting the fourth annual Rural Arts and Culture Summit in Morris, Minnesota at the University of Minnesota campus.
Springboard for the Arts is an organization that develops and builds opportunities for art and artists. The summit started in 2011 as a "venue for people to talk about uniquely rural arts and culture," said Michelle Anderson, Rural Program Director for Springboard, "to get what they need to thrive, share stories and knowledge. It was filling a gap in programming that wasn't there."
175 people attended the first year, which Anderson said was an indicator that the Summit was necessary for the rural arts communities.
When Springboard took over, they added additional programming to include not only artists and art organizations, but also leaders in communities.
Now, the Rural Arts and Culture Summit is a nationally recognized event that garners attention and speakers from all over the States, not just its Minnesota roots.
"I think it's especially important right now," said Anderson. The way politics is going, people are micro-analyzing rural identities. There's a lot of blame and divide. This is a powerful gathering. Artists in rural communities feel isolated. I hope they leave with more courage and see how important their role is."
This year's summit features keynote speaker Dr. Jessica Metcalfe, the founder of Beyond Buckskin. Metcalfe is from Turtle Mountain in North Dakota, where she helps native artists and designers. Her business advances native business, education and creativity, and also promotes cultural appreciation, relationships, and authenticity. Her speech will include discussing new models of creative economies.
Another highlight of the event is a plenary panel of four experts from different rural and cultural backgrounds. Featured on the panel are: Dr. Michael Strand, a potter, professor and activist from Fargo; Carlton Turner, the executive director of Alternate Roots, a resource for art and activism, from Utica, Mississippi; Ojibwe scholar Anton Treuer from Bemidji, Minnesota; and folklorist and founder of the McElroy House (an organization for cultural resources) Meredith Martin Moats, from Dardanelle, Arkansas.
They each have a unique perspective on the arts, creating what Anderson calls a "great group of people with different approaches to the arts talking about their individual experiences."
In addition to these speakers, there will be plenty of breakout sessions and two days of workshops, artmaking and panels. Anderson plans on 400 people attending, from 22 different states.
In addition to rural communities, plenty of urban centers will be in attendance.
"There will be an urban/rural exchange. Metro organizations come to do their work better," said Anderson. "It's good to have those conversations. This event can help bridge or dismantle the gap between rural and urban. We have a chance to do that."
Tickets are currently on sale at the summit's website. Pricing is $125 for both June 7 and 8 and $90 for only one day. This includes breakfast and lunch for the days of registration. A special dinner on June 7 will be an additional $15. But tickets are limited, so registering as soon as possible is best.
For more information the summit, visit their website at www.ruralartsandculturesummit.com. More information on Springboard for the Arts can be found at www.springboardforthearts.org.