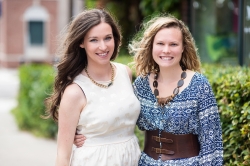 New downtown Boutique, Others, Built by the community, for the community
Community is the main focus of the new retail boutique in downtown Fargo. Laura Morris and Jodi Regan are two driven, passionate women who manage the new boutique Others.
Others is aimed at improving the three pillars of a strong community: education, job creation and public health.
The store strives for sustainability: the ability to fuel itself through the buying and selling of its products.
"We wanted to stray away from continually asking for funding," Morris said. "We wanted something more sustainable, and then we also wanted every dollar donated to go toward the cause."
The idea of Others was created by Morris and her husband, Austin, who have always dreamt of building something bigger than themselves.
They took a few "learning experience vacations," as Morris calls them, to learn more about nonprofits. The busy couple, Laura working as a pharmacist and Austin working as a real estate investor, realized they would need someone with more experience and time to dedicate to the store.
A friend of the couple, Regan, was intrigued by the idea of Others. She and her husband, Jordan, moved from Chicago after some persuasion by the Morris' so Regan could help manage the store.
The merchandise sold at Others is sourced from companies who support the store's three pillars of a strong community. In turn, 100 percent of the store's profit is donated to initiatives that support the same three pillars. Morris and Regan call it the "double giveback."
Others will feature a variety of items such as trendy men's and women's clothing, children's items, edibles, gift items, jewelry, accessories, and all-around feel-good items.The store will also have a community space with free Wi-Fi, an espresso bar and live music occasionally.
Morris and Regan have started a crowdfunding project on Indiegogo.com to help get Others started. The women are asking for donations from the community on the Indiegogo website from people who are as passionate about the store as they are.
"The point of Indiegogo is so we can start funding our initiatives sooner as opposed to taking out a lot of loans, and then having to pay back interest, and then not being able to use the money that we have quickly to actually do what we want to do," Regan said. "We want (Others) to feel like it's built by the community, it's for the community and it's also for tying community to the greater story of humanity."
Everyone who donates on the Indiegogo website will receive a perk, which is one or several free items from the store.
Beyond funding, Morris and Regan are asking for furniture, lumber, piping, ladders, doors, window frames and many other miscellaneous items to get Others up and running. Shout-outs of any kind are also greatly appreciated.
"Fargo's an incredibly supportive community, and so we feel like if we get more people branching out to their networks, we'll reach a greater base," Morris said.
Oct. 31 is the last day to donate on the Indiegogo site. The store will hold a sneak peek preview party for its early supporters on Nov. 6 at the store's location in the Landmark Building, 17 7th St. S. The party will feature live music, hors d'oeuvres, cocktails and other celebratory fun. The grand opening of Others is Nov. 11.
Morris and Regan are passionate about helping as many people as possible in as many ways as possible, and they want to exemplify that through their store.
If You Go:
Others Preview Party
Landmark Building, 17 7th St. S.
7-9 p.m. on Thursday, Nov. 6
Tickets: $100
http://igg.me/at/othersshopfargo
Facebook: facebook.com/othersshop
Instagram: #othersshopfargo
othersshop.com