Skip the clichés and reclaim Valentine's Day
by Alicia Underlee Nelson | .(JavaScript must be enabled to view this email address) | Culture | February 12th, 2020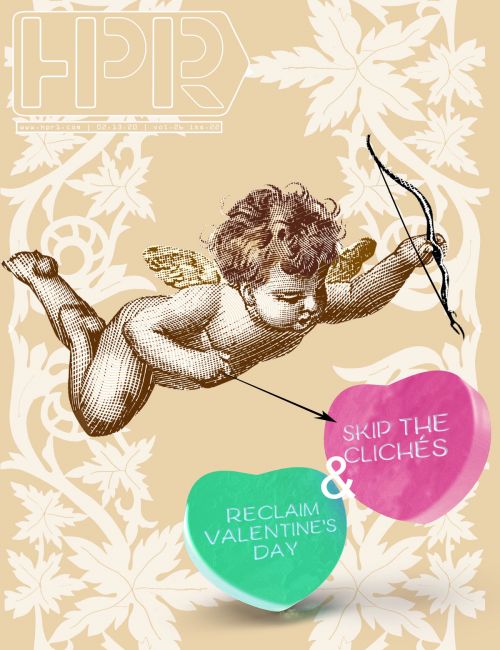 Valentine's Day can inspire annoying questions if you're single and the spending of a whole lot of time or money if you're not. So shake up the old routine with fun, unusual and affordable (or even free) activities.
Feel free to disregard traditions that don't work for you and make new ones that matter. Override date night (even if you're part of a couple) and meet a group of friends for cocoa, a concert or a barn dance. Trade your usual dinner for two for a salsa lesson, a night at the theatre, or candlelight yoga. Skip the tired red roses and teddy bears and give hand stamped jewelry, homemade bath products or a couple of pints of local craft beer served with something sweet.
Heck, you don't even have to celebrate on Valentine's Day. Raise a glass on Thursday or stay out late on Saturday night. Whatever you choose to do for Valentine's Day, do it your way.
Snacks, Treats and Drinks
Beer My Valentine
February 14-15, 4 p.m.
Drumconrath Brewing Company in Fargo
Buy a $20 ticket on Valentine's Day and score two pints and sweet treats from Nichole's Fine Pastry and Café to enjoy on Friday or Saturday. facebook.com/drumconrathbrewingcompany
Coffee and Cocoa Crawl
February 15, 10 a.m.
Downtown Fargo
Score coffee and cocoa samples at 20 downtown Fargo locations. Admission is $15, and free for kids 10 and under. frostival.com
Valentine's Day Cocktails
February 15, 1 p.m.
Bridgeview Liquor in Moorhead
Sample classic cocktails (and learn how to make your own) during this fun and informative 1-hour session. Tickets are $20. facebook.com/BridgeviewLiquor
Music, Dance Or A Show
Kwaician Traylor Concert
February 13, 5:15 p.m.
Aquarium Court at West Acres in Fargo
Singer songwriter Kwaician Traylor celebrates his new music video with a free, two-hour concert. kwaician.com
Broadway at TAK
February 13, 7:30 p.m.
TAK Music Venue in Dilworth
Wheelhouse Theatrical Productions' Craig Ellingson, Kathy Hanson, and Angie Schulz present songs from beloved Broadway musicals. TAKMusicVenue.com
Love/Sick
February 13-15, 7:30 p.m.
Firehall Theatre in Grand Forks
The state premiere of the darkly funny "unromantic comedy" looks at the stages of love through the eyes of nine couples. Rated PG-13. ggfct.com
Valentine's Day Party at Arthur's Barn
February 14, 9 p.m.
Arthur's Barn in Arthur, ND
Dance Valentine's Day away at one of the most iconic dance halls on the prairie. $10 admission, cash at the door. arthursbarn.com
Salsa Friday
February 14
Spirit Room in Fargo, 8 p.m.
Keep things sultry with salsa and bachata lessons and a rockling social dance session. Dress to impress. spiritroom.org
Little Women
February 13-14, 7:30 p.m.
Moorhead High School
This new Broadway musical adaptation of Louisa May Alcott's classic examines the lives of four very different sisters. fmct.org
Valentine's Day Dinner Theatre: Sister Act
February 14, 7:30 p.m.
Oak Grove Lutheran School in Fargo
A $50 ticket gets you a gourmet dinner and a ticket to a consistent crowd-pleaser. Proceeds benefit the Theatre Arts program. (The show closes February 23.) OakGroveLutheran.com/category/events
Barbaro
February 14
Hotel Donaldson, 8 p.m.
Dynamic but cozy, quiet yet danceable, this quartet's blend of bluegrass, jazz, pop, and country is a custom blend. barbaroband.com
Linebenders Valentine's Day Comedy
February 14, 8 p.m.
Fargo Billiards and Gastropub
Try a little improv comedy for Valentine's Day. Choose from $15 GA and $20 VIP reserved seating. Food and drinks are available in the gastropub. linebenders.com
Pampering Time
Galentine's Day
February 13, 6:30 p.m.
Fargo Public Library
Inspired by "Parks and Recreation"(the series that spawned the mini-holiday), this event features a waffle bar, non-alcoholic mimosas, and self-care treats. fargond.gov/city-government/departments/library
Couples Gone Grotto
February 14, 7 p.m.
The Grotto in Fargo
Savor a customizable three-course meal, Champagne toast and Couples Salt Therapy Float Session valued at $130. Tickets are $100/couple. hairsuccesssalons.com
Couple's Candlelight Yoga and Wine
February 14, 7 p.m.
Downtown Yoga Fargo
Unwind with a friend or partner. Enjoy a relaxing one-hour Yin yoga session and wine for two for $35. downtownyogafargo.com
Make Something
Junk Journals 101
February 13, 4 p.m.
Fargo Antiques and Repurposed Market
Make your own junk journal from recycled and mixed media materials. All supplies are provided for $30. Register in advance. facebook.com/fargoantiques/
Make Your Own Bath Salts
February 13, 5 p.m.
Aptitude Valentines Market near Best Buy in West Acres in Fargo
Brown Bird Handmade's Lacey Hagensen helps you add your fave shades and scents to custom-made bath salts for $5. Facebook.com/TheArtsPartnershipFargo/
Sweetheart Grams
February 13-14, 10 a.m.
Becker County Museum in Detroit Lakes
Choose a meaningful message to stamp on necklace, bracelet or key ring for$10. Add a bead for $2 or V-Day Delivery to Detroit Lakes, Frazee, and Lake Park businesses and schools for $5. 218-234-2938
Alicia Underlee Nelson is a freelance writer and photographer. She co-hosts a podcast called "Travel Tomorrow," available at TravelTomorrowPod.com and wherever you find your podcasts.Her first book, titled "North Dakota Beer: A Heady History," was published in 2017. Follow her adventures at prairiestylefile.com.
Got a story you'd like Alicia to cover? Email your idea to Alicia@hpr1.com.