​SLUT: 'A new play about a dangerous word'
Culture | May 1st, 2014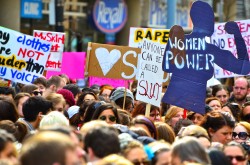 Play takes on sexism and sexual violence
Fargo native and renowned feminist Jennifer Baumgardner has been a strong force in bringing the provocative SLUT: The Play to Fargo this weekend.
The play is about the sexual assault of a young girl in the back of a cab, and the event's aftermath. The script was inspired by real-life experiences of girls ages 14-17 years-old from New York, New Jersey, Connecticut and Pennsylvania, according to sluttheplay.com.
The word "slut" is commonly thrown around by high school and college students – and even middle school students. The word has contributed to a complex culture, Baumgardner explains, one where a girl is supposed to be sexy, but not too sexy – she is not supposed to be a slut. It's a line where on one end a girl is valuable, and on the other end she isn't.
Baumgardner is the co-executive producer of the play. She connected The Arts Effect organizers with Fargo. She is an executive director and publisher for The Feminist Press, which will be publishing a book version of the play. She also collaborated with The Arts Effect and other organizations to present StopSlut: A Conference on Sexuality, Bullying, and Rape.
Theater as a medium can be a powerful way to spread awareness, Baumgardner believes. Experiencing a story in an audience – among others – allows for social support and the strengthening of a community.
And the subject matter explored in SLUT lends itself to theater, she adds. Sexual assault is something that happens all around us, but we don't know how to talk about it or we're not allowed. And the shame and silence that surrounds these acts enables these occurrences to keep happening.
"We're saying … this happens a lot, and it's not what we want for ourselves or our daughters or our sons," Baumgardner says.
The play is part of a larger movement, the StopSlut Movement, which aims to provide concrete tools to combat "slut culture." In addition to SLUT: The Play, the movement has held a large conference of over 300 middle and high school and college students. The conference consisted of panel discussions, storytelling and performances. Numerous workshops have also been held that focus on slut-shaming, rape and the importance of consent. And school-based coalitions, which aim to build student-driven action plans that best serve the needs of individual communities, have been established as well.
The goal is for these coalitions to exist nationwide and pave the way for a cultural shift – away from a culture of slut-shaming and sexual violence.
"I don't think you have to think too hard to remember who was 'the slut' in your high school," Baumgardner says. "(W)hat happened to her?"
The Fargo performances of SLUT: The Play are a part of a nationwide tour with stops in Fargo, L.A. and NYC. The play is directed by Katie Cappiello and Meg McInerney and presented by The Arts Effect All-Girl Theater Company from NYC and EvenStar Productions.
IF YOU GO:
WHAT: SLUT: The Play
WHEN: Thurs, May 1, 7 p.m. WHERE: Ecce Art Gallery, 216 N Broadway, Fargo
WHAT: SLUT: The Play
WHEN: Sat, May 3, 3 p.m.
WHERE: Century Theater, NDSU, 1401 Administration Ave.
HOW MUCH: Tickets: $5 for Students, $10 General Admission
INFO: www.SLUTtheplay.com, Recommended for ages 13 and up