​The DCP wants YOU!
by John Showalter | .(JavaScript must be enabled to view this email address) | Culture | May 9th, 2018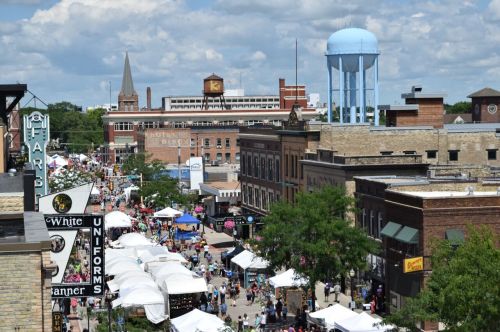 By John Showalter and Sabrina Hornung
We had a chance to chat with McKaila Ruud, the Events Coordinator for the Downtown Community Partnership (DCP) and she let us in on a few new and exciting tricks that the DCP has up their sleeves. One involves everybody's favorite downtown event--The Street Fair. The street fair is North Dakota's largest free outdoor event. It's not only a celebration of downtown Fargo it showcases a host of arts, crafts, and food, and it attracts close to 100,000 people downtown during the course of three days. Now the DCP is looking for local artists to add to their hustle and bustle. The event will take place July 19th - 21st.
High Plains Reader: Tell me about the Call to Artists.
Mckaila Ruud: This year for the Downtown Fargo Street Fair, we are hoping to engage more of our local artist and maker communities. We are calling on all artists, makers, and crafter in the Fargo-Moorhead community to join in on the energy of the Street Fair and sell their work. This is a separate area from the traditional 10-by-10 white tents that everyone has come to know. The local artists/makers will be housed under one large tent right at the center of the Street Fair. This will be the Local Block.
HPR: Do you think local artists have been underrepresented in the past at the Fargo Street Fair?
If so, why do you think that is?
MR: In the past many years, we've seen a decline in engagement with our local artists and small businesses. The Street Fair started with mostly local artists and as it grew, so did the area where vendors would come from to be able to participate. Over time, the Street Fair lost sight of Fargo-Moorhead's local talent in favor of that growth. Now, if you look at the list of artists and other vendors that are involved, the majority of them are not from our community but from a much larger art fair community.
HPR: How have you been reaching out to local artists? What methods of outreach?
MR: The folks at Unglued have been a huge help in spreading the word and encouraging the makers that they work with to sign up. We've also shared the information through The Arts Partnership, FMVA, and Folkways as well as some of the Downtown businesses.
HPR: What mediums are being represented?
MR: Any and all are welcome, so far we have all the way from painters to soap makers. We want to be able to show the over 100,000 people that attend the Street Fair what a wide variety of creatives and makers call Fargo home.
YOU SHOULD KNOW:
https://www.eventbrite.com/e/local-makerartist-application-downtown-fargo-street-fair-registration-43627078767 and enter this password: LocalArt18.
The registration will close on June 1, 2018.