The Wonder Women of North Dakota
by Sabrina Hornung | .(JavaScript must be enabled to view this email address) | Culture | March 14th, 2018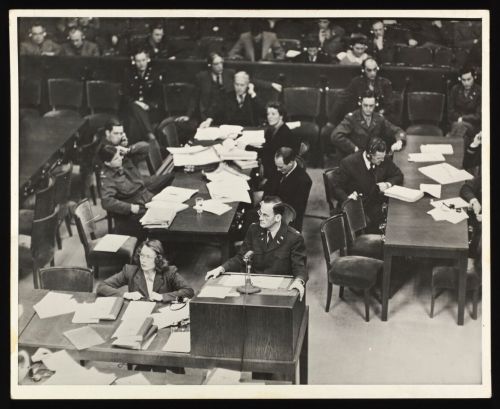 We had a chance to visit with Allison Veselka about the North Dakota Women at War exhibit, at Barnes County Historical Society On Thursday March 22 Allison will lead a lecture on North Dakota Women at War.
High Plains Reader: Barnes County museum director Wes Anderson had a quote that resonated within me. "If you want to see Wonder Woman, this is it."
Allison Veselka: I've been working on my ND Women at War research project/exhibit for little over a year now. With just women from and connected to Barnes County alone, I've come across more than 500 names of women involved in the war effort. This not only includes just women in military service but women participating in the war effort on the home front in government jobs and defense work in shipyards and factories -- "Rosie the Riveters."
About five or six months ago I expanded my research to include women throughout North Dakota, and the number of women participating in the war effort is staggering.
The project started out as a women in WWII project, but I've expanded the time frame from World War I to present day.
The exhibit has been up since I started the project although it's grown in size and scope. We just had a few women's uniforms, photographs, and items on display and now we have the largest number of women's uniforms on display in the State of North Dakota -- with two more on their way -- the Cadet Nurse Corps uniform of 1942 Valley City High School graduate Carol Johnson Strom and the Army Nurse Corps uniform of Ruby Nelson Kleinrath, from Kathryn, N.D.
I have no idea how long it will be on display. I suppose as long as I continue to find more names and information.
HPR: What initially inspired your research? Was there one woman that sparked your interest or was it more of the realization that there was a gap in our history?
AV: It all started when we had an intern from Valley City State, Alyssa Swanson. We needed to do a project to finish up her internship and we figured we had enough information on Women in war to put together an exhibit. As I've gone through our collection after the fact, I've discovered more uniforms, information, and photos. While we were putting together what we had at the time, I thought that there had to be more.
My family is filled with military veterans. Both of my grandpas served in the Korean War. Both of my brothers served, Tim was in the Air Guard and my brother Cody is still in service with the Army National Guard stationed out of Jamestown. My sister-in-law also served.
This project has inspired me to dig more into my family's military history, and I've discovered that we have several World War I and World War II veterans. We also have a rich history of women in my family helping out in the war effort. My grandpa's aunt was head of the Oak Mound, Minnesota Red Cross chapter during WWI and his mother Amy helped to knit for the Red Cross. A relative of my grandma, Pearl Lindstrom, before her marriage, worked as a Rosie the Riveter, helping to assemble airplanes. Lastly, a relative of my Aunt Cindy, Verlen Burtell von Hagen, originally from Casselton, enlisted and served in the Navy Waves during WWII. So as you can see, I am incredibly proud of my family's contribution to the war effort.
HPR: Is the exhibit primarily on women from Barnes county? Do you plan on expanding your research to women across the state, and would you plan on the exhibit traveling or doing talks across the state?
AV: For the most part, the exhibit is mainly on Barnes County women or women connected to the area through Mercy Hospital or the Valley City State Teachers College These women came from throughout the state or other states to receive their nurses training or education at these institutions.
And as I mentioned earlier, I have expanded my research across the state. Wes has got me in touch with Minot, Mayville, Fargo, Wahpeton, Dickinson, Jamestown, and I'm working on getting in touch with other cities and counties throughout North Dakota.
I really haven't thought about traveling and giving talks, but it is a neat idea. It would definitely be a great way to share their stories throughout the state to a wider audience.
HPR: I realize it must be difficult to choose, but do you have a favorite story, or rather, was there one that hit you harder than others?
AV: This really is a hard question to answer because I think all these women are "Wonder Women." For them, volunteering and aiding the war effort in the way they did was just because it was their duty, they had to help the war effort in some way. They don't think what they did is at all special, but to me, it is.
It is so alien to think of everyone dropping their education or occupation to go and help out in the shipyards or factories or to join a newly minted organization like the Women's Army Corps.
They faced a great number of challenges, such as discrimination. Just because they were women they were thought to be inferior and unable to perform the jobs/tasks that men held. These women proved them wrong by undertaking these tasks and being phenomenal at them.
I do think my favorite story is of Elizabeth Haagenson Gates. Elizabeth was originally from Jamestown, but received her teaching degree from Valley City State Teachers College in 1935.
She was one of the first three North Dakota women to enlist in the Women's Army Corps in 1942 Murl Fodness Smith of Wimbledon was also one of those first three women.
She took her basic training at Fort Des Moines, Iowa and was among the first 16 women to attend the Army Command and General Staff School at Ft. Leavenworth, Kansas.
I had no idea of the scope of her service until I got in touch with her son. Elizabeth served as an intelligence briefer during the war, meaning that she was among a group of chosen army personnel responsible for getting up-to-date information on enemy positions and advancements. She would report these findings to generals who would base their strategies and orders from that information.
In fact, some of those high ranking generals were Eisenhower, Arnold, Kenney, and on occasion, President Roosevelt himself. In this position, she traveled extensively between both Pacific and Atlantic theaters. At the end of the war, she was among those traveling with Eisenhower, which witnessed the liberation of the Nazi concentration camps.
HPR: How did you collect your research? Archives? Oral histories? How difficult was it to collect some of these women's stories, especially if they are no longer living? Also, Wes mentioned that you uncovered histories that even the families were unaware of--can you elaborate on that?
AV: Most of the information that I've discovered comes from period Times Records, which is Valley City's local paper We have the bound copies of the paper at the museum. I've been through 1917-1919 and 1941-1966 Times Records, which may seem like tedious work, but it is a lot of fun. You get to see just how much has changed over time, especially in a small town like Valley City.
Some of the information I discovered comes from obits. Sadly, a lot of these women have passed, so the only option I have left is to track down family members. Carol Faulkner of Sanborn has been helping me in gathering names and addresses of surviving family members. I write letters and send them off, praying for a response.
A majority of the time, the letters hit their mark. The families always seem pleasantly surprised by my letters and the articles that I send off with them. For example: Awhile back I had contacted a niece of Hazel Hermanson. I had found an article on Hazel working at the New Brighton Munitions Plant in Minneapolis during WWII. Her niece had no idea that her aunt had worked as a "Rosie" during the war.
And yes, in some cases I have been able to talk to the women themselves. Just recently, I was able to talk to a 98-year-old woman, Mildred Philis Stein, who served overseas with the Red Cross during WWII. She graduated from Harvey, N.D., and attended Valley City State. She didn't remember specific details, but she did remember general things. Luckily her family will be able to fill in some of the gaps.
And another woman that I mentioned earlier, Ruby Nelson Kleinrath, a WWII Army Nurse from Kathryn, is still alive at the age of 96. I haven't talked to her yet, but I have talked to her son. Of course, since I've expanded the time frame of my project, that means more of these women will still be alive.
HPR: Museum Director Wes Anderson mentioned that there was a Valley City woman who had a connection to the Nuremberg trials. Was she a lawyer? Can you tell us a bit about that?
AV: I actually have two women who have a connection to the Nuremberg Trials, but the one you are referring to is Harriet Zetterberg Margolies. Harriet was a 1927 graduate of Valley City High School. She attended college in Valley City for a short time before attending the University of Wisconsin, where she began practicing law, and eventually received a scholarship to Yale University.
During the early years of WWII, she was attached to the legal division of the Economic Warfare Division, a section of the State Department. She was sent overseas to England in 1944 with the Economic Warfare Division. That same year she married Daniel Margolies, who also worked with the War Crimes Commission.
In 1945, Harriet was transferred to War Crimes Commission where she was in charge of building a case against Hans Frank, Governor of Poland, and Julius Streicher. She built her testimony by going through the actual speeches and writings of these men.
When the time came to present her case at the Nuremberg trials, Harriet Margolies couldn't, as she was a woman. I have a picture of her sitting beside the man who read her brief. It must have been frustrating, putting all of that hard work into this and not being able to present.
The Nuremberg Trials were the pinnacle of Harriet's legal career. After returning to the states, her husband's political career took off and although Harriet continued her legal career, it was nothing like the Nuremberg Trials.
Eventually she gave up her career to become a full time mother and ambassador's wife – Daniel was ambassador to the Congo in the 1960s – leading a life of party hostess and bridge player.
The other woman is Annabel Grover Stover, born in Leal, North Dakota. She and her family moved to Hannaford where she eventually graduated in 1937. She then went on to attend Jamestown Commercial College. In 1941 she took the Civil Service exam and was employed in various secretarial positions in Washington, D.C.
By 1944, she was sent overseas to England and attached to the American Embassy. While in England she was moved to Bletchley Park where she helped to decode enemy messages and pass them on to the proper recipients. At the end of the war she was transferred to work as secretary to one of the Chief Prosecutors of the Nuremberg Trials. When she returned to the states, she worked for the C.I.A. until her marriage in 1947.
HPR: What was the most surprising thing that you came across in your research?
AV: I think the biggest surprise is just how many women from North Dakota served or volunteered in the war effort. Many people think that North Dakota is small in population and size compared to other states, but taking on a project like this really has opened my eyes to just how big this state is.
The women who volunteered didn't always return to the state after serving or volunteering. They married and grew roots in other states. So, I have been in touch with people all over the United States and even two people from outside the U.S. (One of which is Joan Farr, the daughter of Mary Widdifield, Navy Wave originally from Leal, N.D. I got in touch with her while she was in Papua Guinea and Kay Tabakov who is in Sweden, regarding her aunt, Mildred Philis, WWII Red Cross Recreation Worker.
That and having so many neat local connections to large events such as the story of Elizabeth Gates and Harriet Zetterberg. Lorraine Meinhardt, 1938 graduate of Valley City High School: after graduating she was taking courses that prepared her for her eventual work at Oakridge, Tennessee with the Atomic Bomb project, in which she assisted chemists in the lab and ran the cyclotron. Doris Lee Bashore,1939 graduate of Valley City High School, was involved in rocket development at the California Institute of Technology during WWII.
HPR: What do you hope museum goers take away from the exhibit?
AV: I hope that people who come to the museum to see the exhibit realize just how important and vast women's role in war is. It's not like nowadays where women have a combat role and equal footing in the military. And in the case of these women, there was no job, big or small, that they couldn't tackle. They are all Wonder Woman for taking on what they did, breaking barriers on all fronts, blazing a path for us to follow.
IF YOU GO
Allison Veselka: North Dakota Women at War
Thursday, March 22, 7pm
Barnes County Historical Society
315 Central Ave N, Valley City