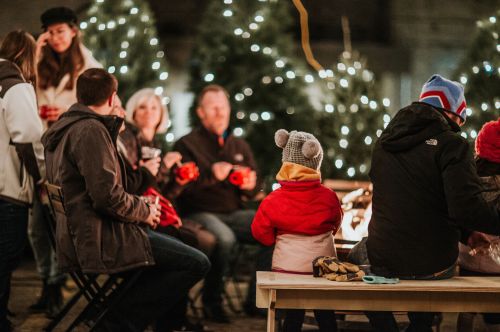 By Kris Gruber
perriex1@gmail.com
"Christkindlesmarkt" is simply any open-air market celebrating the spirit of Christmas, usually in the heart of the city, with the Nuremberg, Germany Christkindlesmarkt being the most famous.
On the Friday before the first Sunday in Advent until Christmas Eve, Nuremberg's Old Town offers an array of market stands, games, and traditional food and drink. There is a children's theater and parade, and a special focus on the "Christkind" (a European equivalent to Santa Claus, depicted as an angelic figure with wings and blond hair). Decor includes gold-foil angels called Rauschgold angels, nutcracker figures, nativity scenes and colorful stars and lights lining the way. The Nuremberg Christkindlesmarkt is one of the oldest Christmas markets in Germany, with aspects that can be traced back to the middle of the 16th century.
Fargo's take on the holiday celebration, Christkindlmarkt, is hosted by Folkways, a local community-building organization that has also hosted both the Red River Market and Night Bazaar in downtown Fargo. This third annual, free, four-day community event will feature 25 live performances, 25 vendors, three artist demonstrations, three free make and take craft projects, and much more."Christkindlmarkt gives our community a chance to spend time outdoors during what can be a cold and dark season," said co-organizer, Simone Wai.
A traditional outdoor Vendor Village is where you'll find local artisans selling handmade gifts and delicious European holiday foods in the Food Hall like currywurst from Wurst Bier Hall and an authentic Raclette cheese experience by Mosaic Catering. Can you go wrong with warm, melted cheese? Top it all off with a variety of Christmas cookies from around the world, homemade gelato, and salted caramel cider in the Sweet Shop. You better come hungry!
Some of the 25 live music and performance acts planned for inside Drekker's taproom include the Dakota Dutchmen, Meat Rabbits, The JT Kennelly Band, and more. Drekker's vast selection of beers brewed on-site can be better enjoyed with a commemorative mug, handmade this year by local ceramicist Hayden Swanson of Livin' the Dream Pottery. The mugs have sold out every year, so be sure to get yours fast!
Sunday's activities will hold a special appeal for kids and families, who can enjoy outdoor games, face painting, holiday storytime, and more from 12noon - 3 pm. Roast s'mores by the fire, shop outdoors among neighbors and friends and experience the spirit of the season surrounded by evergreen trees and colored lights in a family-friendly environment.
Temps will be mild, even reaching the upper 30's to low 40's, so dress in layers. You are bound to warm up from the fire, food, and fellowship!
A full schedule of events, parking information, and volunteer opportunities can be found at www.xmasfargo.com.
For more information, contact Simone Wai, Community Builder, Folkways, (701) 212-2722, simone@folkways.co.
IF YOU GO:
Folkways Christkindlmarkt
November 21-22, 5-9 p.m.
Saturday, November 23, 12 p.m.-9 p.m.
Sunday, November 24, 12 p.m.-6 p.m.
Drekker Brewing Company
1666 1st Ave N, Fargo