​Trans Perspective: I am a Transgender Comedian
by HPR Contributor | .(JavaScript must be enabled to view this email address) | Culture | July 11th, 2018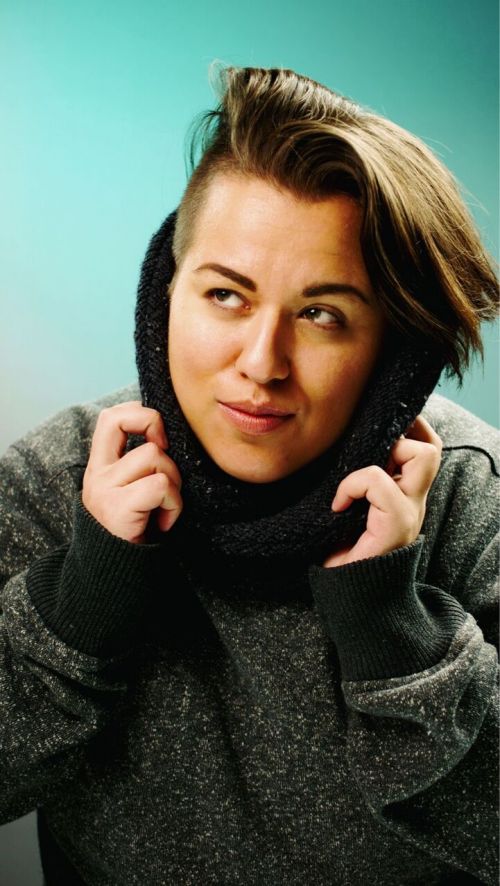 Jan Syverson
standupjan@gmail.com
Three hundred miles northwest of Fargo, ND I find myself at the back of a small bar in a small town surrounded by nothing but snowy fields and darkness. I take a drag of a cigarette and go through my set. It's freezing outside, but that's my thing, I find the quietest place wherever I go and just think about what I'm going to say. All comics do something similar, and inside the tavern the audience is gearing up to laugh. I hear them tell their own jokes, most of which are usually muffled street jokes. I wonder, "Are they going to like me?" I don't wonder, "Are they going to think I'm funny," 'cause I know that, so it doesn't matter.
I know I'm funny, but most people have never met someone like me. What if they think I'm funny but they don't like me anyway?
I finish my cigarette and in the dark distance the coyotes are crying a warning message to me that says, "Be safe." I am a Native American Trans person in a mostly white rural ND town. Sometimes I'm scared. I've heard how things can be out west in the Wild Western Dakota. However, it's a great thing to go to a place being so different, having nothing much in common and yet, being able to laugh together. I think that's amazing. Laughter bridges the divide in my opinion. People like to come up after shows to tell stories about LGBT people they know, or to apologize for their town being backwards.
I think it's a common misconception that small towns are backwards. I've been to so many small towns, it's a blur which ones are which, but I always remember the people in them. Whether I'm in Fargo, Minot, or someplace much, much, much, no-gas-station-for-miles smaller. I ask myself the same question. Am I going to be safe here?
I'd like to say that comedy and all things are equal. I'd like to say that the hurdles you face are ones of talent and self determination. I'd like to say all of that, but I can't, because it's not true.
In my work I often get asked a question, "What's the hardest part about being a comedian?" I always want to answer that question by saying it is finding your voice, knowing your audience, and coming up with the best punch line. Those things are hard, for sure, but the truth is the hardest part of being a comedian used to be being a woman, then it was being a lesbian, now it is being transgender. Each of these identities has unique hurdles, and yet all three intersect at all the same point.
"What's the hardest part about being a comedian?" I think that's too simple of a question, because at the end of the day it's a difficult thing for anyone to navigate. It's late nights, apathetic crowds, and lots of failure. For me, the one thing that I've heard louder than any other audience response is that I am different.
Because I stand out as being different, I've been threatened, I've been sexually harassed, and, when I tell people about it, the first question is, "Why do it?" It's as simple as loving the feeling I get when I make people laugh. I love making people happy, but I also love showing people that I exist and I'm not sorry about it.
VISIBILITY. Visibility, is so important.
How many transgender comedians have you met? How many women? How many lesbian? How many gay? How many LGBTQ? My comedy is for people like me, who wanted to hear the things I say, but didn't have anyone saying them. I want to let people know it gets better, it's going to get better, because I believe it will and I wanna make you laugh while it does.