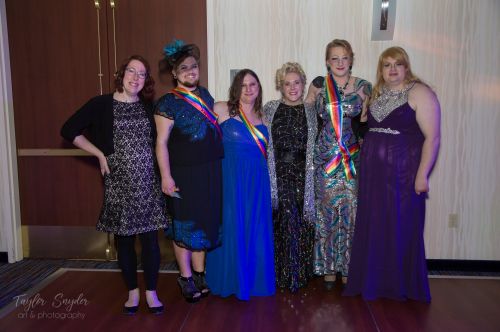 by Kris Gruber
perriex1@gmail.com
The Tristate Transgender Support Summit is a conference and marketplace with speakers, workshops, and vendors. The Trans Support Gala takes place on Saturday, February 28, at the Radisson Hotel in Fargo. High Plains Reader spoke to the Vice President of Tri-State, Rebel Marie, about the Summit and Gala.
HIGH PLAINS READER: Can you give a little background on what Tri-State Transgender does for the community, and your role with it?
REBEL MARIE: I am the vice president of Tri-State so I have kind of taken the role of fundraising leader. Our president Kat Kosterman is in charge of making sure our meetings on the third Saturday of each month are staffed by herself or another community member that has been attending meetings regularly. Tri-State is a casual support group that allows trans people to meet other trans people and talk about some of the struggles they're facing. We try our best to be the best advocates we can be for the trans community.
HPR: This is the 3rd year for the Trans Support Gala. Do you see the Gala growing so far? Are there any challenges you have faced that you can share?
RM: It's the Trans Support Summit -- the Gala is the fundraising portion of our event that happens on the last night. I'm actually seeing more trans support summits happening outside of Fargo that I feel like could have been inspired by our event. There is one in Sioux falls on May 8th and one in Duluth, Minnesota July 17th. One of the major challenges is getting enough funds to have the event and to highlight why the event is important. Not every venue that I contacted three years ago would allow us to have this kind of event. This event is also kind of our moment to pick ourselves up after the rough winter and right before or after a tough legislation session either in North Dakota or South Dakota. Many people don't realize that trans identities are some of the most politicized identities. Many of the people who try to write laws that hurt the trans community have never spoken to a professional that is well-versed in trans health care. This is our attempt to organize and promote what's considered to be best practice for the well-being of our community and our community members.
HPR: Can you tell us about the keynote speaker, Kelli Twoteeth? What is the process like in searching for the right speaker(s) for an event like this?
RM: I also want to say that we have a guest of honor for the gala who is D DU Shane. Ms. Shane is one of the original founders of tri-state and a lot of what the LGBT community has is because of her work in the early years. Our keynote speaker Kelli Twoteeth is a Montana person who is a vibrant two-spirited speaker. I wanted to make sure that we had a lot more intersectionality than in years past. Kelli has been a robust figure in their state and has really created programs that I feel we can learn how to implement here in Fargo. One of the coolest things I think they did was creating a camp where two spirited and trans individuals could just be outdoors and not worry about external violence. Kelli also has helped Fargo trans people and tristate transgender by coming to this event in years past. We are just so grateful for this person, you have no idea.
HPR: The Marketplace will be free. What can people look forward to seeing there?
RM: During the marketplace we also have classes that individuals can attend to learn more about the trans community as well as pertinent things that trans people might be interested in learning. We currently have six classes: Transforming South Dakota One Story At a Time, Parenting a Gender Expense of Person, Gender and Colonization, A Beginner's Guide to Be an Ally to Trans People, and Stories from a Christian Trans Woman. We'll also have a panel that will feature Dr. Sturgill as well as various other medical providers to speak about what affirming healthcare should look like for trans youth and adults.
If a person comes to the marketplace just to see the booths they will find businesses and churches that have services that are affirming towards trans people. We have a couple of churches, multiple medical clinics, jewelry makers, political action groups, and even a charter high school from Minnesota. Currently there are about 15 groups that will be at our marketplace and we are excited and grateful. If people want to find the full list they should visit our website and click the more information "tickets and event information tab".
HPR: Is there anything you would like the public to know or remember about the Gala?
RM: Every trans person and ally is invited to the gala as well as the other events that we have. The gala is our only event that costs money to attend because it's our fundraiser that we have to be able to host the summit as well as contribute to some of the healthcare costs. The only stipulation is that we ask people to have a trans affirming attitude while attending our events.
HPR: If people would like to help or volunteer with the Gala, or Tri-State Transgender, who should they contact?
RM: We are creating more opportunities as we speak but if people want to email us at TriState transgender701@gmail.com they certainly can. We also have a web page tristatetransgender.weebly.com. which has more information about our event. Since we are a small non-profit we are grateful for any help that we can receive.
For Gala tickets:
https://www.eventbrite.com/e/trans-support-gala-tickets-85551363431?aff=efbeventtix
IF YOU GO:
Open Mic
February 28, 7:30-10:30PM
Tristate Transgender Support Summit
February 29, 11AM-3PM
Trans Support Gala
February 29, 6PM-11:30PM
All events at the Radisson Hotel, Fargo