​U.S. Senate Internship Experience
by HPR Contributor | .(JavaScript must be enabled to view this email address) | Culture | December 23rd, 2014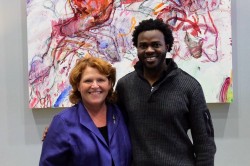 By Mohyeldin Omer
Interning with Senator Heitkamp has been such a wonderful and interesting experience. I first met the Senator in 2012 when she was a candidate. In December 2013 I met her again at her Washington, DC office to discuss matters concerning refugees. Upon first meeting the senator, I knew immediately that she was an open person, who attentively listened to issues such as practical steps the U.S. government can take to help alleviate the suffering of refugees. By the end of our conversation she looked at me and said "Mohy, you can intern in my office whenever you want." This opportunity was huge for me, and one I could not pass up. Just five years ago I came to the United States alone as a refugee without ever having spoken English.
I began my summer internship in June 2014, in the Fargo office with an awesome group of employees. I was extremely nervous when I first started. I wasn't sure how the employees were going to feel about me. I was a new American and spoke with a Sudanese accent that was slowly becoming more American. In addition, I had little office experience. However, the Senator's staff was quick to alleviate my fears by including me in their team, and providing plenty of positive encouragement and feedback. That gave me the confidence that I could do this job.
That was the beginning of my internship journey. From that day forward I sat at my desk and performed my job with a great pleasure. I enjoyed every bit of my internship experience from answering phone calls, facilitating constituents' questions and concerns, to helping staff with their casework. It was fun and valuable experience to meet, and interact with constituents with a variety of backgrounds and experiences, helping with their concerns and issues. I also enjoyed attending events with the Senator and/or staff to discuss issues that directly affect our great state of North Dakota.
It was humbling and inspiring to be introduced at events as the Senators' intern. However, my favorite part of the internship was assisting staff with casework. By doing so, my assistance allowed me to gain valuable knowledge and skills. This internship gave me a broad understanding of how the federal government works in addition to how politicians respond to their fellow constituents. It also gave me the opportunity to meet and socialize with people that otherwise I would have never met. Furthermore, this internship helped me to realize my potentials and what I'm capable of doing. It strengthened my leadership skills and allowed me to expand my social network. As a new American, the internship not only boosted my confidence, but also made me stronger and more optimistic about my future. Most importantly the internship reaffirmed my beliefs in the American Dream and the American promise. It was one of the most rewarding experiences I have ever had.
Before my summer internship ended, I was asked to extend my time with the Fargo office. With gratitude I accepted the offer, and continued my internship throughout the spring. Now with the skills I had acquired, I was able to perform with heightened professionalism. Generally, when people think of an internship, they think of the bottom of the barrel work. While this is might be true for some, it certainly was not the case at the Senator Heitkamp's office. The staff were very supportive and motivating and I couldn't ask for a better team to work with. They made my time there seem to fly by, and always treated me as an equal part of the team, never the "new intern." They went beyond my expectations, and invited me to attend social events and gatherings. My internship not only allowed me to gain the knowledge I needed to continue my dream, but also it allowed me to gain amazing friends. I would certainly do it all over again. Thank you, Senator Heitkamp.