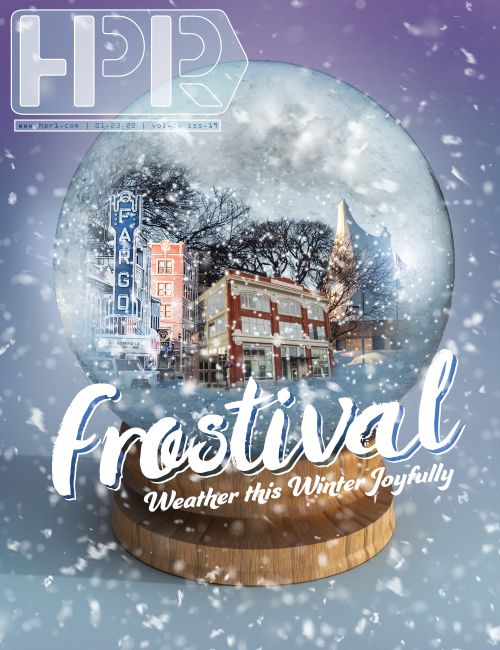 by Taylor Markel taylormarkel@cableone.net
What began as a single weekend of wintry activities, has now, for the first time in its history, snowballed into a multi-week celebration of all things winter! With countless, exhilarating activities like the beloved cardboard sled races, a coffee and cocoa crawl, a winter gear swap event and even an outdoor winter movie night. Frostival is by far one of the coolest winter traditions for you, your friends, family and coworkers to be a part of in the Fargo, Moorhead, and West Fargo communities! Here are some of the many kinds of brrr-illiant festivities to be enjoyed this Frostival season.
JANUARY 15 - JANUARY 22
West Fargo Winter Days
January 15-24 4:30pm - 7:00pm
Various West Fargo locations
Join in a tradition that brings our community together with a variety of events such as the Silver Snowflake Search, Crossword Puzzle, Coloring Contest, and even a Senior Luncheon! Explore a full list of West Fargo Winter Days festivities online at www.wfparks.org/winter-days/
Winter Boot Camp
January 25 / 4:30pm - 7:00pm
POW/MIA Plaza West Fargo
Kick off the evening with a sled parade at 4:30pm! Afterwards, you can skate the night away accompanied by musical entertainment. A cocoa cook-off will take place throughout the night, and you can even try ax throwing and Hammerschlagen, courtesy of Triple Ax!
Indoor Volleyball Tournament
January 18 (co-ed tournament) & 19 (women's tournament), 8:00am - 4:00pm
Rustad Recreation Center
Volleyball is a perfect way to stay warm and active! There'll be a co-ed and a women's tournament. Pre-register your team and volley it out to see who skates home with the coveted title of Winter Days Champions!
Cardboard Sled Races
January 25, 10:00am - 11:30am
Mickelson Park
Soar through snow as you race downhill on a cardboard sled of your own creation!
JANUARY 23 - 30
Winter Birding Festival
January 25,9:00am - 12:00pm
Forest River Park
All skill levels of birders are welcome to experience the joys of birding - it'll be a hoot! A limited quantity of binoculars will be available for use at this free event, but you can bring your own too!
Uniquely Fargo: Winter Warriors
January 25, 12:00pm - 4:00pm
Lindenwood Park
Can your team conquer its opponents in Human Curling, Icy Tug-of-Winter, the Sasquatch Challenge and even Yukigassen (Frostival's version of the Japanese snowball fighting competition) to earn the title of Ultimate Winter Warrior? All warriors must be 18+ in age, $80/team, up to 8 warriors per team!
JANUARY 31 - FEBRUARY 7
Frostival Winter Mixer at Harold's
January 31, 4:00pm
Harold's on Main
Come one, come all to enjoy s'mores and bonfires, outdoor games, craft projects for the little ones, music, food by Usher's House, and MORE! For all you carolers out there, did I mention there'll be karaoke?
FEBRUARY 1 at Hjemkomst Center
River Keepers Interpretive Snowshoe Hike along the Red River - 11:00am Explore on snowshoe along the banks of the Red River in downtown Moorhead! Please bring your own snowshoes if you have them, otherwise there'll be some to borrow, courtesy of Moorhead Parks and Recreation! Register for this free event at https://www.eventbrite.com/e/frostival-snowshoe-hike-tickets-86863548211
MBA Snow Sculpture Competition - 11:00am Create stunning art from cubes of snow - all skill levels are welcome to join in the fun! A winner will be announced on February 8! For registration details, visit https://mhdmba.org/event-3643898?CalendarViewType=1&SelectedDate=2/10/2020
Snowga - 12:00pm Calling all yogis - and snowgis! This one-of-a-kind yoga experience in the snow, led by local yoga instructor Tracy, welcomes all ages and levels of yoga students! There's an optional donation of new or gently used hats, scarves or mittens, that'll be donated to Stepping Stones Resource Center! Register at 11:30am at the event or online at https://www.eventbrite.com/e/frostival-snowga-tickets-86862757847.
FEBRUARY 2
Winter Wonderland Dog Pack Walk
Pet Salon/Nature of the North, 1:00pm
Participants and their furry friends meet at the Hotdog! Pet Salon/Nature of the North, stroll outside along the Red River with the pack, then can return with their four-legged friends for refreshments at Hotdog! Pet Salon/Nature of the North! Hotdog!
FEBRUARY 8 - 14
Winter Gear Swap
February 8, 10:00am - 2:00pm
Moorhead American Legion The Moorhead American Legion Post 21, Nature of the North and Frostival 2020 are coming together to give our community the chance to sell, buy, and trade used functional gear and equipment! Help grow your local outdoor community and connect people in your area with gear they otherwise wouldn't have, plus you can free up space from items you no longer need or use! FREE to attend and FREE registration to sell!
Undie Run
February 8, 4:00pm
Fargo Civic Center
Feel every degree of chill as you go on a run in only your johnnies! For your bravery, you'll receive a pom hat and a pair of Frostival undies! Pre-register for $15 or $20 the day of event! Visit https://www.eventslocal.com/events/undie-run to register.
Beard Competition
February 8, 4:30pm
Fargo Civic Center
Round up your friends and family and enjoy a spectacle showcasing some of the bushiest, the most stylish, and the weirdest facial hair in the upper Midwest!
FEBRUARY 15 - 22

Cold Cinema: A Winter Movie Night
February 21, 6:00pm - 8:00pm
Rheault Farm
Enjoy a favorite winter film outdoors in a covered shelter! Heaters are available outside the shelter, but please dress warmly and maybe even bring a blanket or two!
Ice Fishing Derby
February 22 ,1:30pm - 3:00pm
Woodhaven South Park & Fishing Pond
Grab your ice fishing gear and get ready to see if you can catch any bluegill, northern pike and perch at the annual Youth Ice Fishing Derby! Holes are pre-drilled AND there'll be free hot cocoa and giveaways! Registration begins at 1:30pm and the Derby runs from 2:00pm - 3:00pm.
YOU SHOULD KNOW:
Phone: 701-282-3653 Email: info@frostival.com Frostival on Facebook