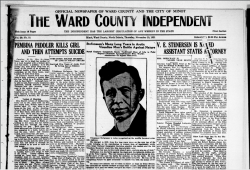 Just down a dusty old road trailing west in North Dakota, on County Road 9, you'll come upon the Tetrault Woods which you'll have to travel through. It's said that the road eventually becomes so narrow that you can hardly drive any further because your vehicle might be too big to fit.
It is when this road is the narrowest you'll come across a tiny decrepit bridge, lost to the laws of time. It's usually then that a feeling will start to creep over you, a feeling that visitors have described to be of ominous dread, melancholy, and an unsettling feeling of an unseen presence everywhere around you.
You've just experienced what the townspeople of Walhalla whisper about among themselves, the haunting bridge that transforms fiction into fact for an urban legend they've come to know as "White Lady Lane".
This is a great example of the nature of an urban legend in that there isn't just one concrete story that makes up the legend.
On the one hand, the story is simple. Legend tells of a young woman who became pregnant out of wedlock living under the roof of two parents who were very strict in their religious beliefs. Before long, the young girl's parents discovered the secret that she had been keeping and forced her, against her will, to marry the man who impregnated her.
Due to the stress of her circumstances, the young woman miscarried her child soon after her wedding and was eventually overtaken with a crippling sorrow and depression as she mourned her loss. In her extremely fragile and emotional state, the girl wandered from home to find refuge in death.
In the early morning, with no bride to be found sleeping in a warm bed next to her new husband, people naturally went out in search of the newlywed. The story goes on to say that the girl was found just as the sun was rising, hanging from a rope she had tied herself, underneath the narrow bridge within the Tetrault Woods.
That's one version of the story. Here's another.
It has to do with a young girl, about the age of sixteen. This girl's name was Anna Story. On a warm Midwestern day, I imagine it was probably early spring, a Syrian peddler by the name of Sam Kalil came riding through the North Dakotan countryside with a wagon full of household goods that he sold to make a living, when he came upon the small town of Leroy, N.D.
It didn't take long for Kalil to make the acquaintance of young Anna as he ventured through the town peddling his goods, and immediately the man was in love.
Before long, Sam sought out Anna's parents so he could ask for her hand in marriage and was met with a skeptical glance from Anna's mother, who denied his request to marry her daughter.
Kalil bargained with Anna's mother, showing off the contents of his wagon, and the two of them came to a deal: in a year's time, for the trade of a wagon full of Kalil's valuables, Sam would be allowed Anna's hand in marriage.
When Sam finally returned to claim the prize that he'd longed for, he was surprised to find that the door of opportunity he had been offered was now closed.
In the quiet hours of the night when the Story family was asleep in their beds, Sam broke into their home making immediately for Anna's bedroom where, when he was certain of the young girl who lay before him, he pulled out his pistol and shot her in the chest, killing her instantly.
For many, that is about where the story ends, spawning the rural legend of White Lady Lane. Rumor goes on to tell that the young girl didn't die there in her bed, but instead wandered into the deep dark night, not ready to be dead yet. Off into the dark wilderness she strayed further, finding refuge in the calm and quiet of the Tetrault Woods where she exists today residing in her restless afterlife.
If you thought that was the end, here's a third side to this legend that you might find interesting.
There's an article that exists from November 10th of 1921 in the Ward County Independent, the official newspaper of Ward county and the city of Minot, North Dakota, that is titled, 'Pembina Peddler Kills Girl and Then Attempts Suicide.' I found it while searching for information to write about this infamous rural legend that still haunts North Dakota. It details the events of an arranged marriage gone sour and the grisly events that ensued shortly after. If you ever get the chance, you should read it.
Like me, you'll find the haunting truth behind the hearsay and legend that is passed through time. Not every scary story you hear is a work of fiction. Some of the scariest stories we have come to know are real.
[Editor's note: Seng is the man behind Whispers in the Night podcast]