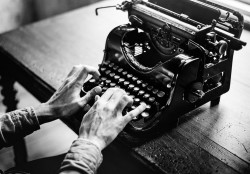 I was recently asked for advice on how to appropriately write a trans character for a piece of fiction.
This is a great question, because the vast majority of people get it incredibly wrong. I tend not to read or watch media that features trans characters, because their storylines are often stereotypical and cringe-worthy.
The thing to understand about writing transgender characters is that being transgender is only a small part of their identity or their history. If I told you I was transgender, it doesn't tell you a single thing about what my body looks like, what my voice sounds like, what dreams I harbor, what skills I've obtained, and the kind of person I want to spend my life with. It doesn't tell you when I transitioned, if I did, or how hard it was. It doesn't tell you what politics I have, what place I live, or how I'm going to die.
It can predict a few of those elements, but across the spectrum of gender diversity there is no shared story and lived experiences that is true for every person. When designing a transgender character, they cannot be solely the "trans" character. Their stories cannot solely be communicated within the context of transitioning, being victims, or being villains, as the media loves to do. If has to be built bottom-up, like every other character, or it comes across as lazy writing
I don't get offended by stories with stereotypical trans characters. I get bored.
I get annoyed that as an author, an individual tried to cash in by writing sensationalized garbage, full of stereotypes, because they thought trans inclusion was the new vampire romance.
So, a good test to judge a work featuring a transgender character is to ask if there's more to their story and motivation than just being transgender.
I don't remember the name of the author or book anymore, but I once recall an author saying they wanted to write a story where the husband character was transgender as a way to shake up a marriage. They were using the concept of being transgender as a framing device for the conflict of the story.
The strain of spousal relationships during a transition is definitely a subject that could be written to be authentic, engaging, and beautiful, but this person didn't understand the subject or material. They just thought it would be neat.
When someone is an author, they have to do the work if they want to make their story and characters complex and compelling. A person wouldn't write about a team of baseball players without ever seeing a ballgame or talking to the people who play. They definitely could, but the book would suffer for it.
When Neil Gaiman was writing "Sandman," he initially did not want to include a trans character. He was uncomfortable with the material and felt he didn't know enough to write about the lived experiences of a transgender person. Eventually someone convinced him that his story about the humanity in between dreams and death needed to give visibility to every wake and life.
The result was an introduction to a supporting character who dressed like a hardcore punk and was identified as trans because of a bulge in her panties. Her story line ends with her not being able to enter the dream work through witch magic, because magic doesn't see her as really female. She ends up dying because of this and when we see Death take her, we see her as more feminine in body and facial structure, the implication being her soul was really female all along.
Was it a bad story? Not really, but it was predictable. When we are represented in stories we are either victims or villains, we're usually given the job of sex worker, and we are somewhere in our transition. If we pass and are seen as beautiful, then our characters are predators. If we look like men-in-dresses we're seen as tragic or misguided.
If we're trans male, we don't exist, because institutional sexism doesn't care about women wanting to be men, but it's terrified of men wanting to be women.
There are a great many places to educate oneself about transgender issues and there are people like myself, who respond to questions and counsel on the topic of making characters come to life.
As a writer, I don't ask that a person creates perfectly represented, complex trans characters, but I definitely want to see some effort. I want to see them as more than a token trans character in the backdrop of the plot.
[Faye Seidler is North Dakota Safe Zone Project Spokeswoman]