Your next cat might be at the 'Cradle'
by HPR Contributor | .(JavaScript must be enabled to view this email address) | Culture | December 5th, 2018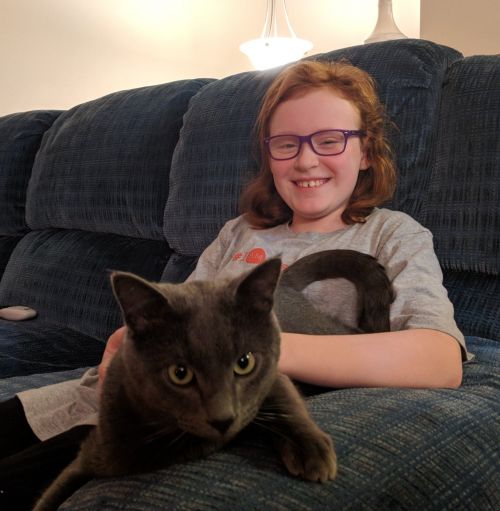 by Ryan Janke
ryan.janke78@gmail.com
I held it off for as long as I could, but the other day, I caved. I thought I was doing okay. I made all the strong arguments. I applied the five canons of rhetoric, just like you're supposed to. My defense was rock solid. I was on my A-game, or so I thought. It turns out, a wife and daughter's pouty eyes, when combining forces, are strong. Really strong. So, despite my best efforts, we added a cat to the family. He came home today.
We adopted him from Cat's Cradle on 9th Street South just south of Main Avenue in Fargo. He's a cool little guy, and really mellow. He was a house cat previously, they believe, before he somehow wound up on the streets and eventually was brought to the pound. Luckily for him, Cat's Cradle has an excellent network of people who love cats and are willing to give their time and offer their homes to save them from being euthanized. Because of this network, they are able to take in cats or find foster homes for them. They are never euthanized once they get there. In fact, they are given wonderful care – from spaying or neutering, to vaccinations, to getting rid of fleas, etc. They are prepared for, hopefully, a wonderful home one day soon. That's were people like you (maybe) and my family come in.
The cats at the shelter or those placed in foster by Cat's Cradle come from many different conditions. According to Cat's Cradle Executive Director Gail Ventzke, the cats can arrive at the shelter for many reasons. Some wound up at local pounds, some were rescued from places like dumpsters, cardboard boxes, or parks. Sometimes the shelter receives kittens whose parents were never spayed or neutered. The mother cat has the kittens and the cat's owners are unable to care for all of them.
Currently, Cat's Cradle has 170 cats and kittens in their care with more arriving every week, according to Ventke. Some are at the shelter. Others are with foster families or at Natural Pet Center, which serves as a satellite shelter. There are 91 cats in foster homes around the area.
Adoption is an easy, but thorough process and one that should not be taken lightly. Ventzke says adopting a cat or kitten is not only a commitment for the potential new owner, but a second chance for a cat who may have traveled down a difficult road. The cats need love and someone who is committed to giving them the best lives they can live. She says the pets are counting on you to love and care for them for the rest of their lives. This is why it is so important that a potential adopter take care in choosing a cat and not rush into it. With so many available, there is no reason to settle. You can take your time and find the right fit.
Ventzke says another factor to consider is the financial commitment that comes with adoption. There is an adoption cost, but it doesn't end there. There will be wellness visits, vaccinations, and medical care throughout the life of your cat. Ventzke says she cannot stress enough the importance of making an informed decision.
The first step in the adoption process is to get ahold of Cat's Cradle. They have a Facebook page that is monitored. You can also call (701) 356-7877, or email through the website –www.catscradleshelter.org. We started by visiting the website and looking at pictures and descriptions of all the available cats. We know a volunteer at the shelter, so after looking at the website, we reached out to her to express our interest. We actually had our eyes on a different cat than the one we adopted, but thankfully for him, he found a home and we were able to find the perfect cat for us.
The next step was to go to the shelter and interact with the cats. They have open houses on Tuesdays from 4 – 7pm and Saturdays from noon to 5pm. This was a cool experience, or so I'm told. I was not along for the initial visit, but I did meet him before we actually brought him home. When my wife, daughter, and son went for the initial visit, they went from room to room and just sort of waited to see what cats showed interest in them. They would go into each room and sit on the floor. Then, some cats would come and check them out, while others couldn't care less that they were even in the room. There were several cats who interacted with each of them separately, or even two of the three, but none that interacted with each of my wife, daughter, and son. Not until they went into the last room.
That was when they found Royce. He crawled into the lap of each of them and found a way into their hearts. He would snuggle up to them and purr softly as if to say, "It's me. I'm the one you are looking for." It turned out he was the one, because when I met him, he came right up to all of us purring as loudly as he could. That night my wife put a hold on him. The cost to do that is $20 and the time it took to fill out an application. This guarantees that no one else will be able to adopt the cat if you can't take him or her home right away. This was the case with us. We needed supplies.
We ordered the supplies online, so it took a few days to get everything. While we waited, we took the opportunity to visit Royce during an open house, so I could meet him, and we could go through the next step in the process. This included an interview. No one who will not be the cat's actual owner can adopt. In other words, you cannot go in and adopt a cat for someone else as a Christmas gift without that person along. There is also an agreement to sign that says you'll promise not to have the cat declawed. The cost of adoption is $138. If you have the cat held, the $20 holding fee is subtracted from the $138.
Finally, after we had all the supplies we needed, we were able to go pick up Royce. The only requirement when you pick up the cat is that you have a carrier to bring him or her home in. No cats leave without being in a carrier.
And, so, we have a cat. I fought it for a long time, but I'll be honest – he's pretty cool. And just the right fit for our family. Do me a favor – don't tell my wife I like the cat.
The need for adoption is great in the F-M area. As we find ourselves in the holiday season, your family may be considering a pet. Please consider adoption. As it says on the wall above the adoption center at Natural Pet Center, "Save 2 lives when you adopt. The cat you are adopting and the one that takes its place."