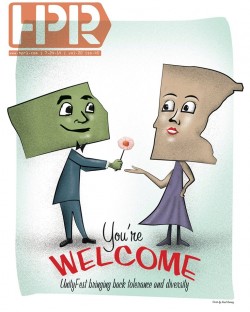 Unity North Dakota, an organization formed to speak out against white supremacist Craig Cobb's attempts to take over the small town of Leith, N.D., will celebrate its one year anniversary of fighting for "cultural, ethnic, racial and community unity" and the defeat of Cobb with an eclectic all day festival on Saturday, July 26 at the Red River Valley Fairgrounds in West Fargo.
The event will feature live music (including everything from the punk of Les Dirty Frenchmen to the folk of Art Rude to dance with DJ Vooch), various speakers (including ND Ag Commissioner candidate Ryan Taylor), booths, free food, cash bar at night,some fun for children including face painting and games, as well as a visit from Miss North Dakota, Audra Mari.
While Craig Cobb's threat to North Dakota has subsided with his arrest for terrorizing and subsequent plea agreement, which resulted in four years probation and a removal from Leith, UnityND felt it was important to continue as a organization to prevent future Craig Cobbs.
"Unityfest is the fruition of our plans, making sure that all North Dakotans recognize how great of a state we live in. The tolerance, the diversity of our people, the welcoming nature of most North Dakotans to those who move here, whether they were Jews back in the early 1900s that settled in central North Dakota, whether it was Native Americans who welcomed Lewis and Clark here 200 years ago. North Dakota has a rich history of welcoming people to its borders and we want to celebrate that," said Scott Garman of UnityND.
UnityND, a state-recognized nonprofit, has three goals for the future that it feels will help North Dakota continue its tradition of tolerance. One is to get comprehensive hate crime legislation passed by the North Dakota Legislature, as the state is one of the few in the United States that currently does not have any on the books. Another goal is to continue outreach and awareness to communities to combat racism and promote diversity. The third goal is to help schools teach children in the state about these issues.
"We would also like to see a state-specific curriculum for elementary school students on the diversity of the immigrants that have come to North Dakota, a deeper understanding of Native culture in North Dakota, and we are going to work towards developing that curriculum," Garman told HPR.
UnityND's Garman stressed that while the organization formed because of the threat of Craig Cobb, it is now about way more than him.
"We don't want to wait until the next Craig Cobb comes to North Dakota and tries to take over a town," Garman said. "We want to help towns recognize when people like that have moved into their community and what to do about that. We don't want to raise suspicions about every single new person who moves here because North Dakota is full of immigrants right now that have been moving here to work in the oil fields; and we don't want North Dakotans to be paranoid and worried about every new person that comes, but what we do want is to make sure that if a white supremacist group attempts to take over a town in North Dakota that they know now upfront that their plans will not go unanswered."
The group that started UnityND felt state officials were slow to respond to Cobb's antics when he first came to Leith and was vocal about his plans.
"I noticed that really nobody was answering his plan, nobody was standing up to him, didn't seem like people were really aware of what was going on and it seemed like the people of Leith especially were being left in the lurch. There was no government officials that were coming out in defense of them. There was no individuals that were saying these people need our help," Garman said.
Todd Reisenauer is a guitar player for Les Dirty Frenchmen and also a Unityfest speaker as a Democratic candidate for statewide office for North Dakota Public Service Commissioner. He is happy to participate in the event, especially as a native of the western part of the state that is experiencing changing demographics.
"There is a lot of new residents to North Dakota," Reisenauer said. "I think it's an important issue because it's definitely on the ground out there. Western North Dakota is becoming more diverse and it kind of represents change."
In his speech, Reisenauer will talk about some of those changes to the state related to the oil boom.
"I am going to be speaking as a consumer advocate, what I believe the Public Service Commission can be doing better for the citizens of North Dakota from the perspective of oil development, energy development and utility rates," he said.
Unityfest organizers hope to expand the event in future years to multiple days with more vendors, especially ones of different ethnicities. They also want the event's host city to change each year to provide the opportunity for all parts of the state to attend the event.
"This is our test date. This is us getting our feet wet but from here on out, we're really looking to expand it considerably," Garman said.
While serious subjects will be addressed, Garman said the event will still be a good time for all-ages.
"I just want to stress how positive Unityfest is going to be. It's going to be a lot of fun. It's meant to be a celebration," Garman said. "Unityfest is a celebration of what we see is all that is right and good in North Dakota, a celebration of culture, a celebration of tolerance, a celebration of diversity and also a bit of a celebration of reaching our one year anniversary and the defeat of the white supremacists in North Dakota."
Admission to Unityfest is free, but Garman said there will be a freewill offering to help UnityND continue its plans well into the future.
"We will not ever again allow the hate that white nationalists spew to spread and infect the children, the good people of North Dakota or our communities."
IF YOU GO:
UnityfestSat, July 26, 11 a.m. to midnightHartl Ag Building on the RRV Fairgrounds, West FargoFree, open the public, all-ageswww.unitynd.com
SCHEDULE:
11a.: Doors Open
12p.:12:15p Scott "Bubba" Garman, speaker
12:20p-12:45p.: Art Rude, folk musician
1p.-1:15p.: Ryan Taylor, speaker
1:20-1:50p.: Art Rude
2p-2:15p: John Strand, speaker
2:30p.-2:45p.: Miss ND Audra Mari, speaker
2:50p.-3:15p.: Mr. Meaner and the Penitentiaries, folk punk
3:25p-3:40p.: Todd Reisenauer, speaker
3:45p.-4:10p.: Mr. Meaner and the Penitentiaries
4:20p.-4:35p.: Martin Davies-O'Connor, speaker
4:45p.-5p.: Chase Iron Eyes, speaker
5:15p.- 5:30p.: Judge Thomas A. Davies, speaker
6p-7p. Art Rude
7:15p.-7:45 p: The Statmods
8p- 8:30p: SOTOS
8:45-10p.: Les Dirty Frenchmen
10-Midnight: DJ Vooch, World Famous Mpls DJ
Cash Bar from 6p-Midnight