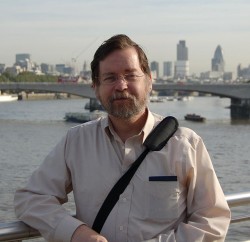 A new local atheist organization is hoping to spur much discussion on science, religion and humanity and put Fargo on the map as place to host such discussions when it holds the first ever local conference of its kind on those subjects on Sept. 13 and 14 at the Doublewood Inn.
Great Plains Atheists are hosting the inaugural secular convention Zeteticon, whose name comes from the word zetetic, which means proceeding by inquiry or a by seeker. Zeteticon organizer and Great Plains Atheists member Jeffrey Eide said the organization decided to take things up a notch by holding the convention as a part of its overall goal to foster an environment for healthy discussion in the community.
"We decided to put together a large scale convention taking some of the best speakers from around the country and creating a safe environment for people to come in, have a conversation, enjoy each other's company, learn a little bit and challenge each other," Eide says. "We wanted to create a platform of skepticism and critical thinking for people of all backgrounds, whether they're religious, atheists, spiritualists, whatever it is. We want to encourage the disagreement and encourage the controversy in a respectful way."
Most of the convention events take place during the day on Saturday and Sunday with featured speakers taking an hour or so to speak on specific topics related to the convention's themes of science, religion and humanity. All of the speakers have unique and specific areas of expertise on those ideas.
"We're bringing in community organizers such as August Berkshire and Fred Edwords, people giving workshops on how to encourage dialogue in society and how to get people involved, how to get the media involved and how to raise important questions about secularism, about science, about religion while maintaining respectful dialogue," Eide told HPR.
More noteworthy speakers include biologist PZ Myers, who runs the number one most read online science blog, Pharyngula, historian Richard Carrier, former missionary and legendary Chicagoan speaker Katie Kruse and director of American Atheists in Texas, AronRa.
With such topics that are bound to create intense debate and heated opinions, you'd wonder if Zeteticon organizers would want to encourage people of differing viewpoints to attend. They told HPR everyone is welcome and encouraged to spark debate and skepticism while doing so in respectful manner.
"Realistically, a majority of the people are going to be very scientifically minded," Eide said. "However, it's so important that we've already had confirmations from people who are a couple members of the Catholic community. We've had someone from the Jehovah's witnesses come up and sign up for this because they are so interested in learning and I think that's the thing we want to promote above all is learning. Trying to understand another person's perspective so that you can understand why people believe certain things and vice versa."
Fargo doesn't seem like a natural place to host an atheist convention or become a hotbed for atheist discussion. But the people who put Zeteticon together hope this convention leads to a change of opinion in that perception and reputation.
"We want Fargo to be known as a center of free thought, a center of science, of education, of art and of strong community and that means a very diverse crowd, which Fargo already is, being able to engage in controversial discussions without fear of offending people. By hosting this convention in Fargo, we'd like to elevate Fargo's reputation and status to a real center of civilization in the Midwest," Eide said.
Fargo has been described as a liberal oasis in one of the most reliable red states for conservative politics in recent years, however. But what about the rest of the state? How will they react to a convention such as this being held in their state? Will religious conservatives put up a fuss that this is even happening?
"Since we've started advertising for the convention, we've had people reaching out to us from all across the state, people who, from their small towns, feel like they are truly alone. Ironically, there are even situations where multiple people from the same small town have contacted us, reached out feeling alone. Hopefully down the road we can get people in contact with one another because I don't believe this state is as conservative as our politicians would have us know. I truly feel that the different communities around North Dakota are eager for a real discussion about these issues," Eide told HPR.
In addition to several speakers, Zetiticon also features several nightlife events including concerts, comedians and a limited space VIP dinner, all designed to promote healthy discussion in a social atmosphere over a cocktail or two. Also, there will be a silent auction with arts and goods from around Fargo where 100% of the proceeds benefit the Women In Need Fund and the Rape and Abuse Crisis Center.
While organizers hope the conference will bring together people of widely differing opinions to debate issues related to religion, science and humanity at the conference, they aren't worried about those talks getting too heated or resulting in someone so upset they disrupt the event.
"We ask people to be respectful as much as possible. When people come to the convention, ticket holders will be asked to always remember one thing: you can disagree about people's opinions, about people's belief systems, but we always ask you respect the person you are talking to. And at the end of the day, it's absolutely OK to have a disagreement and continue to disagree. Nobody's trying to convince one another or persuade one another, that's not the goal. The goal is the conversation itself. So when you find people with even radically opposing views, think of it more as the objective is to try to understand where each other are coming from as opposed to trying to persuade each other that they're right." Zetiticon's Eide said.
What: Zeteticon 2014
Where: Sept 13 8 am to 6:45 pm, Sept 14 9 am to 5 pm at the Doublewood Inn, Fargo
Cost: $65 for all weekend, $30 for seniors and students