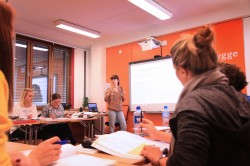 By Logan Harle
Alfaskolen is a private language school in the city of Oslo that is entering its tenth year this coming September. The school teaches a range of students from 18 to over 40 years of age and offers language classes as well as social studies courses.
A professor at Alfaskolen, Lene Ness, said they have students that attend Alfaskolen for different reasons.
"About 90% just come here to learn enough Norwegian to get a job or a raise and then there is 10% who come to learn Norwegian to get citizenship here," Ness said. "To get citizenship in Norway you have to pass 550 hours of Norwegian lessons and 50 hours of social studies."
One of Ness's students, Iveta Parole-Manzano from Latvia, took a year off of work to complete the extensive amount of hours to obtain citizenship in Norway.
"It has been a rollercoaster because at first it was very frustrating and very quick," Parole-Manzano said. "You usually have three or four years to think about and learn a language, but here it will take me only about a year."
Not only is the language and history of Norway taught at Alfaskolen, but according to Parole-Manzano, she has also learned the Norwegian mentality, which she finds important in order to be a citizen.
"I feel this school is better for people who come here completely new to the country and want to live here for a long time," Parole-Manzano said. "We are learning words and how to talk, but at the same time we're learning about what Norwegians do and what is typical for a Norwegian and that's pretty cool."
Many immigrants that are required to take the 600 hours are in Norway on a work visa, but many immigrants are living in Norway through the European Union.
"A lot of immigrants that are here through the European Union are not required or encouraged to apply for citizenship," Ness said. "They can move wherever they want within the European Union and as long as they get a job and support themselves they can stay there."
Ness said that the majority of people that come to Norway, but never quite make the effort to learn the language are typically Americans. Not only is it because most Norwegians speak English but Americans and also Australians are not required to take the 600 hours.
"We have certain agreements that have allowed Americans and Australians to only have to take tests to become a citizen," Ness said. "You just have to take enough hours to pass the tests at a base level. If you can show you passed the test, then you can stay in Norway."
Since 2014, Alfaskolen has lost many students who attended the school outside of the European Union in countries such as Pakistan, Nepal and India, due to the laws and regulations becoming more strict to gain citizenship or a visa.
Office manager, Fredrik Graff said this is because of the war in Syria, which resulted in many illegal immigrants crossing the border into Norway.
Despite the loss of students from outside the EU, Graff said they have a lot more students attending from Eastern Europe and some Spanish-speaking countries. Alfaskolen will be opening another school in Holland this summer, growing the school internationally.
"We are hoping to have some exchange students attend Alfaskolen in Holland from our school here," Graff said.
Other languages can be taught upon request at Alfaskolen, according to Graff.
"We have teachers from all over the world so they can do lessons in other languages if needed," Graff said.
Ness said that not only are her students learning from her about the culture of Norway, but that she is learning a lot from them as well.
"I see Norwegian culture quite differently than everybody else does," Ness said. Since working here I get all these inputs of Norwegian culture that I never really thought about before."
Graff agrees with Ness about the learning environment within the school.
"We are always trying to learn, as well as the students," Graff said.