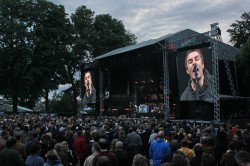 Photos by Jack Hastings
As music festivals in Norway grow, the danger of attending a concert also rises. The Manchester bomb attack following an Ariana Grande concert killed 23 attendees and wounded many more. Festival and concert organizers in the U.K., the U.S., and Norway, which has one of the highest per capita music event attendance rates in the world, are keenly aware of security concerns.
The repercussions of the UK attack can be seen in the U.S. as additional security precautions are adopted. Several major concert venues have already heightened their security measures, including Madison Square Garden in New York City. MSG sent out a memo on May 23 detailing the venue's commitment to "increased diligence in screening" and "greater on-site police presence." Many other American venue managers have taken similar actions.
Norwegian venue organizers have also taken precautions in the wake of Manchester.
Oslo Musikkfest, held on June 3, 2017, is the largest annual one-day music festival in the country with venues spread throughout the Norwegian capital. This year saw 50 venues hosting over 450 bands, which is an increase from 2016, which had 38 stages and about 300 bands. All performances were free of charge and nearly all music genres were represented.
The free festival draws in tens of thousands of attendees every year. "It's absolutely possible that it was about 50,000 to 100,000 attendees," Mina Evenrud, director of Musikkfest, said.
A report by the National Knowledge Center for Cultural Industries showed that over 1.8 million people attended a festival in Norway in 2014, which accounts for nearly 40 percent of the country's population.
With such a high level of festival attendance, threats toward the crowd's well-being are a key concern for organizers.
"We have good and ongoing communication with the Oslo police," Evenrud said. "We want people to feel safe at Musikkfest."
After the Manchester attack, the Norwegian Police Security Service determined that the threat level in Norway had not risen.
The level of security at each of the given stages was left up to the venue promoter. Evenrud encouraged both the audience and local promoters to call the police if they noticed any suspicious activity.
With an event that is outdoors, without closed-off areas and open to the public, it is difficult to implement any comprehensive security precautions. When asked about implementing security precautions, Evenrud was intent on remaining strong and steadfast against any threat that may arise.
However, applying too many security measures may not be the best solution. "But then we give in to what the terrorists want," Evenrud said, "to scare people from living normal lives. And is that what we want, to have armed police on every corner. Will you then feel safe or would you feel monitored?"
Evenrud continued to say that it is a very complex situation. The issue of security will continue to be an ongoing topic of discussion for future years of Musikkfest as well as other festivals and concert venues around the world.
Similar conversations regarding security were also held by BergenFest organizers, the largest festival on Norway's west coast and one of the leading music festivals in Norway. BergenFest was held June 14 to 17, 2017, at Bergenhus Castle in Bergen, Norway.
"We spend a lot of time planning for our events to be safe," Ole Morten Algerøy, BergenFest press manager, said. "We feel that we have taken precautions."
Prior to the beginning Bergenfest, a post on its website explained the venue ensures the audience is as safe as can be. The post detailed how to best move around the venue, how to pack and what security measures have been put in place.
"In times like this, it is even more important to make people come together and appreciate each other and appreciate the music," Algerøy said.
As music festival culture continues to grow and expand, an ongoing topic of conversation will detail what actions need to be taken in order to provide a secure environment for people to enjoy art and music.
YOU SHOULD KNOW
https://oslorocks.blog/author/hastingsjack/