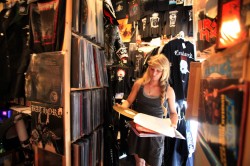 by Angie Perez
Black Metal in Norway as we know it is strongly associated with Satanism, occult, violence, burning down of Christian churches and men wearing all black attire looking like they just stepped out of hell. In today's metal scene some will argue that the genre has fallen into the shadows of pop and alternative music.
The five member Norwegian Metal band, Shot At Dawn, has decided to break up after 11 years of making music. The band performed their last gig at Aye Aye Club for Oslo's annual Musikkfest, "It's just time, we worked our asses off last year and couldn't really get anywhere," guitarist Alexander Klæboe said. "I think our name is getting a little worn out … so we've had a hard time getting response anywhere. Right now it's just not worth the effort."
As an unsigned band, Shot At Dawn has been in charge of booking their own shows. Despite the decline of interest in the genre they successfully played in 21 concerts in 2015.
This was the band's third time playing at Oslo's Musikkfest, drummer Aki Viitala said. The bass player, Espen Hagas, and guitarist, Christopher Marchand, are original band members since. Viitala joined in 2010, both Klaeboe and lead vocalist Martin Bråthen joined in 2014.
"It's so great that they have this stage just for Metal music because it is a genre that for the last five years it's been in the shadows," Bråthen said.
Overall music sales and radio airplay have decreased, as music genres like pop and alternative rock have increased and are dominating the charts.
Metal's revenue and concert attendance has shrunk in Scandinavia, and that could be in part because the genre is veering away from its origins - transforming into a modern and less angry beast. Or the transformation could be a side effect of waning interest in metal.
"We want to make people smile we don't want to make people angry and hurt each other," Bråthen said.
Shot At Dawn's objective is to empower their listeners and make music that people can listen to when they're going through a hard time, feeling sad, happy or just want to party. "We want to make a song for every emotion. Even if it's metal we want to cover all shades it's not just black or white," Bråthen said.
In March, the City of Oslo hosted a big music event where not a single Metal act was booked. "That's pretty crazy because they had like a 150 bands and not one was metal," Bråthen said.
Viitala said that it was depressing to see because the genre has been around since the late 70's, and during the mid 2000's they noticed a decrease in interest.
A few legendary Metal artists have already expressed the disinterest in metal: Brent Hinds told GuitarPlayer that he doesn't like to play heavy metal; and in an interview with the Observer, Dani Filth said that there is a noticeable difference between being a Metal artist then to now because it is getting harder and harder to make a living.
Despite the gradual loss of interest, Bråthen said that recently people are starting to implement guitars again because concert goers enjoy a show where the music is created on stage. "There's no backing tracks, we create the music on stage with our guitar, bass guitar, drums and vocals, that's it. It's just us making a bunch of noise. There is something organic about it, something real that comes from the heart."
Shot At Dawn does not categorize themselves as Black Metal but "white-trash metal," which they described as full of good party vibes with simple lyrics made for the common man. Instead of giving a dark and aggressive show they want to bring joy to the crowd.
"It's about being yourself," said Bråthen. "F*** everybody, I don't like your s***, living life to the fullest, and party hard."
Getting off the stage Saturday night the band members felt a mix of emotion. Marchand solemnly said he felt sad, Klæboe said he felt the band's state of oblivion. "During the last song I had tears in my eyes," said Viitala. "Now we have to put our energy in new projects we're all going to play in some new band."
The bands differentiates their style from Black metal because they don't go on stage trying to look angry but instead like to smile and show happiness, Viitala said.
Last year the band performed at a Finnish festival. On the first night all the other bands were dressed hardcore, black metal style. Bråthen said the second night they played they saw those same bands were wearing Shot at Dawn's merch (hats and t-shirts) and smiling on stage. "They told us you guys taught us that we don't have to be angry on stage, even if the music is aggressive, we don't have to be….I feel like we are pioneers of some sort," he said.
The main concern for the newer bands is the lack of revenue coming in for metal artist. It's not that Metal is dead but it has a broader spectrum of subgenres that have steered away from the black metal traditions.
"I think people remember having fun more than a watching a bunch of guys worship satan. When you go to a show and you see a metal concert the music is brutal and it hits you right in the face, but still we are having a good time," Bråthen said.