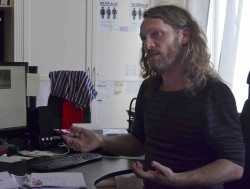 By Amy Venn
Oslo Pride 2016 marches on in the wake of the Orlando tragedy, with a message of solidarity and a determination to celebrate acceptance and equality.
"It's been a couple of very intense days," Petter Ruud-Johansen, information officer for Oslo Pride 2016, said about the effect the shooting has had on the festival starting this Friday. "It does something to our pride."
Oslo Pride, running June 17 through June 26, takes place across the Norwegian capital and boasts a diverse array of over 200 events, free of charge, that include art exhibits, musical guests, debates and drag queen makeup classes -- a line-up of politics, parades, parties and performances. Many of the events are self-produced by volunteers, which makes Oslo Pride, according to Ruud-Johanson, the largest free Pride festival in Europe.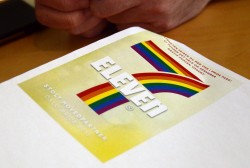 The police are making their own efforts to keep the 10-day festival safe, with increased visibility and increased invisible operations. There are reportedly no threats to be concerned with and the organizers are also encouraging attendees not to be fearful.
"We are hoping for the opposite effect," Ruud-Johansen said. "Now is the time to stand up, to show support." He expressed a hope that this year's crowd will break records from previous years, to help promote acceptance.
Businesses or organizations can buy a booth at Pride Park where more than 60,000 visitors will wander into the heart of Pride and the center of Oslo. There is also a percentage of beer and food profits that contributes to the Oslo Pride fund. Ticket sales to major events at the Rockefeller Music Hall go into the fund as well. Many performers also volunteer their performances or cut their prices for Oslo Pride. The combination of contributions and public funding from the city of Oslo go to organize a festival that doesn't put pressure on the pocketbook.
The festival begins with a political debate at club Elsker, which translates to "lover" in English. Before the Orlando event even happened, Oslo Pride planned to feature a panel discussion on current topics including religion and violence. The panel includes two Muslim people, one a Norwegian citizen and one a politician. There has been long-existing support between the LGBT community and the Muslim community in Oslo, something that Ruud-Johansen expects to remain.
A main debate topic this year will be about intersex people, or those born with male and female reproductive organs or chromosomes. Non-consensual surgical procedures have been practiced for many years, but are now coming under scrutiny. People can expect to hear more about the choice being taken away from intersex individuals.
Last week, the LGBT community celebrated the passage of a Norwegian national law that will allow transgender individuals to legally declare their gender without surgery, psychiatric evaluations or forced sterilization. Even so, transgender rights and acceptance will be a hot topic at the debates.
The Norwegian Armed Forces will be represented in the parade, as they have been in previous years, which might be an unfamiliar sight for many Americans. The army is also expected to have an information booth in Pride Park.
The Norwegian Church will take a more visible role in pride this year. Sunday mass will be hosted there, celebrating equality and faith.
The Church voted this year to allow same-sex religious marriages, even though marriage equality for gay couples has been legally recognized since 2009 in Norway. The parade will celebrate such equality victories by marrying three gay couples on floats in the parade procession. The couples were chosen from thousands of applicants. The floats are sponsored by the corporation 7/11, which has 8,600 stores in the U.S. and Canada, and 47,800 more stores spanning the globe.
The parade march takes place on Saturday, June 25 and begins in Grønland, a diverse neighborhood near the center of Oslo. The parade came under some media fire when the parade was moved from the west of Oslo to Grønland in 2010, a move that Ruud-Johansen insists is not a political one.
"When we decided that the parade would start there, some politicians tried to make a political point out of it," he said. "But it's not a reaction to anything. The reason we start at Grønland is simple: many LGBTI people live there and work there - our community thrives there."
Ruud-Johansen said Oslo Pride 2016 is a celebration of equality, solidarity and acceptance. In a time where a global tragedy has shaken the LGBT community to its core, Oslo Pride is showing no signs of slowing down.
The whole festival can be followed on social media: #OsloPride.