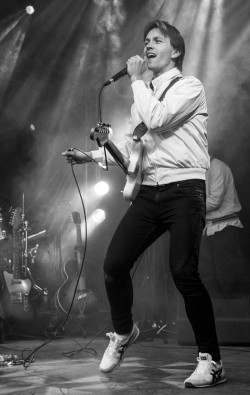 Sondre Lerche was born in Bergen on the west coast, the second largest city in Norway. He has just released his eighth album, "Pleasure" (2017). This interview took place at OverOslo, the annual music festival on a hill overlooking the Oslo harbor.
HPR: How has being from Norway affected your music both when you started and now?
Sondre Lerche: It's always hard to say because it's all I know, but when you are young growing up here, you listen to mainly music from other places, like the big music cities. I listened to a lot of Brazilian music, but it's always from far away.
Being Norwegian, it's not your identity to be at the centre of attention. Geographically we are just way up here, you know? We are just a little country with this story to tell. So maybe that affects your view. You have a sort of privilege coming from Norway that you may or may not know you have, but at the same time you see yourself as quite small. Maybe you have a sort of weird view of things…you can sample the best from all cultures and just quietly cultivate your own brand of it. I like that. But I've lived in New York for so many years and I try and think about how that affected me, but that is hard too because it's all I know. New York is full of people coming from all over the world to live and be a part of it for a second.
HPR: Were there any challenges with moving from here to there?
SL: I think it's challenging…I did it because I had been touring so much and I was like it's going to be so fun to move somewhere else, I'm gonna be so inspired and then you do it and you've put so much pressure on this experience that you are going to be inspired and the first couple of months I was not inspired at all, I was just tired. And then you think "Oh shit! This was a terrible mistake" and I was still quite young so I didn't really know how things go. Oh my god I almost had like a little meltdown. You just expect that you are going to move to New York and continue to be brilliant, and I had to start from the bottom, in a sense, and really get to the inspiration.
HPR: Is it different for you performing here than in the US and Canada?
SL: It is a little different. In Norway everyone knows who I am but they don't necessarily relate to my music or know my music. In most other places, people don't know who I am, but the people who do, know all my music. It's this very bizzaro world. It is very different. The essentials are the same, it's just making people happy and groovy with music. I'm playing the same music and I'm essentially the same guy. It's sometimes liberating getting to speak English in between my songs because it appeals to this entertainer side that I have. That is a little harder in Norway with my own people. You don't have that sort of character to play around with.
HPR: Do you prefer to sing in English?
SL: I prefer it. I've tried sometimes to write in Norwegian. I don't like it at all. This is going to sound strange, but I find it limiting because there are more words in English and they are more specific, and most of the music I've listened to was in English. It feels culturally like it's where the expression belongs. There are a lot of good artists singing in Norwegian, but I'm not one of them.
HPR: Do you think it distances you from your fans in Norway?
SL: By now they know what to expect, but there has been a shift now where a lot of pop artists who sing in English have started singing in Norwegian. Of course the feel of a lot of it is that it's more intimate to sing to your own people in your own language, but I've communicated with people outside of Norway since the start, so it seems like this valuable dialogue and I would hate to just end it. It would almost feel rude, like if we were in a conversation right now and I just randomly started speaking Norwegian. I definitely feel better being able to communicate, and that is one of the great things I experienced the first time I went to America to play, was that people actually listen to the words. That was really special. It made me want to work harder to write better.
HPR: When you write, do your words come first or the melodies?
SL: It varies. Very often the music comes first because the music gives shape and I can realize what i need. I write down words all the time without any thought of the music. So I have two different buckets to draw from. But very often I'll have a piece of music and I'm just trying to give it life, and the words are the life. That's what drives it and what motivates me to sing it. It's only a song if I can give the melody words that motivate me to stand up in front of one person or millions or people and sing it. I have to feel that this is something I have to share, even if nobody wants to hear it.
HPR: You are known for constantly reinventing your sound. How do you go about taking your fan base with you?
SL: Oh boy, I don't know. I've probably lost a lot of people in different stages of my career because I'm selfish in that sense. When I'm writing and recording I only really care about what I feel and think. If I'm playing it for someone else, it's just to see how I feel playing it for them, because that reveals a lot. It isn't necessarily because I want them to say 'oh cool snare drum sound,' it's to see if I play it for them, I'll hear what bothers me and fix that. So really, I've probably alienated a lot of people who maybe like one record and then came to the next and were like "what?" And then maybe some people return. They fall off and then they come back.
HPR: What about new fans?
SL: All the time! There are so many people who come to me and say they thought I was some new guy. If I'm new to them, I am a new guy, but it's really fun for me after all these years to put out so much music and still have people discover what I do and think "Pleasure" is the first album of some guy. That idea is so exciting to me. I've been blessed with a core fan group of adventurous, tolerant music fans who really want to go on this ride with me, and without them I couldn't do any of this at this level. If people do fall off, that's not a big deal. I have that same relationship with many artists where I like this record but maybe couldn't tune into that one. It's not necessarily supposed to be for everyone all the time.
HPR: Do your folk roots from the start still reside with you at all?
SL: Yeah, I feel very connected to just the format of a guy playing guitar and writing songs on a guitar. That's the core of what I do and I feel like at any moment I could strip everything I do down to that. I'd be happy to perform solo shows almost anywhere and meet the audience that way, and take songs back to where they came from. So I feel connected to that format. I don't necessarily want to explore that so much in the studio, but I always can in the live format. I like the flexibility where if I write songs that are good enough to be dressed up and dressed down. Then I feel like I've done my job, so I like to do that.
HPR: Where do you see your music going in the future?
SL: I tend to feel like when I've done something, it's like you've had a big meal of pasta and you want something else. I've recorded a bunch that overlapped with this record but was decidedly something else and are very different. They move very slowly and have a lot of room for thoughts. I don't necessarily think the next thing is going to be all that similar to "Pleasure." But it's going to take a little time, so anything can happen.