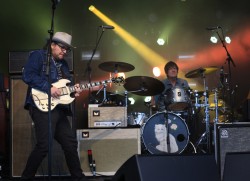 By Logan Harle and Angie Perez
loganharle@yahoo.com
angieperez@csu.fullerton.edu
The festival market in Norway has increased tremendously in the past 20 years, so much that 40 percent of the population attended a festival in 2014, according to the Norwegian Knowledge Centre for Cultural Industries.
One of those festivals is the annual and iconic Norwegian Wood Festival, which is usually a three-day-long festival that's had an estimated eight to nine thousand people in attendance per day last year, according to one of the original founders, Joergen Roll. This year, however, Norwegian Wood shrunk to one day with three acts including Israel Nash, BIGBANG, and Wilco.
The downgrade in size is said to be due to competition with new and upcoming festivals and limited dates in Norway's prime festival season in June. Every festival tries to avoid dates in July because that is the time of the year everyone goes on vacation. Festivals try to book in June as that is when people are in town and are willing to spend money on festivals.
Roll said Norwegian Wood missed out on a possible 25 headliners because of competition with other festivals. But Roll believes that this year's reduction in artists is due to "bad luck".
"Every year you have bad luck with some but not like 20 different artists," Roll said. "So it's been a very special year."
According to the Cultural Editor of Dagsavisen, Oslo's daily newspaper, Mode Steinjker, the festival market in Oslo has been collapsing more or less because of the big festivals that have been in Oslo for a long time and up and coming festivals that more exciting than the older ones.
"It won't be the same this year because it's not a progressive festival like how it use to be," Steinkjer said.
Film Institution blaaa and former press officer of Norwegian Wood, Jacob Berg, said the problem with Norwegian Wood is that the festival has a broad profile, where they try to reach all types of audience members. In today's market newer festivals try to reach a specific audience, booking artist according to genre. This is the reason why the festival ended up with only three artists, because of issues booking bands needed to fit their profile, according to Berg.
"It's due to competition and the lack of relevant artists," Berg said. "It doesn't have the same profile. It used to have a niche that is gone now."
In past years Norwegian Wood has always been capable of booking so many great artists, although they didn't manage to do that early enough this year, according to Berg.
Even though the festival didn't live up to their standards of previous years, Israel Nash Gripka, the lead vocalist and guitarist from American band Israel Nash, said he is proud to be a part of Norwegian Wood.
"I think we're honored to be a part of this festival, despite how massive Norwegian Wood was last year and the years before," said Gripka. "The fact that it's paired down to three people and we're a part of that, when there could've been so many other artists to do it, is great."
According to Steinkjer, the lack of performances, attendance and ticket sales, could lead to Norwegian Wood's last year.
"I want to see what is left of Norwegian Wood," said Steinkjer. "I think I will be surprised if they manage to raise money for next year's festival."
Despite what critics say, Roll said that next year's 25th anniversary of Norwegian Wood will be back to three days. Roll said that they will be starting to book artists earlier, the day after Norwegian wood this year, to be exact.
"Why shouldn't we have high hopes for next year? We've had almost a million people for shows before," Roll said.