Birds of a Feather
by Jim Fuglie | .(JavaScript must be enabled to view this email address) | News | January 22nd, 2020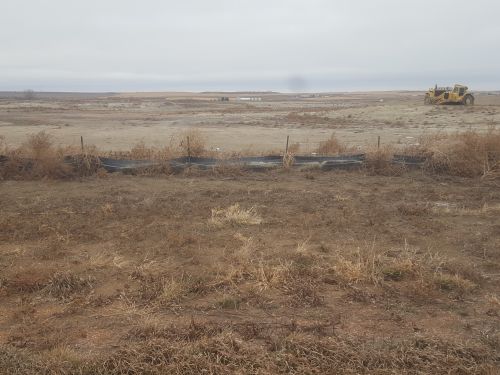 It's time for an update on Meridian Energy Group and the Davis Refinery. You probably remember them, although it's been a while since I last wrote about them. Meridian is the California/Texas company that wants to build an oil refinery just outside the boundary of Theodore Roosevelt National Park in western North Dakota. The price tag is somewhere in the 800 to 900 million dollar range.
The project has been beset by delays, mostly of the company's own making. By putting it so close to a national park, it has drawn stiff opposition that wouldn't have been there if it had been 10 or 15 miles away, because the company claims it will be "the cleanest refinery on the planet." That may be, but it is still a pretty dumb place to propose a refinery, and the result is a pair of lawsuits now pending in front of the North Dakota Supreme Court. Rulings on those two suits are expected pretty soon.
Investor skepticism is the other big problem for Meridian. Although they continue to put on a happy public face, they've only found enough investors to generate about five percent of what they need to build it. As a result the project is stalled, and bills are going unpaid. The company said at the outset it would have the refinery operating in 2018, but now it is saying 2022 or 2023.
In a surprising twist of fortune—or misfortune, I suppose, depending on your point of view—the company hired by Meridian to design and build the refinery is likely to file bankruptcy sometime in January.
Bloomberg reported on January 17, "McDermott International Inc. is preparing to file for bankruptcy as soon as next week to address its more than $4 billion debt load, according to people with knowledge of the matter."
Just over a year ago, in December of 2018, Meridian issued a press release which read, "Meridian Energy Group, Inc., the leading developer of innovative, advanced technology and environmentally-compliant oil refining facilities, announced today that the company has signed an agreement with McDermott out of Houston, Texas under which McDermott will finalize the Front-End Engineering Design "(FEED)" for the Meridian Davis Refinery in Billings County, North Dakota.
"Following the completion of the FEED effort, the Parties will be prepared to enter into a comprehensive turnkey Engineering, Procurement and Construction "(EPC)" Agreement to build the Davis Refinery. McDermott is a premier, fully – integrated provider of technology, engineering and construction solutions to the energy industry. Meridian has initiated site preparation and grading at the Davis site, and is proceeding with final design and equipment fabrication and procurement with full construction activities and foundation work resuming in Spring 2019."
Well, like everything else they've been announcing for the past five years, Meridian was blowing smoke with its announcement that construction work would begin "in Spring 2019."
My sources with inside information on Meridian tell me that McDermott is one of a handful of companies under contract to Meridian which have stopped work on the refinery project because Meridian can't pay its bills.
McDermott and three other big national engineering firms—SEH Design/Build, Vepica and Axens—and a local construction company, Martin Construction of Dickinson, all have unpaid bills in front of Meridian and have stopped work on the project. SEH has filed a $2.2 million mechanic's lien against the company for unpaid bills, according to records in the Billings County Courthouse in Medora.
The only work which has been done at the refinery site, which is just three miles from the national park boundary, is the dirt work done by Martin, which consists of leveling the site and building an enormous dirt wall around what is now about a hundred-acre weed patch. Martin stopped work at the site in October of 2018. The weeds have benefited from a wonderfully rainy year, and are thick and lush.
Meridian's "Permit To Construct," issued in June of 2018 by the North Dakota Health Department (now the North Dakota Department of Environmental Quality), was set to expire last December—the DEQ required the company to begin construction of the refinery within 18 months of getting its permit—but the friendly folks at the DEQ issued an extension in December, just days before the permit expired.
My sources said Meridian owes McDermott more than $3.5 million. It's not known whether that has contributed to McDermott's financial woes, leading to bankruptcy. I'd say it's likely.
Sources also say Meridian employees are not being paid, and it's likely some legal action is being contemplated to try to collect back pay.
Here's another problem. There have been newspaper reports that the city of Dickinson, 20 miles east of the proposed refinery site, is about to spend a million dollars to build a pipeline out towards the refinery to deliver their wastewater for use in the refining process. That would be a good deal for everyone, because refineries use a lot of water, I am told, and it would be a lot more environmentally conscious if they could get it from Dickinson instead of from underground wells. A story in The Dickinson Press in September started, "The city of Dickinson is investing roughly $1 million in a new pipeline to sell its reuse water to Meridian Energy Group's Davis Refinery in Belfield."
Well, Dickinson better be darn sure the refinery is going to get built before they start spending a lot of money on a pipeline. Luckily, the ground's a little bit too hard to dig a pipeline right now.
In a press release issued a year ago by Meridian, touting its just-signed new agreement with McDermott, William Prentice, CEO of Meridian, said "Meridian's mission is to drive the reinvention of the refining industry, and the Davis Refinery is intended to be the prototype for a new type of refinery. To fulfill this mission, Meridian requires an EPC Partner that shares this vision, and that has the expertise and professionalism to complete Davis and follow-on projects in a reliable and cost-effective manner – Meridian believes that McDermott is that firm and is very happy to be entering into this agreement and finalizing another major milestone on the Davis project."
Lance Medlin, Meridian's Executive Vice President of Projects, said "Davis Refinery is being designed as a cutting-edge facility, setting a new standard in how emerging energy needs are addressed at regional levels. Meridian's partnership with McDermott for the engineering and development of the Davis Refinery is another step in what has proven to be the consistently right direction in refining, and we're proud to announce this next phase in the Davis Project."
Uh huh.
Meanwhile, Bloomberg, reporting on the pending McDermott bankruptcy on Friday, January 17, said "The Houston-based company, which builds oil platforms and gas-export plants for energy producers, is negotiating a restructuring plan that could see its debt converted into equity with existing term-loan lenders getting the majority of the shares . . . Unsecured creditors would receive less than 10% of the equity along with warrants . . . On Friday, its 2024 bonds were trading around 9.5 cents on the dollar, according to Trace bond-trading data."
Meridian and McDermott. Birds of a feather.
Stay tuned.
[Editor's note:Jim Fuglie is the voice ad pen behind theprairieblog.areavoices.com]