​Case against TigerSwan stumbles, but to continue
News | May 30th, 2018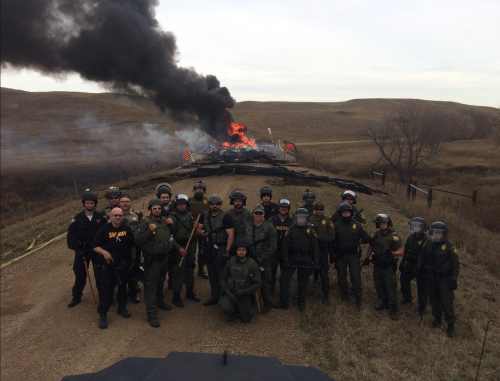 BISMARCK– Citing lack of purview, a North Dakota district court judge dismissed a civil case against TigerSwan on Wednesday, but the issue on whether the security giant operated illegally in the state during the Dakota Access Pipeline is far from over.
The North Dakota Private Investigation and Security Board filed a complaint against TigerSwan, its owner, Jim Reese, and other local security companies who collectively were called DAPL Security, in June 2017. District Court Judge John Grinsteiner dismissed one of three counts against the security company last month, and left the matter in the hands of the PISB.
PISB's attorney, Monte Rogneby, said another motion will be argued in the upcoming weeks, and if that fails, he will appeal the judge's decision.
"I'm not sure that my feelings about it are relevant, but the board disagrees with the judge otherwise we wouldn't be going forward with an appeal," Rogneby said. "The civil case that the board has brought set up in our complaint that TigerSwan and Mister Reese provided private security services in North Dakota without being licensed. That is the sole focus of the litigation and the facts."
Rogneby has been attempting to file motions for discovery, some of which are still pending.
"Our focus is really on the private and investigative aspect of whatever they were doing," Rogneby said.
Rogneby, who also is a partner with Vogel Law Firm, which was representing Energy Transfer Partners until recently, has come under fire by some citing a conflict of interest. Rogneby disagreed.
"We didn't consider it to be a conflict because ETP is not party with anything to do with board," Rogneby said.
Vogel Law Firm is no longer representing Energy Transfer Partners, he said.
The North Dakota Private Investigation and Security Board, or PISB, is a governor-appointed committee that licenses and regulates private security industries, according to its website.
TigerSwan and PISB have been arguing on whether the case should be decided by the district court, or by the board with an administrative action, Rogneby said.
"The case isn't over," Rogneby said. "If ultimately the appeal is not successful, the board will start an administrative action against TigerSwan and Mr. Reese, and it would look a lot like what the action is in the district court just in a different forum."
The North Dakota Supreme Court doesn't hear cases during the summer months, so any appeal will have to wait until autumn," he said.
Documents leaked to media outlet The Intercept and information obtained through the Freedom of Information Act by the High Plains Reader showed TigerSwan worked closely with law enforcement from five different states, and used military-style counterterrorism measures against the movement opposed to the Dakota Access Pipeline.
The PISB's civil lawsuit confirmed the relationship between law enforcement and TigerSwan.
"TigerSwan provided private security services to Energy Transfer Partners concerning the pipeline, and coordinated with other security providers and local law enforcement in carrying out these activities," the civil action lawsuit reported.
TigerSwan communications described the movement at Standing Rock as "an ideologically driven insurgency with a strong religious component," comparing anti-pipeline activists to jihadist fighters, and stating the agency expected a "post-insurgency model after its collapse," according to the documents.
TigerSwan's founder, Jim Reese, has continuously maintained his company's innocence, but the PISB is not finished, Rogneby said.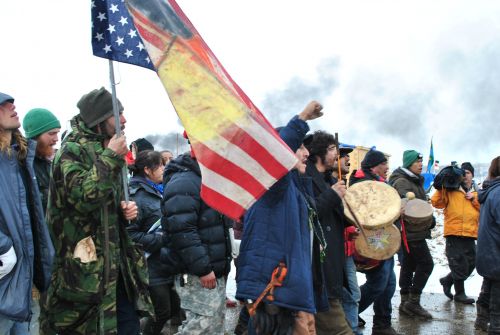 First DAPL activist sentenced to federal prison
Michael "Little Feather" Giron, from the Coastal Band of the Chumash Nation in California, was sentenced to 36 months in a federal prison after a non-cooperating plea agreement on civil disorder charges, becoming the first activist of the more than 800 arrested during the months-long protest to be sentenced so harshly.
"The sentence imposed today reflects the judge's recognition of the positive changes that Little Feather has made in his life due to his time at Standing Rock," Little Feather's attorney Peter Schoenburg said in a press release. "It is an endorsement of all the progress and this new chance he has for a spiritual life in connection with his ancestors and his relatives."
Little Feather could have been sentenced to 60 months, and has already served 15 months behind bars.
Another activist, Red Fawn Fallis, the woman who pled guilty to civil disorder and possession of a firearm and ammunition by a convicted felon, is still waiting on sentencing.