​Case of the missing mosaic
News | May 22nd, 2019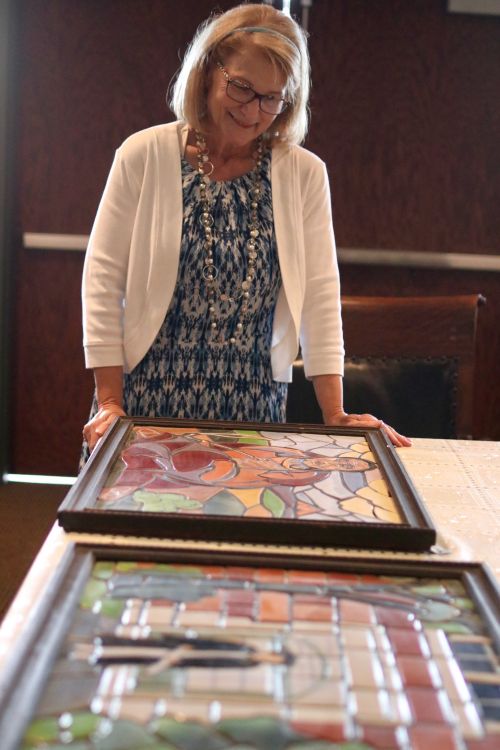 FARGO – Nine Great Depression era mosaics included in a Bonanzaville collection to be priced by the Antiques ROADSHOW on June 1 carry a 40-year-old mystery nobody has been able to solve.
One of the pieces – of an entire collection of 11 depicting characteristic themes of the state – was stolen in the mid 1970s. Each piece is unique, a framed mosaic plaque made from North Dakota clay. Bonanzaville purchased nine pieces through the Pioneer Daughters in 1935 for approximately $75, and the University of North Dakota retained two, Bonanzaville Executive Director Brenda Warren said.
"The pottery was boarded up and ready to be moved and during the evening someone familiar with the ceramics decided they'd rather own a piece and it was stolen out of there," University of North Dakota professor emeritus Donald Miller said.
"We have nine and we've always had nine and the University of North Dakota had two, but when their art department moved one of the two got stolen," Warren said.
The stolen piece was part of the now defunct UND School of Mines, which was turned into the university's arts department after Cable retired.
"There are no other tile pieces like this made at the university," Miller said. "Each of them is one of a kind. They were actually designed by a woman in the art department. My guess is individually they'd bring $25,000 or $30,000."
Warren is waiting on pricing predictions from PBS's 16 Emmy Award-nominated Antiques Roadshow.
The designer and producer of the plaques – the heart and soul of UND pottery – was Margaret Cable, first teacher of the university's ceramics department. She accepted a mission at the time to prove that North Dakota clay could make good pottery, the result of which ended in an artistic explosion that rivaled the work of the best American producers at that time.
Cable, who named herself "Maggie Mud," struggled through the Great Depression to keep her department alive, even after her salary was cut and she was told her department's funds had to come from pottery sales. During the Great Depression she became head of the of the President Franklin Roosevelt's New Deal WPA or Works Progress Administration program at the local level, making pieces crafted during that time period highly sought after items.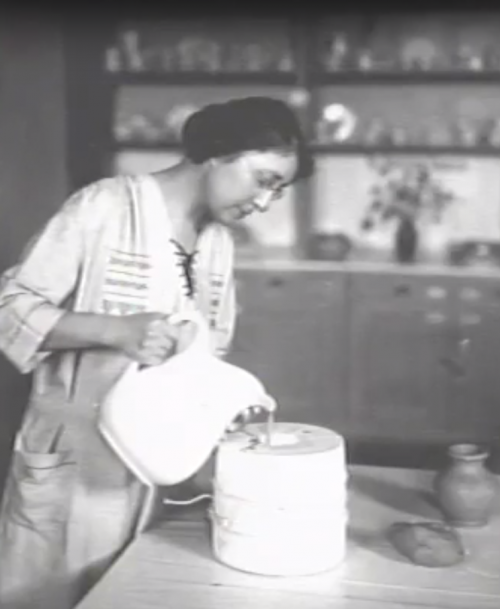 She taught her students to use indigenous imagery, reflecting scenes from the prairie, buffalos, Conestoga wagons, wheat and corn stalks, sweet clover, honeybees, and farm animals. In 1927, she was named North Dakota's Woman of the Year, and after retirement received the world's most prestigious pottery medal.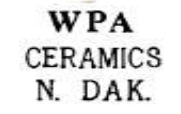 Some of the figurines crafted by Cable and her more than 1,800 students included: Mother Goose nursery rhyme characters, doll heads and animal figurines, cereal bowls, custard cups, milk jugs, pitchers, and beverage glasses. Other ceramics included bookends, paperweights, lamps, incense burners, ashtrays, and decorative plates. Some are stamped with "WPA Ceramics N. Dak.," while others with WPA or WPA N.D. A small portion also possesses the initials of the potter, according to the North Dakota Pottery Collectors Society.
The mosaic plaques, some of which are named The Dakota Badlands, An Indian Smoking a Peace Pipe, An Ox and Oxcart on the Prairie, A Drill Sowing Corn in Reddish Soil, and The State Owned Mill at Grand Forks, were a part of the North Dakota exhibit at the Century Progress World's Fair in Chicago, Illinois in 1933.
Someone, somewhere, has the stolen piece, Donald Miller said.
"Please turn it over to the police department and have it returned to the Alumni Association at the University of North Dakota," Miller said. "It would be wonderful to have the other piece hanging next to it."
The mosaics have a near 80-year-old history, and at one point Miller said UND wanted the artworks back.
"Those pieces had been bought from UND and were meant to be displayed and we gave them an idea of what they were worth and made them an offer on the pieces and it wasn't until we pointed out the uniqueness and value of these things that they took notice," Miller said. "They were looking at one point to sell them on Ebay. And it was like 'Oh my god, don't sell those things.' They are heritage here in North Dakota, they belong someplace on display."
Miller, who said he authored a book on Cable and UND pottery entitled "History of UND Pottery – The Cable Years," made Bonanzaville an offer to return the nine pieces.
"Not $200,000 but enough for recognition, and to be recognized for placing them back at UND," he said.
"I'm hoping they have had them upgraded and cleaned up and re-grouted," Miller said. "Some of the tile pieces were a little bit in disrepair. I think in some ways they'd have been better cared for and more secure here."
In a video documentary published by UND TV Center, head of Chester Fritz Library Sandy Salter said ceramic works of art are worth more than money.
"I think the legacy for the Ceramics Department then and UND pottery, I think is found in the pieces themselves and what they represent," Slater said. "Certainly what the pieces that one considers art pottery today are very favorites by collectors. But beyond that they represent Margaret Cable's teaching. I think the legacy of the Ceramics Department is found in those pieces."
The Fargo Antiques ROADSHOW is scheduled to last all day on June 1 at Bonanzaville.