Changes coming to HPR: Q and A with incoming and outgoing editors
by Chris Hennen | .(JavaScript must be enabled to view this email address) | News | August 26th, 2015
Beginning next week, High Plains Reader will have a new editor in Sabrina Hornung, as editor Diane Miller, who's been affiliated with HPR since 2011, is officially departing this week. With the changes, we sought to get some insight into what to expect for the future of HPR with Sabrina as well as check in with Diane on what her future holds as she leaves Fargo.
Questions for Sabrina
HPR: What are your passions and what do you hope to bring in highlighting them as editor of HPR?
Sabrina Hornung: I am very passionate about the arts. I would like to highlight the visual arts as best I can, and I would not only like to cover what is going on in F-M -- which is very important don't get me wrong. Fargo-Moorhead is our home base, but I would like to spotlight some artists and events that have made a name for themselves in the regional spectrum and beyond. I would also like to highlight opportunities for artists such as open calls for entry, career development, etc.
I would like to tap into our student pool. We are in a tri-college area chock full of artists, writers, musicians, performers and filmmakers begging to be heard and acknowledged. I want to dig up some of the underground dirt in this mineral rich soil.
HPR: What do you feel most prepared you for the job as editor?
SH: Extensive hands-on training with Diane was a huge step in preparing me for the editor position. Prior to that I contributed to the HPR for some time -- though there are plenty of "what-ifs" crawling around inside my head. John and Raul are ridiculously supportive. If it wasn't for John's optimism and Raul's eagerness to help we would not be having this conversation.
HPR: What made you accept the job?
SH: I ran into John Strand at a reputable local establishment early this spring and he mentioned that Diane was leaving. His eyes lit up and he asked me if I would ever be interested in working as editor. We talked about it briefly and I thought it was idle bar chat ... but it just so happened that he was serious. I had no intention whatsoever as to coming back to Fargo. My whiskers were pointed west but I figured that passing up an opportunity like this would be one of the Top 10 bad decisions in the life of Sabrina.
HPR: Obviously filling the shoes of Diane Miller is a big one, but someone has to do it. What do you hope to do differently than her?
SH: I hope to add more art-related content and a bit more regionalism to the HPR. Of course HPR's favorite contributors will still contribute (or at least I hope they will). We'll still give you the scoop on the coolest music and events in the area, the best food and drinks, and keep you up to date with the hottest news stories. What can I say? We have a heckuva team!
I guess the other big difference is I won't be rapping or singing in the office -- I just got here. I don't want to get kicked off the team.
HPR: Where do you see HPR heading in a year?
SH: I hope to see the HPR thriving and to continue to be the mouthpiece of our community.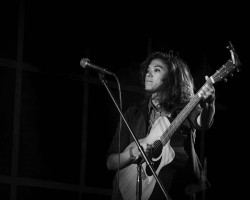 Questions for Diane
HPR: What is next for you? What world are you hoping to dive into, music or journalism or both?
Diane Miller: My life is very much up in the air right now. It's kind of scary but it is also kind of thrilling. I'm not sure if I'll return to journalism. It's certainly possible. I've enjoyed it and it's given me incredible opportunities that I could not have experienced with any other job. Though more than anything, I just want to continue in a music-related field. I want to perform. I want to write. I want to create. There's nothing that brings me greater energy and satisfaction than great music and great musicians. I will never ever get away from them -- ever.
HPR: What did you enjoy most about your job as editor at HPR?
DM: Meeting people -- interesting, forward-thinking and creative people. I loved doing interviews because I essentially got to listen to people talk about what inspires and moves them. Sometimes these interview exchanges lead to deeper, more meaningful relationships. At times, when I'd write a great story, it resulted in me positively influencing another person's life. Learning of those experiences has brought me some of the greatest joy of my life.
HPR: How often do you hope to make it back to Fargo?
DM: Well, I may be here a bit longer than I originally anticipated and my move date is up in the air right now ... However, when I do move, I of course will be back quite regularly. My parents and most of my closest friends live here.
HPR: What will you remember most about your time in Fargo-Moorhead?
DM: I've lived here since the age of 12 and I'm now 29. So that's a loaded question!
Of course I'll remember all my favorite people. Truly, I have many, many favorites, including my family, friends, co-workers from HPR and Scheels, old track and field teammates, bandmates and more. Even some of the folks I've met within the past two or three years through F-M-related events and organizations have become some of my absolute favorite people.
How about this ... What places will I remember the most? Dempsey's Public House, The Aquarium, The HoDo, Atomic Coffee (in Moorhead and Fargo) and Nichole's Fine Pastry. These places have been my second homes. I've never worked for any of these businesses, yet I know the wonderful staff at these places all too well.
I have to call out Dempsey's Public House/Aquarium again. I've performed some of my absolutely favorite shows ever at this establishment. Major shout-out to the staff there. I love that place so damn much.
I of course will never, ever, ever forget all the wonderful experiences I've had at HPR, thanks in no small part to the staff.
HPR: What advice do you have for the incoming editor?
DM: Always be yourself.