​CROSS COUNTRY
by Sabrina Hornung | .(JavaScript must be enabled to view this email address) | News | April 20th, 2016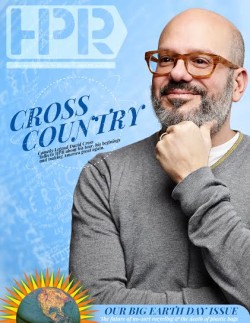 David Cross is no stranger to either the big screen or the small screen -- whether he is writing, producing, or starring. Most may recognize the popular comedian as Tobias Fünke, on the hit television series "Arrested Development." He made his debut in the early 90s on The Ben Stiller Show, which eventually led to the cult favorite HBO sketch comedy series "Mr. Show" in which he partnered with fellow comedian Bob Odenkirk.
He has released two albums on Subpop records and has also written a book titled "This is why I drink." The HPR has had the privilege to chat with David Cross about his tour, his beginnings, and how he plans on making America great again.
High Plains Reader: Have you ever been to North Dakota?
David Cross: I have not. There are two states I've never been to and one is North Dakota -- the other is Alaska.
High Plains Reader: How did you get into comedy?
David Cross: As a kid I was always drawn to comedy. As a little kid I used to love Abbott and Costello and my dad was a jovial extroverted comedy junkie guy. There was never a day where I remembered "getting into it" -- it was always there.
Then, as I grew up and became an individual, I just kind of gravitated toward it. I used to love standup. I had a bunch of George Carlin albums, and Steve Martin, I loved Andy Kaufman and Richard Pryor.
HPR: This may sound cliche, but were you ever the "class clown" as a youth?
DC: You know, there wasn't a lot of middle ground. I moved constantly--I was always moving. Within a year I would be uprooted and moved someplace else. So I was always the new kid.
In some classes I was a class clown and very vocal, and then in others I would be really quiet and wouldn't say more than two words the entire year. I was definitely a little bit of a trouble maker.
HPR: What kind of material do you have prepared for "Making America great again?"
DC: I didn't try to approach it this way, but this is how it usually ends up being when I do a tour. I would say a third of the material is just silly jokes, and roughly a third is kind of political or topical, and then another third is anecdotal stories like.. I saw this weird thing in New York. Not that I try to make a conservative effort to make it that way but that's roughly what happens.
HPR: In regard to your political content, what do you think about our current political climate?
DC: I definitely address it on stage, but hopefully not for too long. I think it's a mixture of being unprecedented, the level of vitriol, and how juvenile it is. I haven't really witnessed it in my lifetime--but it doesn't seem crazy shocking. It feels like we've been leading up to this for awhile. It kind of makes sense in that you know when you have right wing media and FOX News drumming into people's heads over and over and over again that Obama is possibly a communist Muslim from Kenya, who wants to destroy America because he hates America.
You know there are enough stupid people and susceptible people who are going to believe that. Then this is not so shocking. It makes a little more sense when you see it that way. You can't say it's out of the blue and nobody saw it coming--they've been creating this perfect storm for decades really.
HPR: What was your creative process while you were doing "Mr. Show?"
DC: Bob and I would always meet--and we did this last time too for the Netflix show--very informally maybe 2-3 times a week.
We'd just shoot the sh*t and talk about ideas we have. Sometimes one person would write a sketch and then we'd work on it together, and we would meet for about a month and just come up with ideas in that month. We would come up with maybe 7,8,9 solid bits and have ideas for others.
Then we would bring in the other writers and start from that point on, because we really had a hand in everything from the color of the wigs to what the spoons look like on the table. We would try to get ahead of all of that stuff as much as possible.
It's a pretty intense writing period for about six weeks--eight weeks when we bring the other writers in. Then you're just up and running!
HPR: What was it like reuniting with Bob Odenkirk for the comedy sketch show "With Bob & David?"
DC: The show was great. Bob and I are close friends and we've done numerous things together. So we are in touch -- but getting everybody together and doing a show was so pleasurable. It was just such a thrill, it was really fun, and we both can't wait to do it again.
HPR: One last question-how do you plan on making America great again?
DC: (pauses) The world's biggest pancake breakfast..a thing where everybody comes together for one big pancake breakfast.
IF YOU GO:
David Cross: Making America Great Again
Sat. April 30, 7 p.m.
The Fargo Theatre, 314 N Broadway