​Double CBD standards: laws for them, laws for us
by HPR Staff | .(JavaScript must be enabled to view this email address) | News | September 7th, 2018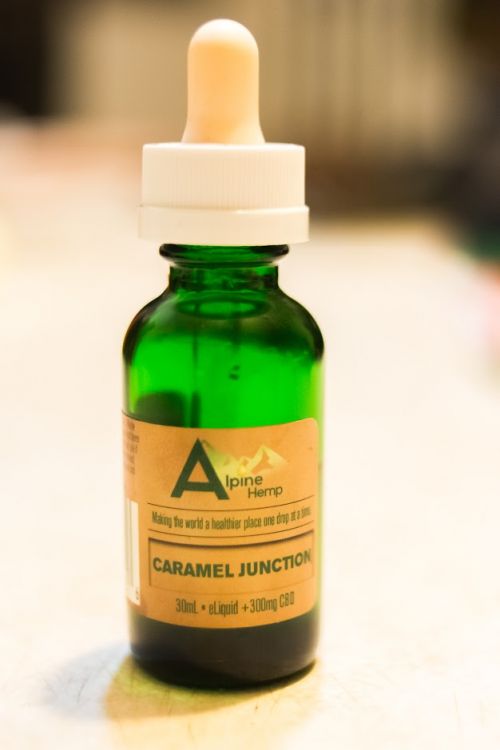 by Jacques Harvieux
jacquesthejock@gmail.com
BISMARCK - While local stores are being investigated for selling hemp-based CBD oil, an illegal product in North Dakota, the state's only U.S. Congressman implies he uses the product on a regular basis.
In 2017, two stores were "raided" by police after owners admitted on television they sold CBD oil. One of the stores' owners, Lonna Zacher Brooks, of Terry's Health Products, a Bismarck health food store, was targeted by local police who bought two of her CBD oil products for testing. The products were later tested and confirmed to be positive for CBD and negative for THC, and then her entire inventory was seized.
BisMan Community Food Co-op was the second store "raided" by police in May 2017. Store managers declined to comment.
Congressman Kevin Cramer, who is running in a high-profile race against U.S. Senator Heidi Heitkamp for her seat on the U.S. Senate, has some questions to answer, or at least some things to clarify.
In an August Politico article entitled "How a pair of Kentucky Pols are about to legalize hemp," Cramer was quoted in the story pertaining to marijuana's sister plant, hemp.
"She's [his wife Kris] an advocate," he told me. "I'm on the healing end of a cold, and my wife just asked me if I wanted some of her [CBD oil], and I said, 'No, not today.'"
All attempts to reach Kevin Cramer and his team for comment were unsuccessful.
Brooks's store was hit days after she went public with her product, so far, five weeks have gone by since Cramer was quoted in the national magazine, which begs the questions: Why was Brooks's store targeted? And will the federal government pursue an investigation against Cramer?
"It's very frustrating and disheartening that as a state we seem to be so unaware of exactly what this product is and what it is derived from," Brooks said. "I have spent thousands of dollars trying to make headway in fighting against this and lost even more in lost sales just to have stores sell it not only online but also across the state.
"To hear that a state representative's family uses it and hasn't reached out to me to offer support or to see what they can do is very very disappointing. Also knowing they are cosponsoring a bill in the senate regarding hemp. I had to formally ask the Attorney General to give an official opinion to try to get it fair and even across the state. I should never of had to do that."
Brooks was confused then as to why her store was targeted. Seeking an answer, Brooks reached out to the North Dakota Attorney General's office, but she received very little information.
A year after the incident Brooks is still seeking answers. She has been to the Bismarck City's Attorney's office and the city commission, and has sent a formal request for an opinion to the Attorney General. Answers are still difficult to come by, and she is confused as to why her store was targeted over others, explaining, "Prairie Foods Co-Op in Fargo has identical products."
Prairie Foods Co-Op grocery manager, Brett Lysne, explained they do in fact sell CBD oil and they have never had any issues with local law enforcement or federal agencies. Brett also confirmed that he worked for a store in Grand Forks, Amazing Grains, that also sold the product, which is now closed, but like Prairie Foods, never had any issues, legally, regarding CBD oil or hemp products in general.
Brooks seemed hopeful of a possible explanation from Attorney General Wayne Stenehjem.
"A single complaint is all takes to get raided," she said.
Anyone could have filed the complaint to the city, Brooks said, and it could have been a person looking to start a competitive store and slow her business. Despite the adversity Brooks pushes on. She now has started a Hemp products company, Peace Garden Hemp, and plans on having much success in North Dakota.
CBD hemp oil is illegal in North Dakota and has been since 1903, Howard C. Anderson, the chief compliance officer for the North Dakota Board of Pharmacy, said. Despite what other media sources have reported, most people in the state have been under the assumption that because CBD had a THC level less than 0.3, it fell under industrial hemp regulations and was permitted to be sold, Anderson said.
In June, the Farm Bill was passed by the Senate, legalizing the use and cultivation of industrial hemp. Congressman Cramer was a major supporter of the bill in its passing, but even with the passing of the bill, lines are still blurred on what is legal and what is not.
Federally, the consumption of industrial hemp is still considered illegal, because cannabinoids and marijuana are still a schedule 1 drug, as serious as heroin, according to the Food & Drug Administration.
Not all state agencies enforce that law when it comes to CBD oil, but in North Dakota, Minnesota, and the District of Columbia (the states Cramer frequents the most), the Congressman or at least Mrs. Cramer is still breaking federal law.
Wade Sparks, spokesman for the Drug Enforcement Agency answered questions regarding the Congressman, his wife, and CBD consumption.
HPR: Federally the consumption of industrial hemp is still illegal correct?
Sparks: That is correct.
HPR: As a federal agency would you ever look at prosecuting Kevin Cramer and his wife for the consumption of CBD oil?
Sparks: Well, the DEA doesn't prosecute cases, that'd be a question for the Department of Justice. The DEA investigates and gathers evidence. It would be your local AUSA office (Assistant United States Attorney) that would make the determination on whether to prosecute that. I will say, CBD or any drug user aside is not the DEA's focus. We are going after the highest echelon drug traffickers that are affecting our communities, bringing cartel level style drugs in. I'm not going to comment on this specific quote, but I will say in general the DEA does not focus on drug users. I will also say, in general, federal law, CBD is a schedule 1 controlled substance.
The United States Attorney's Office for the District of North Dakota could could not be reached for comment to answer questions if their office will pursue an investigation at this time.
In North Dakota the answer for why Brook's and another's store were raided still remains unresolved. If Measure 3 passes in November, because of federal law and the FDA scheduling of cannabinoids and marijuana, it remains unclear if these raids will increase or lessen.